The future of commercial air travel
.
The Boeing Company | 777X Cabin Architecture & Passenger Experience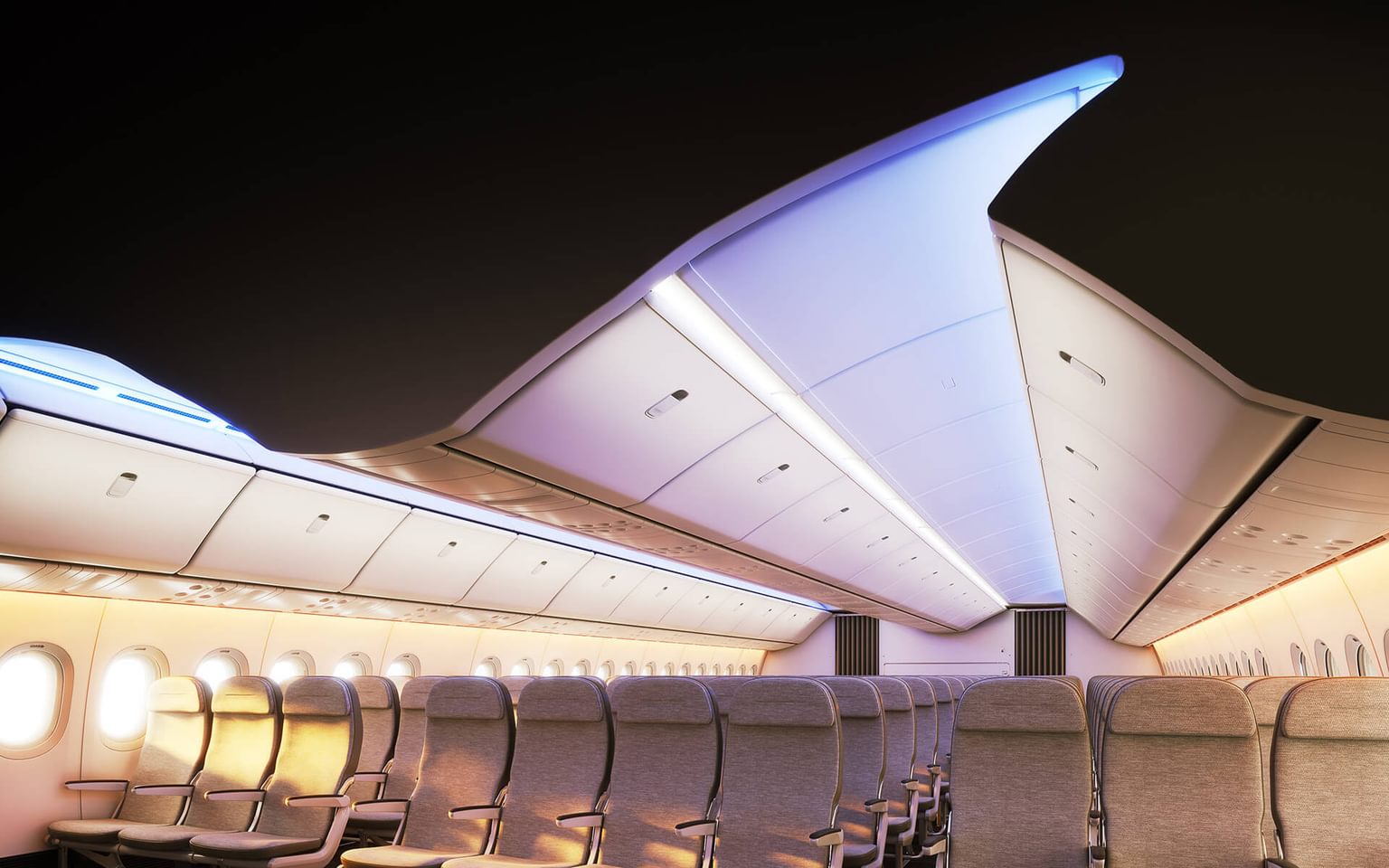 Category
Aviation & Airlines
Mobility & Transportation
Expertise
3D Data Development
Appearance Mockups
Design Visualization & Storytelling
Documentation & Specification
Mechanical Design & Engineering
User & Stakeholder Interviews
User Experience Research
Boeing partnered with Teague to reimagine the passenger experience for its newest widebody aircraft. With breakthrough adaptability for airlines, the Boeing 777X interior combines elements of the 787 Dreamliner with timeless tenets of the 777 family.
Challenge

A better way to fly.
The new Boeing 777X had a tough act to follow. The world's best-selling widebody family and largest twinjet, the Boeing 777, is well-decorated with airliner superlatives and design recognition. Its first-of-its-kind industrial design award for aircraft interiors signified an industry shift that moved cabin architecture to the forefront of aviation design. With the new Boeing 777X, Boeing reinforces its leadership position in cabin design and innovation.
APPROACH
Passenger-focused, airline-curated.
Determining the strategic framework for the 777X interior architecture presented an opportunity for collaboration and innovation. Boeing's goal was to preserve the core value proposition of the 777 while aligning the new cabin experience with a modernized design language. The Boeing Sky Interior, a cabin design language developed by Teague in collaboration with Boeing on the 787 program, had been extended across 737 and 747-8 cabin interiors after much fanfare with its 787 Dreamliner debut in 2009. The team distilled winning aspects of Boeing Sky Interior, key insights from years of airline and passenger research, and a refreshed set of design drivers to create an innovative cabin architecture.
A human-centered, multilayered approach illuminated the path of the 777X cabin design. Boeing and Teague valued airlines, crew members, and passengers as true collaborators throughout the development process, creating programs like the Flying Aces to engage a wide range of people interacting with the cabin environment. To ensure a forward-thinking design, modern inputs on travel were incorporated from technology companies, universities, and industry leaders.
Starting with a big-picture view of the 777X key cabin elements, low-fidelity mock-ups were used to evaluate the initial shape, lighting, spacing, and shadows, as well as features like seating, overhead bins, and partitions. Further details materialized from lo-fi scenarios and multiple rounds of spatial testing, with user perceptions and impressions moving the design needle. Final design concepts were communicated with high-fidelity prototypes that leveraged a combination of large-scale physical mock-ups and advanced VR technology to simulate the true 777X cabin experience.
SOLUTION
Architecture as canvas.
The 777X presents a signature experience where cabin architecture acts as a canvas for passenger delight and airline adaptability. The new design language is an edgier, futuristic extension of the Boeing Sky Interior, informed by unparalleled depths of customer research and breakthrough cabin innovations introduced in the 787. The 777X cabin design aligns seamlessly with the 777 and the 787 portfolios while offering a dual solution for an enhanced passenger experience strategy and airlines' increasing need for differentiation.

A gain on cabin width in the 777X interior culminated from redesigned sidewalls and advanced materials providing even greater comfort to passengers throughout the cabin. And airlines have options: A revolutionary aspect of the 777X interior is its modular framework, with two baseline architectural layouts, as well as elegant and functional cabin transitions, customizable lighting, premium ceiling treatments, and lining packages that can be used to differentiate or unify cabin segments. The inventive design provides an unprecedented scope for brand expression. Passengers will also enjoy manifestations of the new design language of the 777X and its human-centered experience drivers.
Seamless, concave surfaces, sculpted coves, and defined curvature and edges create a fresh, welcoming cabin environment with a cohesive suite of parts. Dynamic and circadian-attuned lighting and lighting controls offer functional benefits and environmental ambiance management to increase passenger comfort and sense of well-being. Larger windows, thoughtfully designed in layers, amplify the perceived size and intensify passengers' connection to the sky.
RESULT
Next-in-line jet royalty.
The Boeing 777X storyline began with a new engine and aerodynamic breakthroughs and lofted with a cabin architecture designed to exude its triumphs. The new 777X experience is an answer to airlines' intensified customer experience strategies and differentiation needs. Passengers reap the benefits of more space, thoughtful lighting control, modernized features, and embedded state-of-the-art technologies in pressurization, air filtration, and humidity systems. Boeing's 777X is set to be a commercial and passenger success. According to Boeing, the new 777X family is outselling the competition.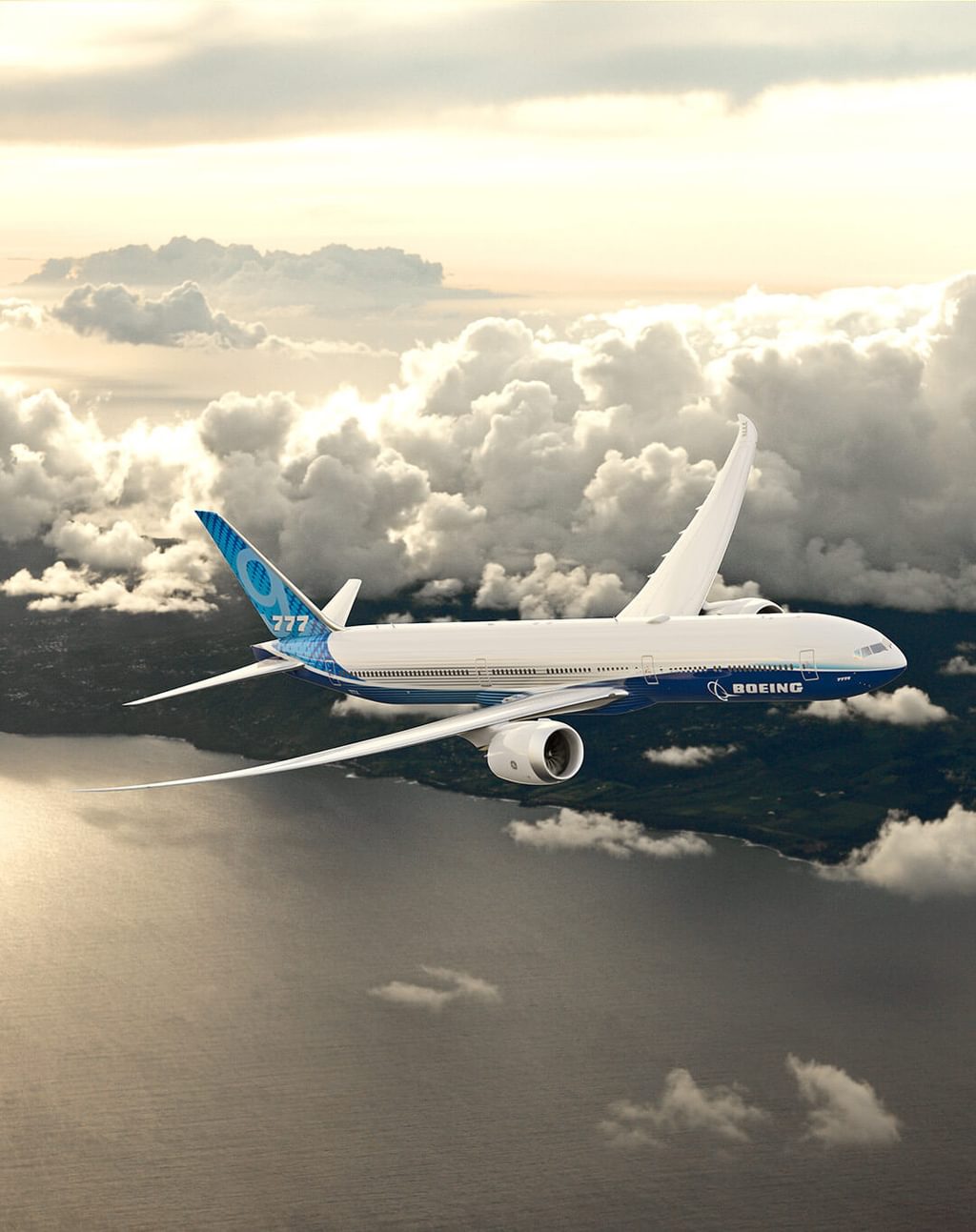 Transform your passenger experience.
Find out more about how we're helping airlines, suppliers, and OEMs shape the future of commercial air travel.