A brand new journey
.
Oman Air | Passenger Experience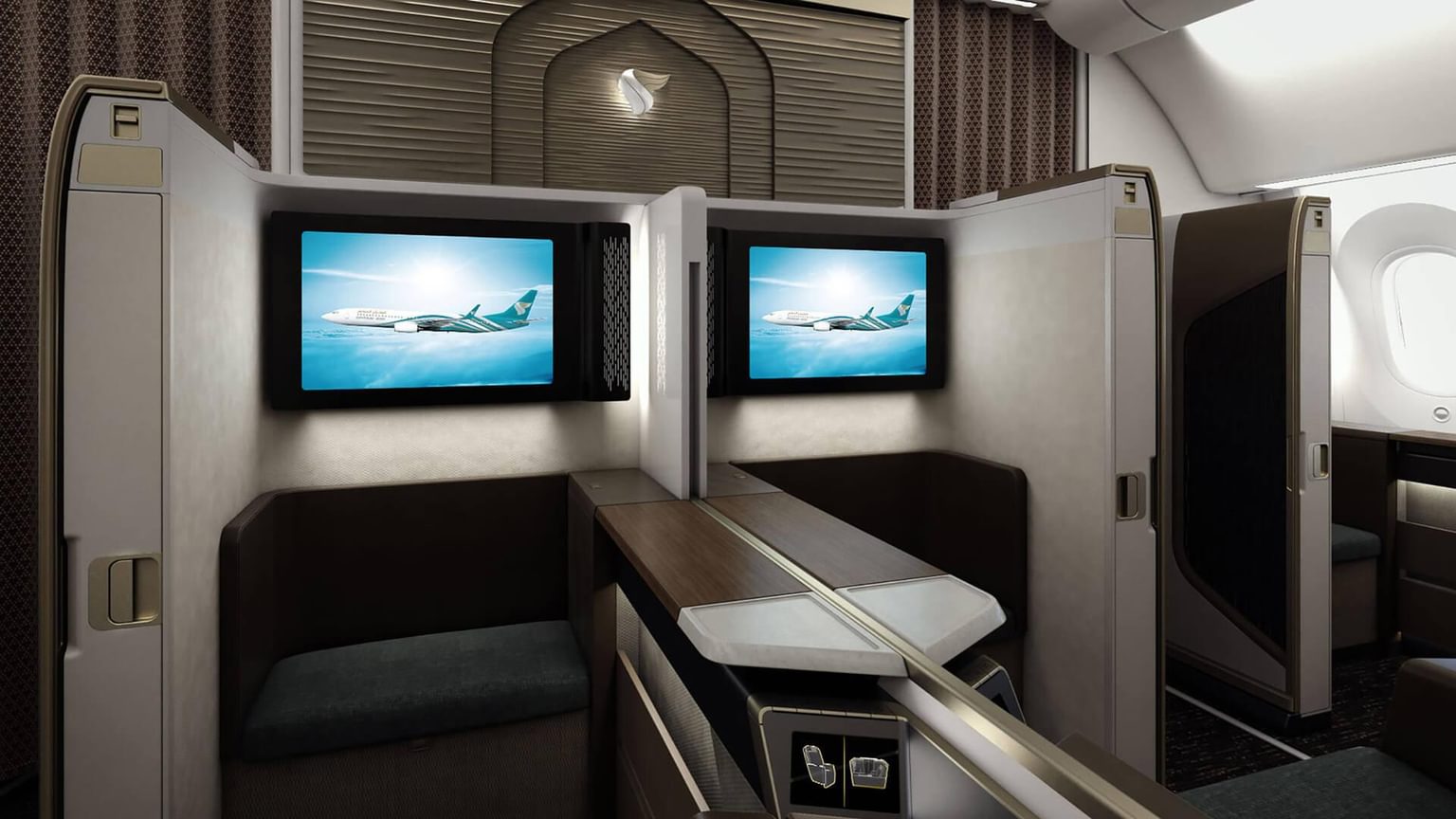 Category
Aviation & Airlines
Mobility & Transportation
Expertise
Brand Expression
Design Visualization & Storytelling
Interior Design & CMF
Lighting Design
Market Research & Analysis
Trend & Drivers Analysis
User Experience Research
To keep pace with an ambitious expansion plan, Oman Air partnered with Teague to redefine the passenger experience across its fleet and elevate the prestige of its brand as a flag-carrying airline.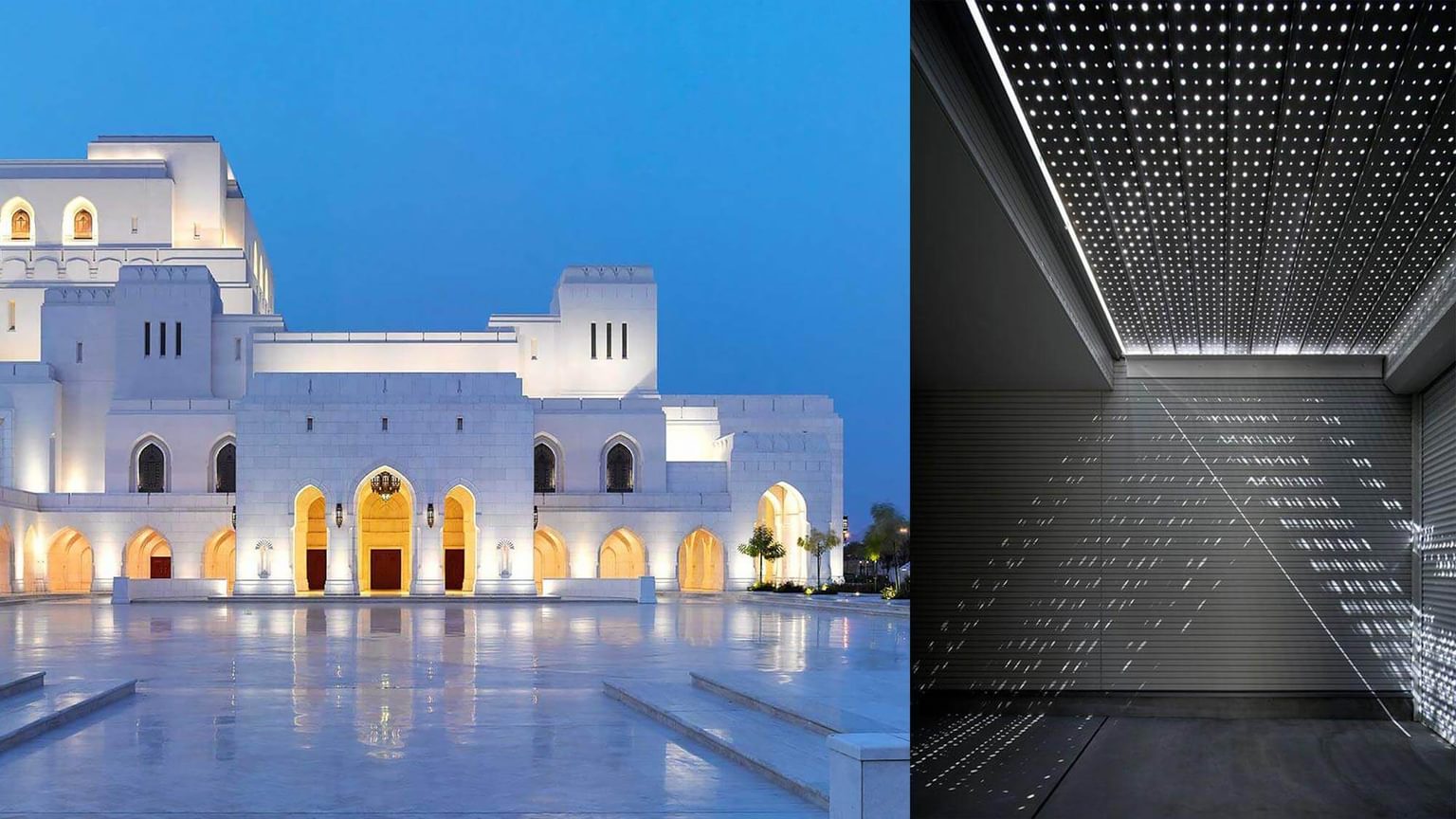 CHALLENGE
Cultural context.
Oman is exceptional in the gulf region. While other countries in the Middle East have made their mark conveying a sense of opulence through ornament, Omani design and architecture is characterized by a high degree of sophistication and restraint. In an industry that thrives on differentiation, this stark contrast proved an opportunity for Oman Air. In partnership with Teague and Collins Aerospace, the airline set out to design a holistic end-to-end passenger experience as beautiful, unique and varied as the cultural fabric of the Sultanate of Oman itself.

The design team was challenged to create an experience that purposefully reflected Omani culture and honored the country's rich history, while at the same time offering modern conveniences to the airline's guests.

Studying Omani architecture, cultural heritage, and hospitality trends, we created a vision for a new experience that would resonate with visitors to Oman and Omani travelers alike.
Tamae Satsu
Senior Interior Designer | Teague
APPROACH

Patterns & place.
To begin, the Teague team scrutinized every aspect of long-haul flight, with a specific focus on the details of a temporary life in the sky. The designers enacted passengers' patterns of movement, anticipated pain points, inevitable questions, and lived out every possible passenger scenario with a careful eye on ergonomics and human factors. Through this human-centered and holistic approach to design, the team considered every touch-point as an opportunity to surprise, delight, and deliver benefits to passengers.

SOLUTION
Understated elegance.
In contrast to other Gulf carriers that opt for bright golds and busy patterns, Oman Air expressed a strong preference for understated elegance. In both color and materials, the designers explored stone and masonry materials, to align with Oman's architecture. For visual interest, the team juxtaposed light-colored materials with leather and deep, rich wood. The result showcases touch-friendly finishes like those found in hotels and the home across each class of service.
The designers envisioned an unfolding of surprise and delight, as repeat passengers might continue to notice, discover and appreciate Oman Air's refinement and deeply considered details. This meant moving beyond commercially available materials. Instead, the team worked directly with material suppliers to design, develop and certify materials unique to Oman Air including machined Corian for stone-like surfaces, laser-etched suede for graphic pattern details, a laminated stitched soft wall inspired by residential design, and seating materials found in the automotive industry.

Inspired by Omani architecture, the interplay between light and shadow played an important role in the interior design. The design team worked closely with Collins Aerospace to avoid backlit switches, dimmable suite lights, and other common visual irritants. Across each class of service, the designers assessed intuitive and correct use and placement of task, indirect, and accent lights. Attention to this level of detail resulted in a unified lighting design scheme from cabin to cabin that created a singular impression tied directly to Omani architectural heritage.
From prototype to finished product.
In most commercial aircraft, seats are the centerpieces and a key differentiator that drives passenger preference. To ensure Oman Air had a world-class experience all its own, the airline invested in the design of an all-new First Class and Business Class seating. To bring the designs to life, the team prototyped each product in virtual reality before moving to full-scale physical prototypes that would allow Oman Air to experience the look and feel firsthand. To ensure the perfect outcome, the design team worked hand-in-hand with the airline and Collins Aerospace from concept through delivery to ensure the trim and finish, as well as the final execution, was seamless, high quality, and tuned for engineering and manufacturing to avoid losing any features along the way.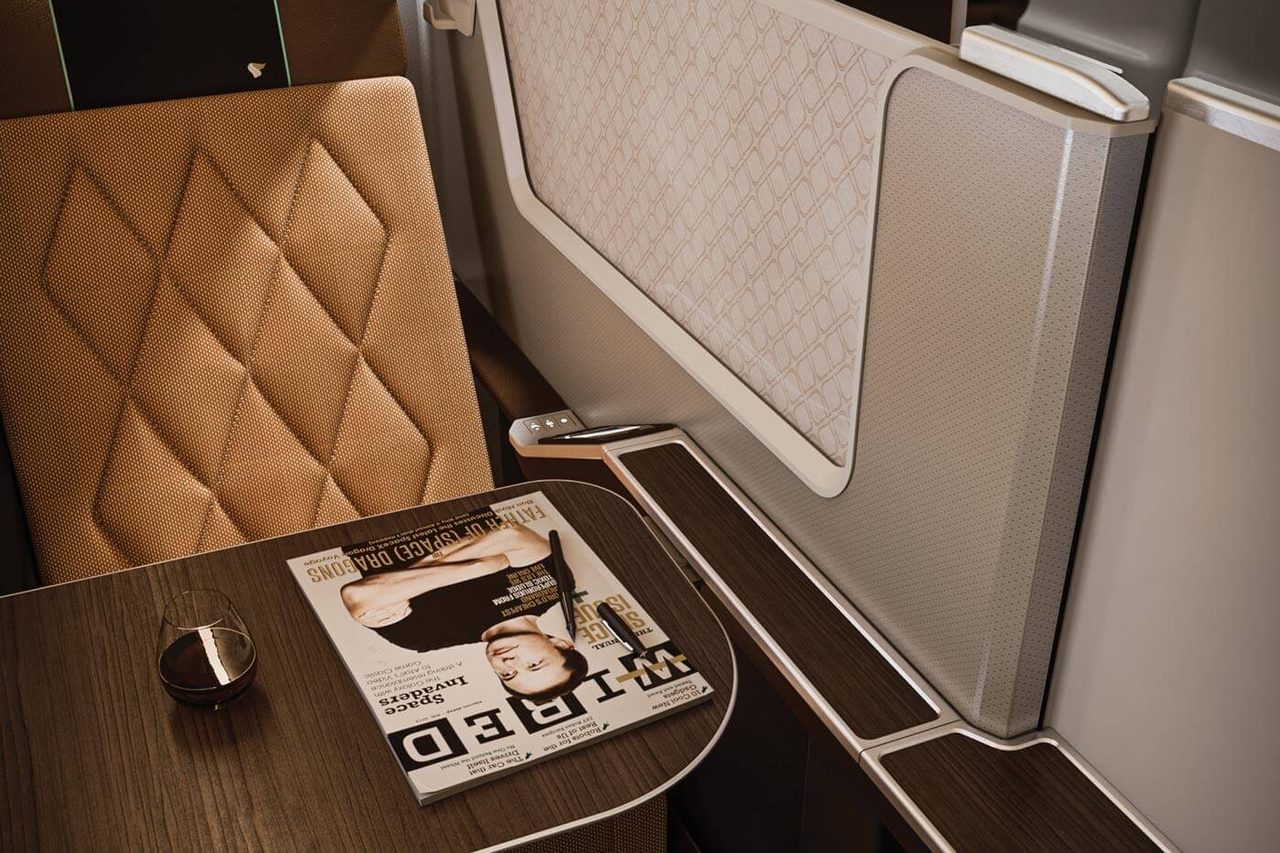 Serenity suites.

Oman Air's new Serenity Suites are staggered, forward-facing seats in a dense 2-2-2 cabin configuration, boosting important business class revenue for the airline by 30%. In this configuration, every passenger has direct aisle access. For this cabin, the team's vision embodied the axiom, "a place for everything and everything in its place". From a spot for passenger's luggage to an integrated headphone hook, not a single detail escaped the team. And, every suite has ample legroom and access to an aisle, to avoid the 'excuse me' awkwardness of interrupting a fellow passengers' meal, work, or rest.

Experts in digital-physical integration, Teague's goal from the beginning was to integrate the in-flight entertainment (IFE) into the Suite design. Rather than bolting the IFE elements into place as an afterthought, the team pushed to integrate the IFE into the Suite with the monitor placed behind an elegant piece of glass, positioned alongside a sidelight. This achievement, made possible through close collaboration with Thales and Collins Aerospace, was carried into First Class. The design of Oman Air's business class seat epitomizes the juggle between satisfying requirements and delivering the best possible human experience in flight.
Beyond the Suite itself, the team conducted ergonomic studies related to cabin traffic. With just nine inches of aisle space to work with, the team succeeded in optimizing the outboard seats/suites to create a sense of privacy, spaciousness, and protection from high traffic areas. The sense of space is further enhanced through cove and accent lighting and material layering.
Elite suites.
While luxe materials, finishes, and custom touches elevate the Business Class cabin, the new Elite Suite is the crown jewel of the Oman Air passenger experience. Elite was designed and built from the ground up by Teague and Collin's Aerospace specifically for Oman Air. The design process began with a series of journey mapping activities to understand different stages of a typical flight from the perspective of passenger activities, service, and crew-passenger interactions. This influenced a packaging study that led to the new placement of features and amenities like a pull-out garment hook and closet, companion seat, device connectivity, and chilled mini-bar features.
For Oman Air, there was a special cultural sensitivity around balancing a sense of openness and hospitality, with the need for privacy. This influenced the design of the distinctive doors on the Suite and overhead canopy. It also affected features like the privacy divider: normally, the divider is certified for flight in the stowed position, leading to awkward social interactions when a passenger raises it. Instead, the divider was qualified in the up position, so that the first action for passengers is to take down a barrier, rather than raise one up.

Aside from the unique physical touchpoints that make Elite one-of-a-kind for passengers, the team equipped Elite with a new digital interface for the seating controls, which control seat comfort and lighting features.
Result
An elevated experience.
Taking inspiration from Oman's rich heritage and modern hospitality, Teague elevated the Oman Air passenger experience by paying close attention to the details and bringing a residential feel to the cabin environment. As intended, new features, finishes, and luxury products perfectly blend contemporary style with traditional elements of the Omani landscape and culture.
Oman Air was awarded "Best New First Class" by TheDesignAir, "Best First Class Experience" by the World Travel Awards, and "Best Aviation Experience" by Skift. The Elite Suite won an I.D.E.A design award and was awarded the 2020 iF Product Design Award.
Ready to reimagine your passenger experience?
We're always looking for new airline partners.