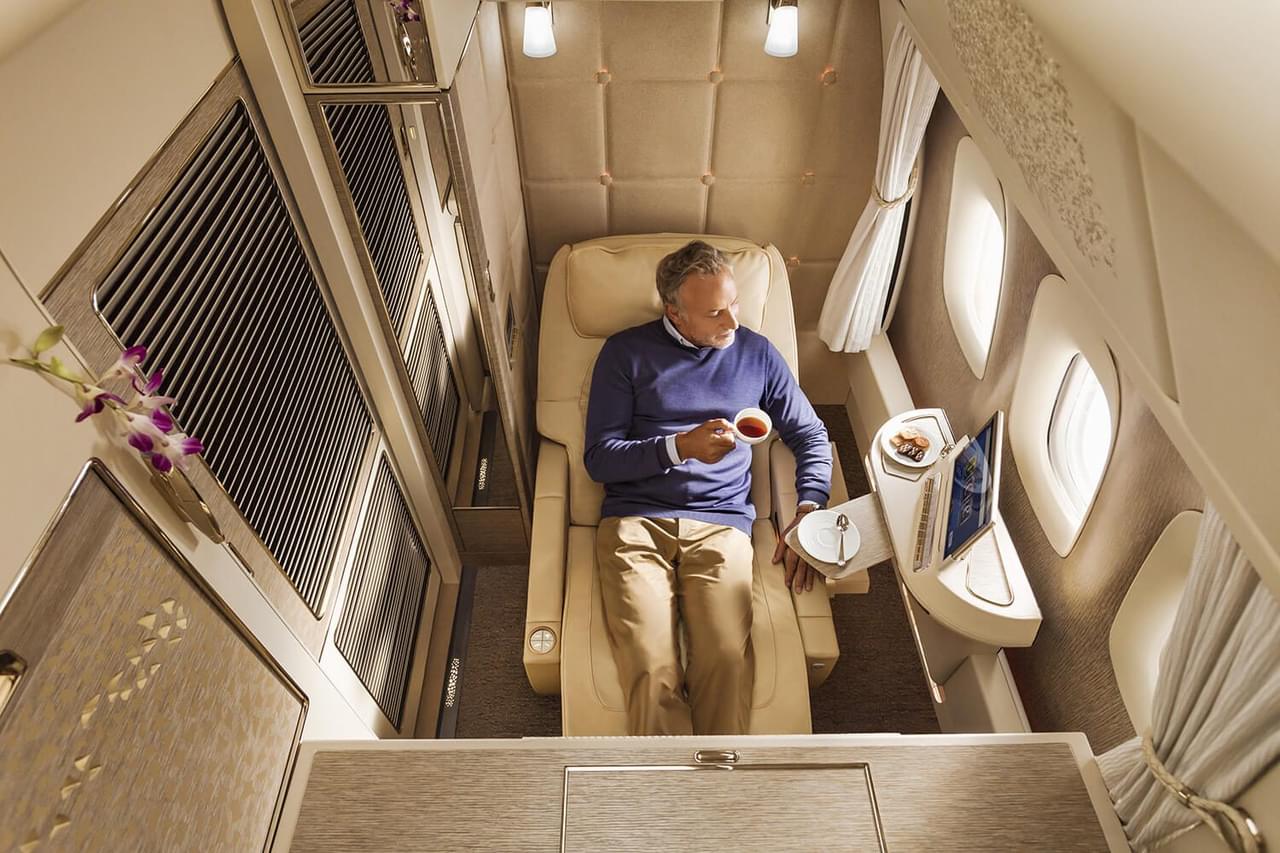 A complete cabin refresh from nose-to-tail
.
Emirates Airline | Passenger Experience
Category
Expertise
Appearance Mockups
Brand Expression
Design Visualization & Storytelling
Interior Design & CMF
Mechanical Design & Engineering
Prototyping & Simulation
User & Stakeholder Interviews
Emirates Airline is unwavering in its commitment to provide a strong passenger-centric proposition. As proof, the airline partnered with industry experts including Teague on a cabin refresh of its entire 777 fleet—the largest in the world.
CHALLENGE
Making bold moves,
Emirates Airline ranks among the highest-valued brands in the world. Maintaining a leadership position requires consistent investment in the future. In 2017-18, the Emirates Group invested $2.5B in new aircraft and equipment, the acquisition of companies, modern facilities, and the latest technologies. Carrying more than 50M passengers each year with 3000+ passenger flights per week, the airline is unafraid of making bold moves to maintain its leadership position—enter Teague, with an incredible collection of creative partners, suppliers, and support from across the globe—to create an entirely new experience.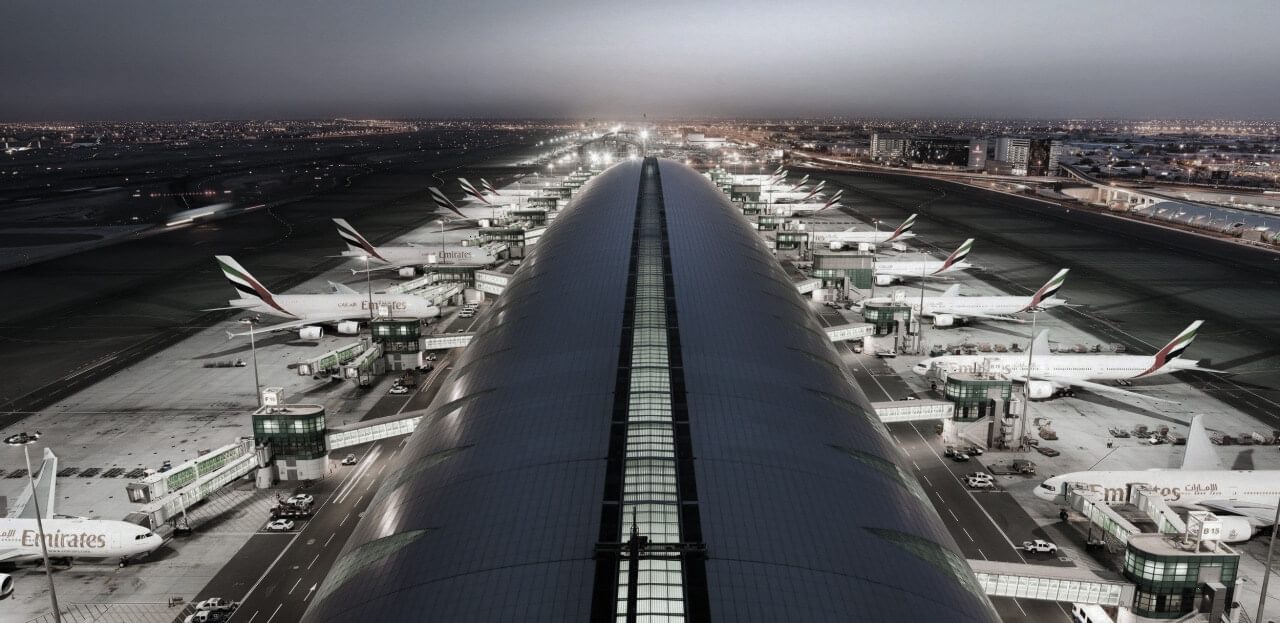 APPROACH
Building the future.
Great design never happens by chance, it always begins with empathy and a deep understanding of the user—in this case global travelers. Working collaboratively with Emirates since 2008, we knew their passengers and their brand incredibly well. This knowledge allowed the team to move quickly through the initial phases of the program with absolute confidence that the ideas and design concepts generated would resonate with their customers on a deep emotional level.
Using full-scale mock-ups combined with virtual reality allows our clients to experience our concepts first-hand.
With the final concept narrowed down, the team moved into making. For this program, we created a full-size First Class cabin prototype for testing and validation. This way of working, making our thinking visible throughout the process ensured quicker and better alignment across all key stakeholders.

Achieving maximum utilization of the entire cabin space required countless iterations and the development of new processes for installing full-height architecture, and construction methodologies that exceeded previous building progressions.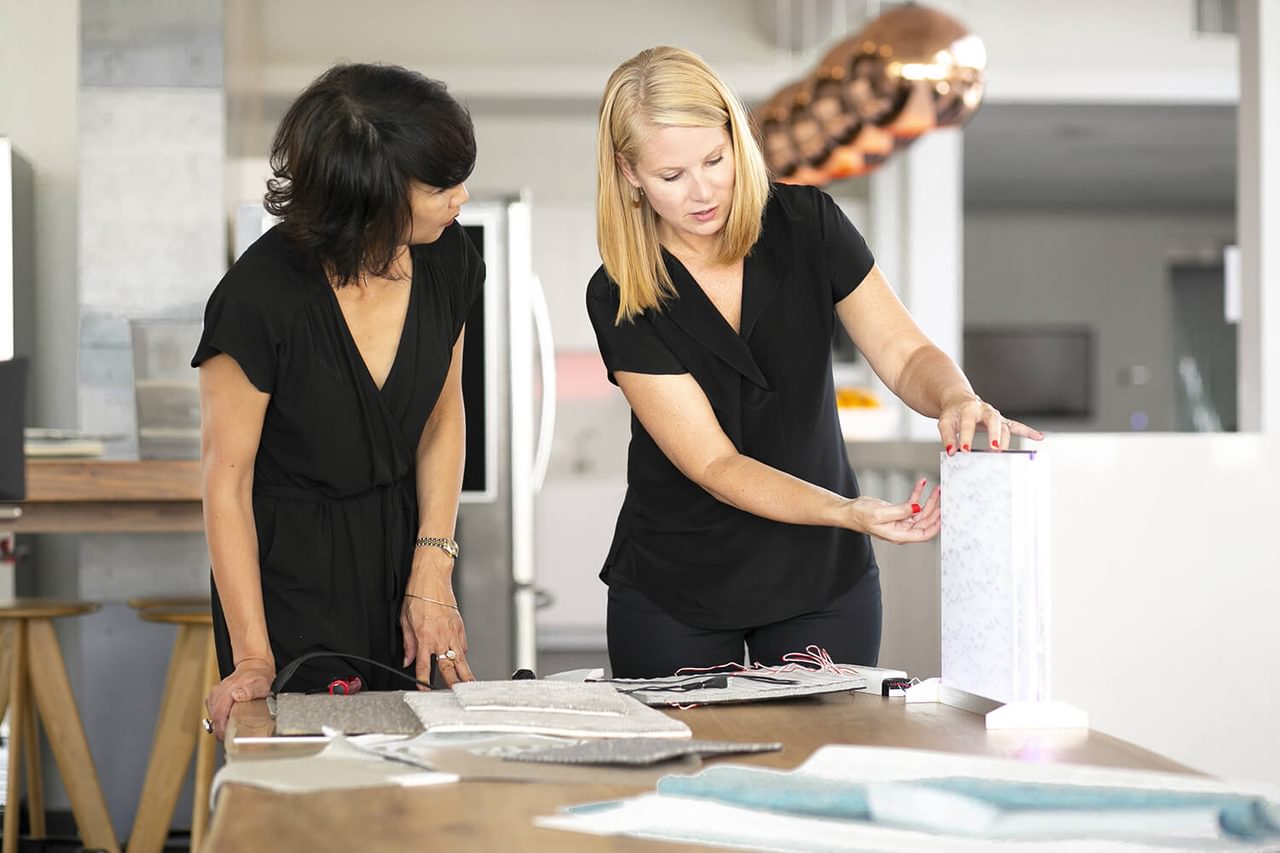 SOLUTION
Partnering forward.
Unveiled in late 2017, Emirates' new 777-300ER delivers a leap forward for commercial aviation. The second successful collaboration between Emirates, Boeing, Collins Aerospace, PierreJean Vision, and Teague, the all-new cabin interior reflects the airline's commitment to deliver meaningful connections and experiences to its passengers.
A complete cabin refresh from nose to tail, Emirates' new 777 airplane features a modern color scheme, textured wall panels, and lighting design inspired by trends in residential interiors. Custom-designed patterns and fabrics found throughout the cabin unify the brand, pulling a red thread through the cabin design of Emirates' entire fleet.
To ensure a world-class experience for all passengers, special attention was given to the design of Emirates Economy Class cabin. Ergonomically designed seats come with full leather headrests that have flexible side panels that can also be adjusted vertically for optimum support. An added touch—the length of the seat fabric design coupled with random installation gives each seat a distinct look and feel.
Throughout the airplane the UAE's national tree, prosopis cineraria or Ghaf tree, is used as a design feature to bring an element of the region's unique beauty into the cabin. In First Class, the simplified, geometric design is elegantly backlit with individually placed LEDs to replicate the night's sky; the soft glow of this welcoming features draws passengers farther into the cabin while creating an instantly iconic and ownable symbol for the Emirates brand.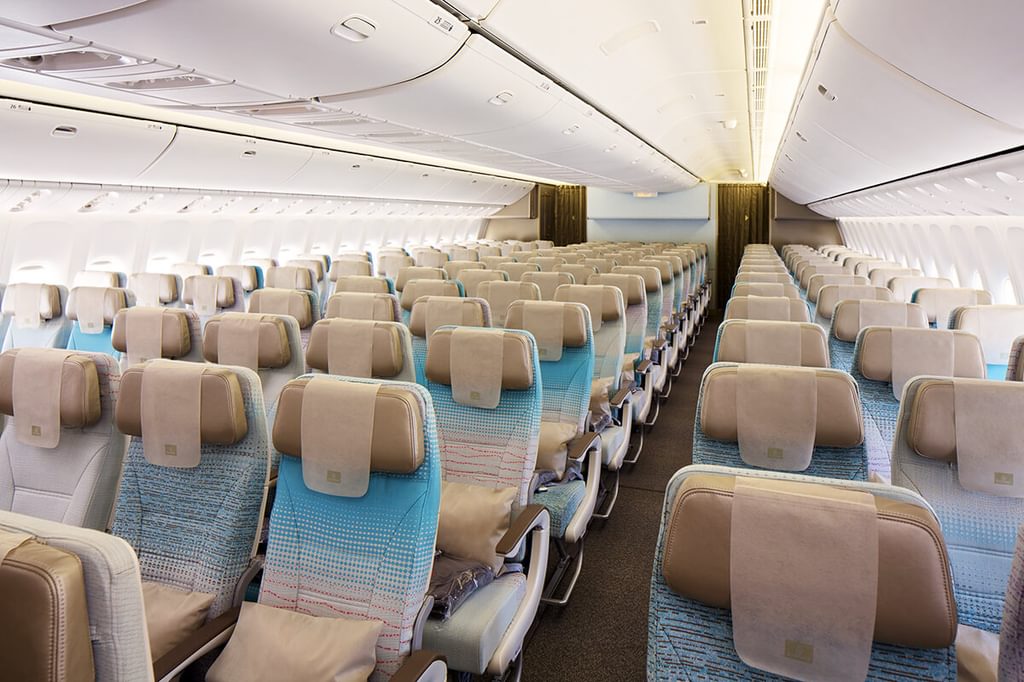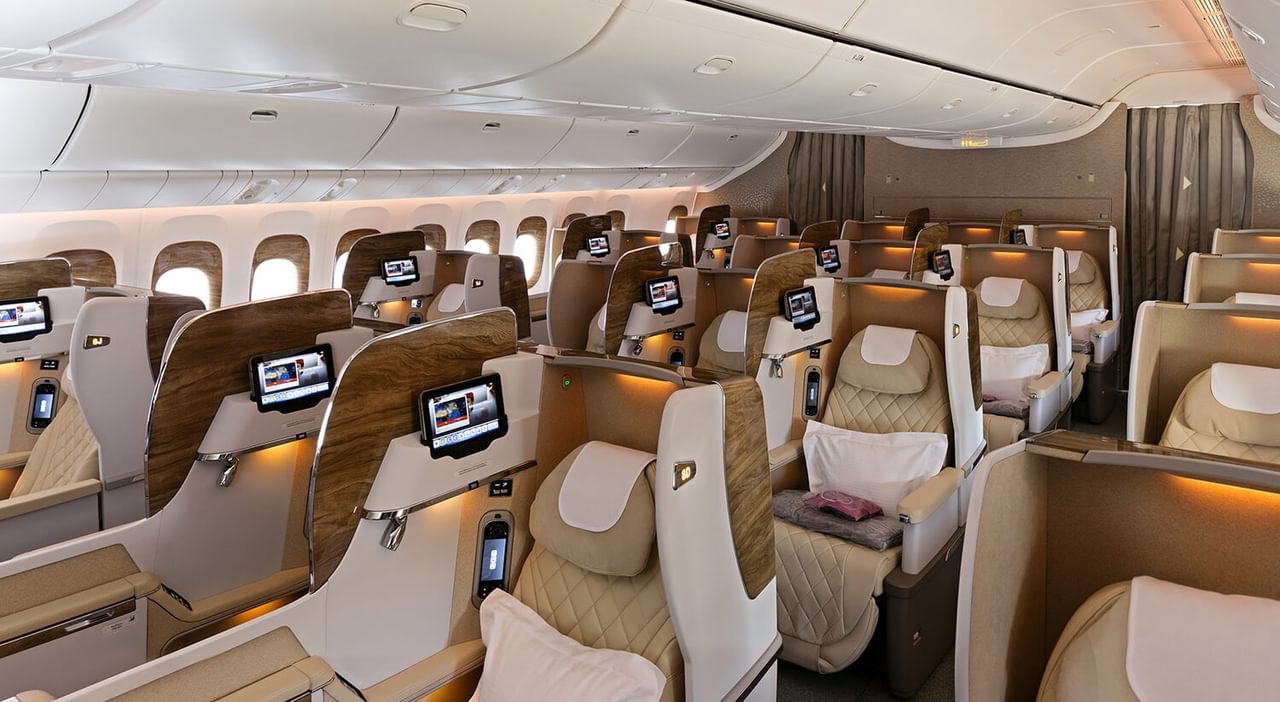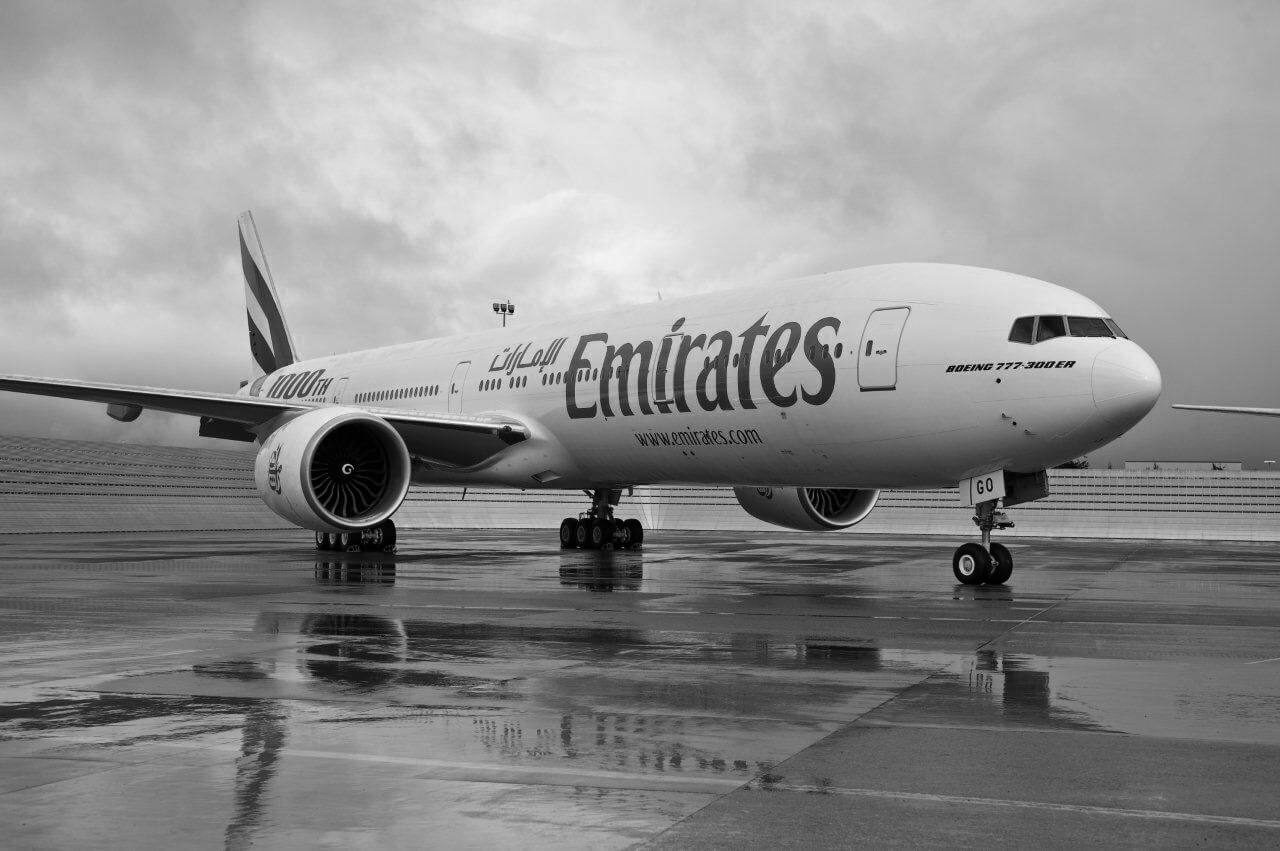 Throughout the aircraft, our customers will see modern and airy cabins, with painstaking attention to detail evident in design touches such as the textured wall and ceiling panels, lighting features, and more.
Sir Tim Clark
President | Emirates Airline
Partnership
First class features.
Designed by Pierrejean Vision, integrated into the cabin by Teague, and inspired by a unique partnership between Emirates and Mercedes-Benz, fully enclosed suites in First Class resemble the Mercedes S-Class with soft leather seating, mood lighting and high-tech control panels. Providing up to 40 square feet of personal space in a 1-1-1 configuration with floor to ceiling sliding doors, the suites offer passengers the ultimate in air luxury: absolute privacy.