A lesson in brand love and loyalty
.
Air Canada | Passenger Experience
Category
Expertise
Brand Expression
Design Language System
Design Visualization & Storytelling
Interior Design & CMF
Market Research & Analysis
User & Stakeholder Interviews
As part of a fleet modernization program following the purchase of nearly 40 widebody aircraft, Air Canada partnered with Teague to reassess its brand, and imagine an entirely new onboard passenger experience.
CHALLENGE
Experience over elements.
Working directly with Air Canada's team, Teague began by articulating a clear design vision—informed by research and shaped by aspirations—that anchored all future decisions. Together, the team prioritized experience over elements to create a well-orchestrated, strong, and singular cabin environment.

Research revealed that passengers respected Air Canada, but didn't feel a strong emotional connection to the brand. Moving the brand from 'respected' to 'loved' became the project's mantra and essential outcome, anchoring all decisions to what would best achieve this objective.
APPROACH
Creating a singular impression.
In aviation, decisions are often dictated by the design of individual elements beforehand, such as a business class seat. This sequence interferes with creating a cohesive spatial experience and emphasizes dissonant details rather than an orchestrated, singular impression. To avoid this problem, the team worked to define the overall perception of the cabin first, and then designed the elements – seats, monuments, fabrics, etc.– that would collectively create that experience.
SOLUTION
End-to-end innovation.
The team wanted to be reserved in the ways in which Air Canada's signature red was used. Rather than overwhelming the passenger with swathes of red, the team created 'jewel' moments of surprise and delight – behind the headrest in economy class, under the espresso mug in business class, inside the amenity kits, on leather seat tags, and in the leaf motif inside the lavatories. The resulting effect balances boldness with warmth, honoring the signature red in a way that invites discovery.
The Air Canada-Teague team created every touchpoint in the cabin–from seats and monuments to lavatories and lighting--with each element being part of a cohesive brand expression that was inspired by a singular vision to connect more emotionally with passengers.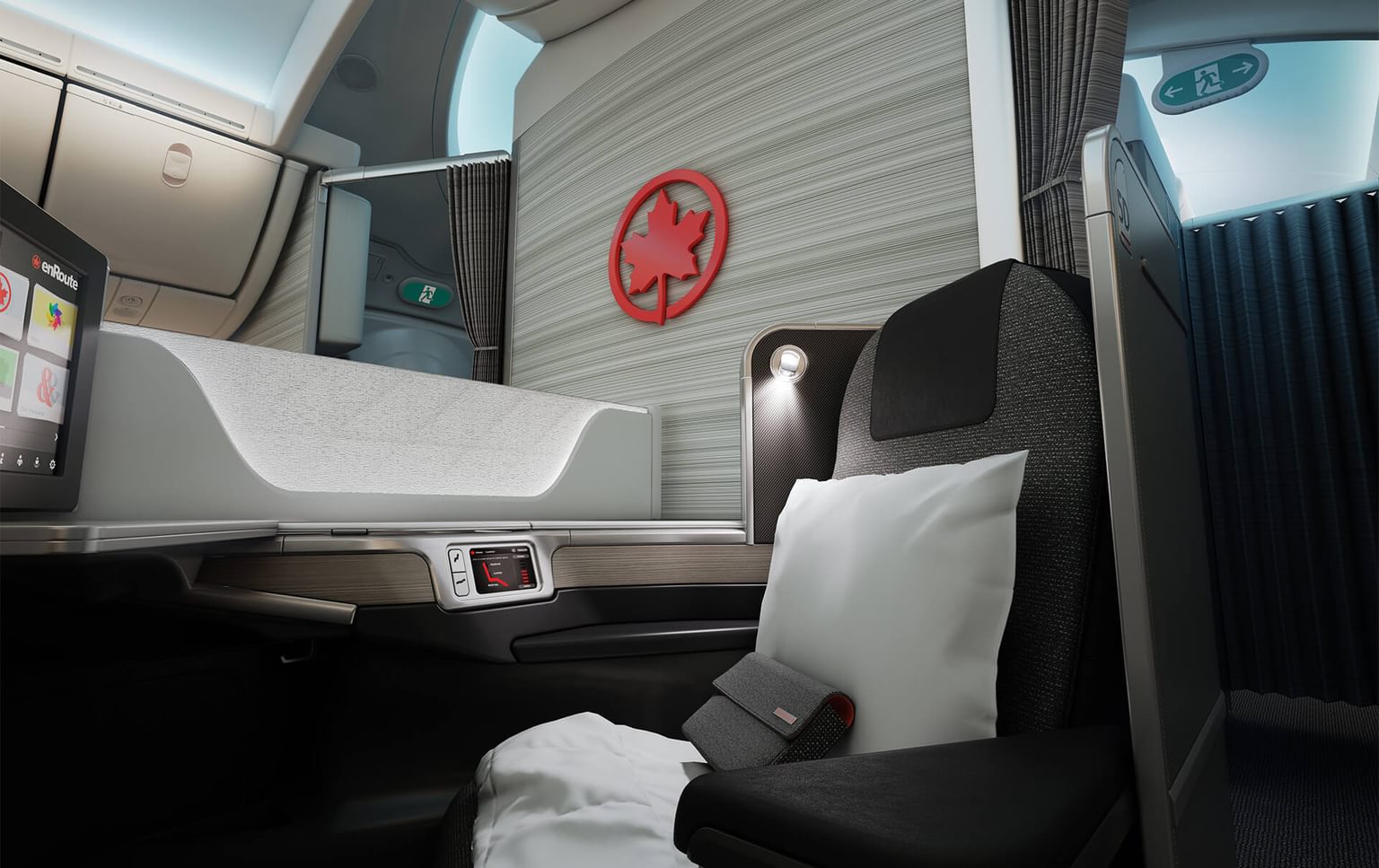 RESULT
People's choice.
Air Canada was named the Best Airline in North America for the third consecutive year and recognized for the Best Business Class experience in North America at the 2019 Skytrax World Airline Awards. It was the eighth time in the past ten years that the carrier was selected as the best in North America by the World Airline Awards, which are based on surveys of more than 21 million global travelers. In 2019, Air Canada was also named the North American airline with the best Business Class by TripAdvisor's Travelers' Choice Airlines awards.