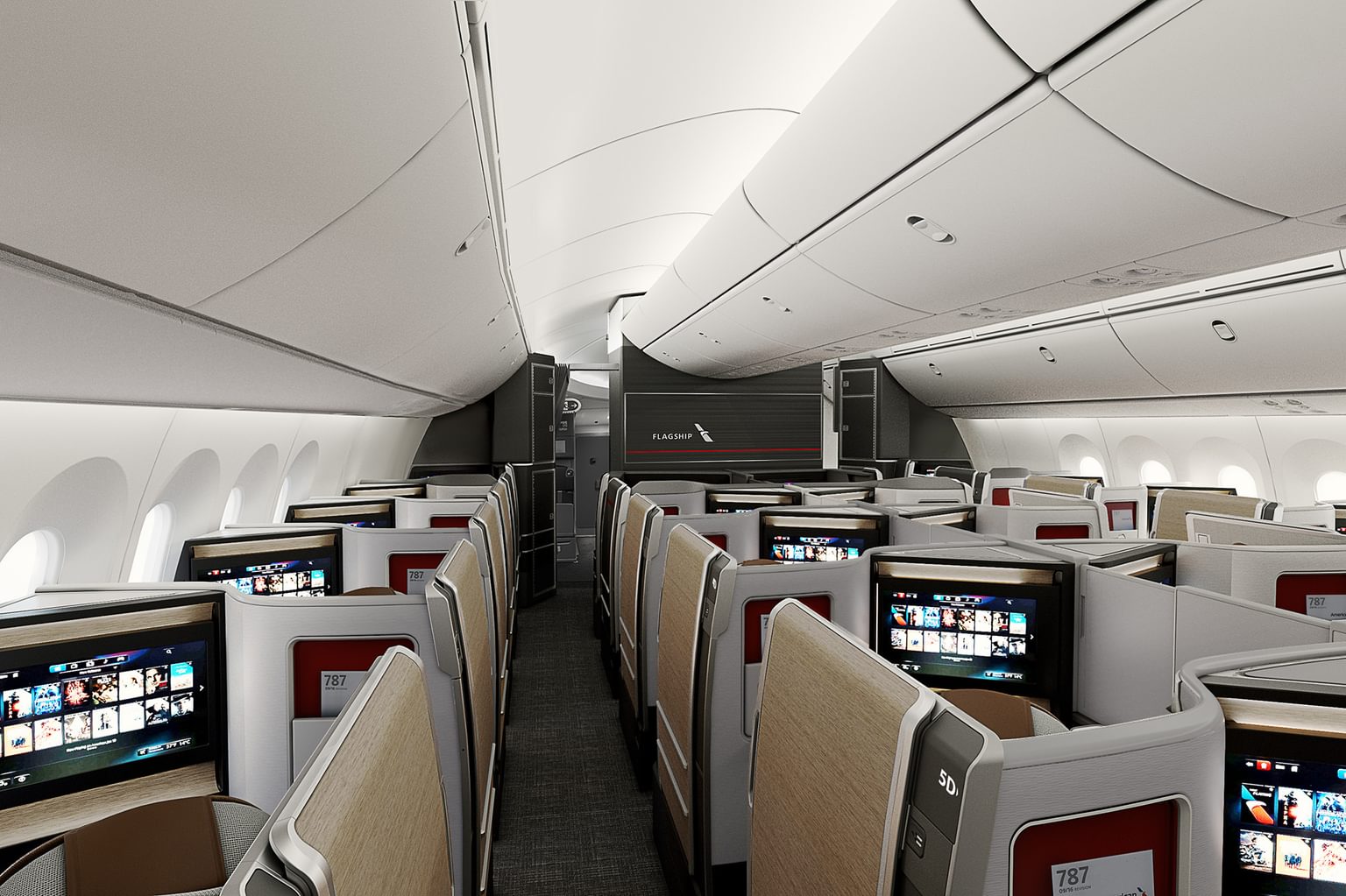 The future takes flight
.
American Airlines | Airbus A321XLR and Boeing 787-9 Passenger Experience
Category
Expertise
2D LOPA Design & Optimization
3D Data Development
Brand Expression
Design Language System
Design Visualization & Storytelling
Interior Design & CMF
Lighting Design
Prototyping & Simulation
User & Stakeholder Interviews
As part of its fleet renewal strategy, American Airlines partnered with Teague to create an instantly recognizable, elevated next-generation premium travel experience across its new Airbus A321XLR and Boeing 787-9 aircraft.
A unique opportunity.
With the growth of long-haul narrowbody operations, airlines across the globe are having to deliver wide-bodied aircraft comfort expectations on smaller aircraft. With the upcoming delivery of its new Airbus A321XLR and Boeing 787-9, American Airlines was given the opportunity to align wide-body and narrow-body.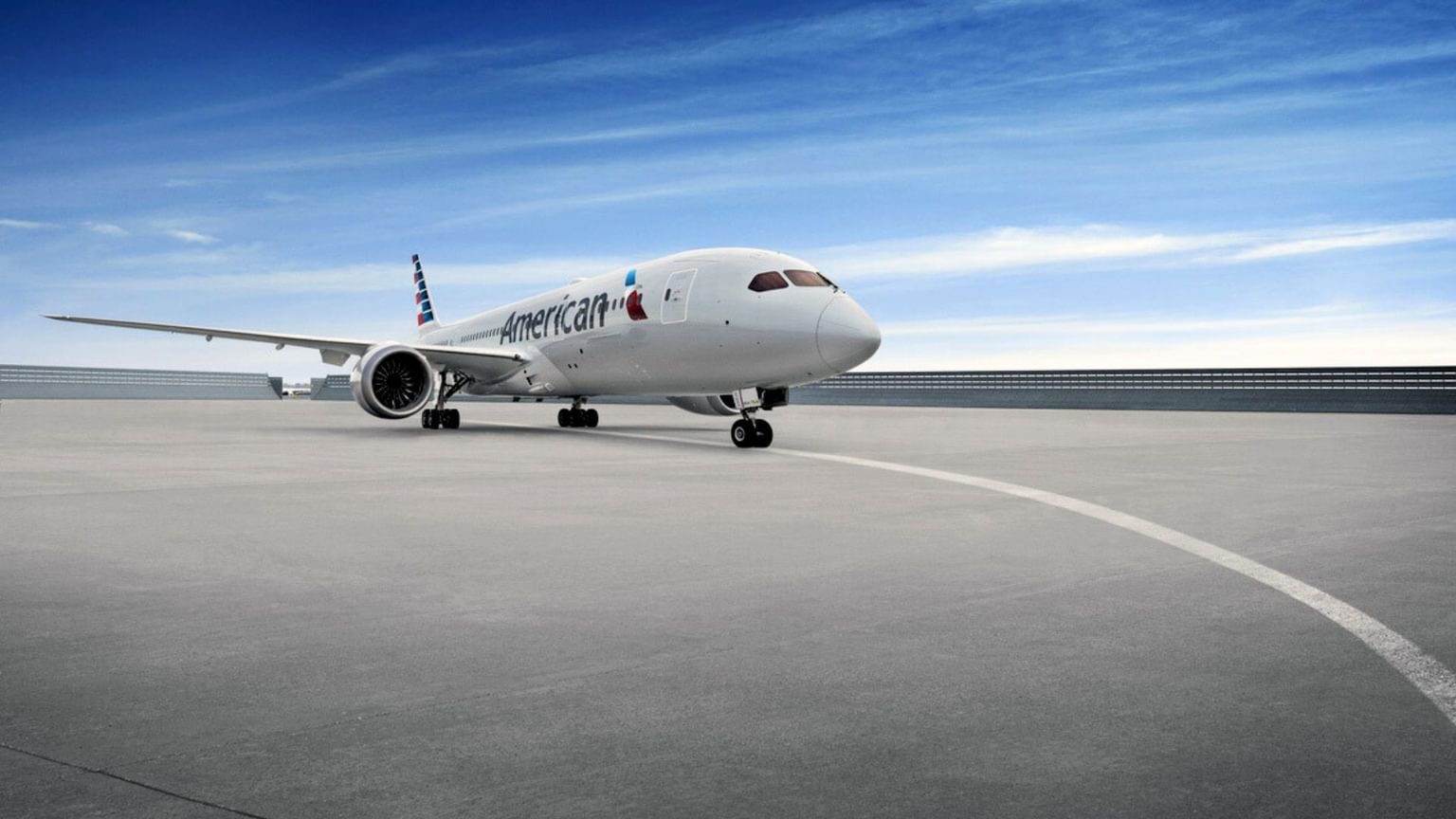 An iconic history.
American Airlines was the pioneer of nonstop transcontinental services, loyalty programs, and airline lounges and was heavily involved in the creation of iconic aircraft such as the DC3. The carrier has been at the forefront of aviation since its inception in 1926. However, due to a history of multiple mergers and a mixed fleet, the carrier had an opportunity to design a refreshed experience with new aircraft that reflect the pride the frontline team had for the carrier and its passengers and brings the American brand to life in new ways.
Pre-pandemic, the airline found itself with an opportunity to reset its approach to fleet renewal and employed Teague to fully reimagine the onboard environment on aircraft that will take to the skies for the decades to come.

This collaboration will help bring American's signature style to the skies in a new way, thereby enhancing our customers' experiences across their entire journey with American."
Raphael Girardoni
Managing Director, Customer Experience & Product Design | American Airlines
Working across different OEMs, seat manufacturers, and suppliers, there was both a chance and a challenge to create an innovative, holistic passenger experience designed around American's signature customer service. The airline had a clear brief: to provide passengers with a premium experience whether they flew on a narrow or wide body.
Teague took the opportunity to deep dive into American's culture. Layering brand, cultural references and design touches, we sought to inject signature flourishes with enabling seat architecture that reflected American's stalwart dedication to customer service.

Our objective was to create a timeless design that would bring the incredible heritage of American's brand alive in every cabin touchpoint—evoking warmth, familiarity, and a sense of belonging.
Edson Alexandrino
Creative Director | Teague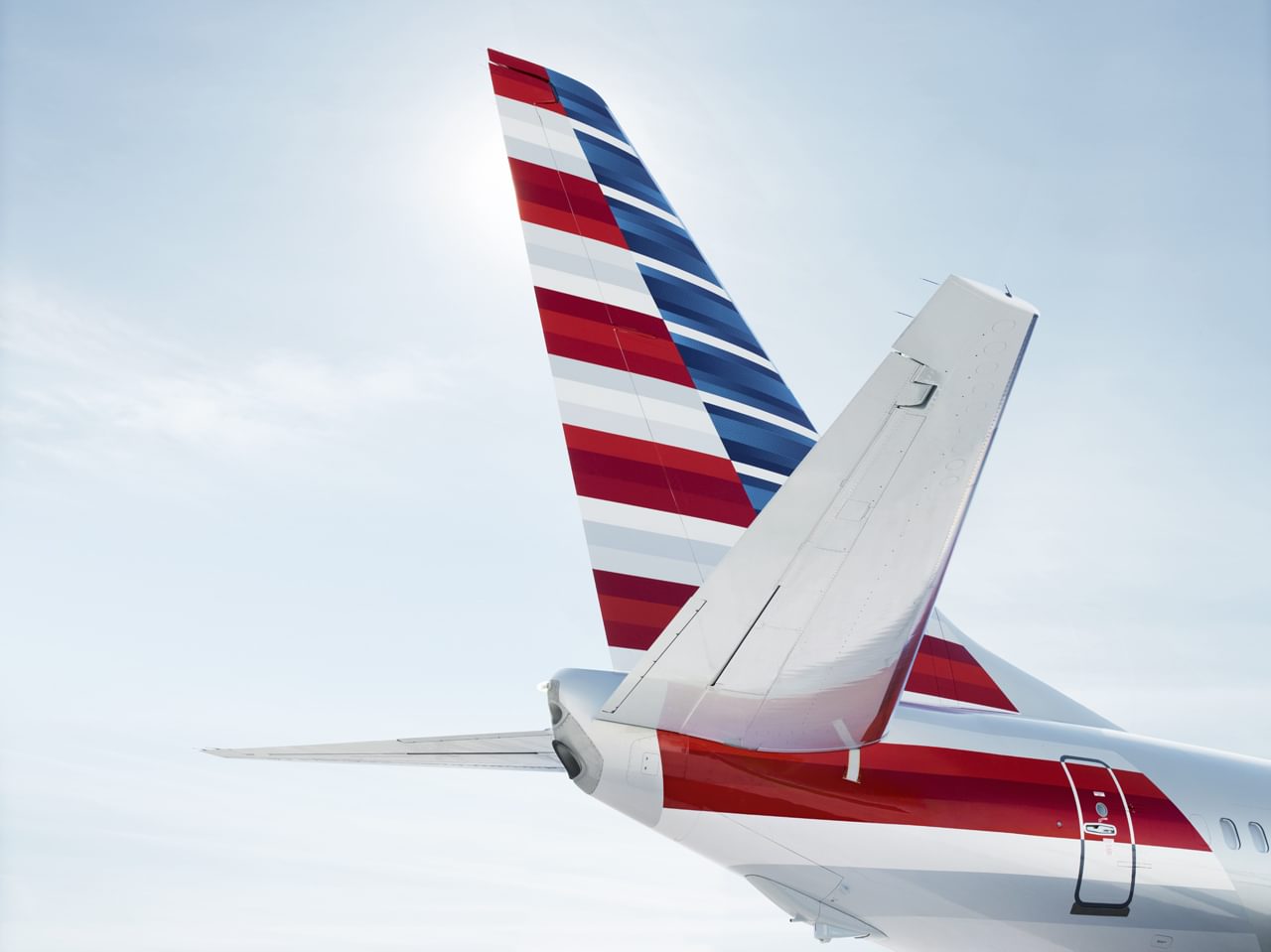 The American Airlines and Teague team set about reconstructing and re-invigorating the onboard experience based on American's rich and colorful heritage and iconic brand identity. The team wanted to prioritize brand attributes, reinjecting a sense of place and culture throughout the cabins.

This starting point created a consistent brand identity and ethos that could be distilled across both narrowbody and widebody aircraft. From carpets that reflect the city grids of North America, to the use of tan leathers that reflect the warmth of Sixties Americana, the crystalizing moment for the teams was the introduction of the illuminated welcome panels featuring the American Airlines flight symbol.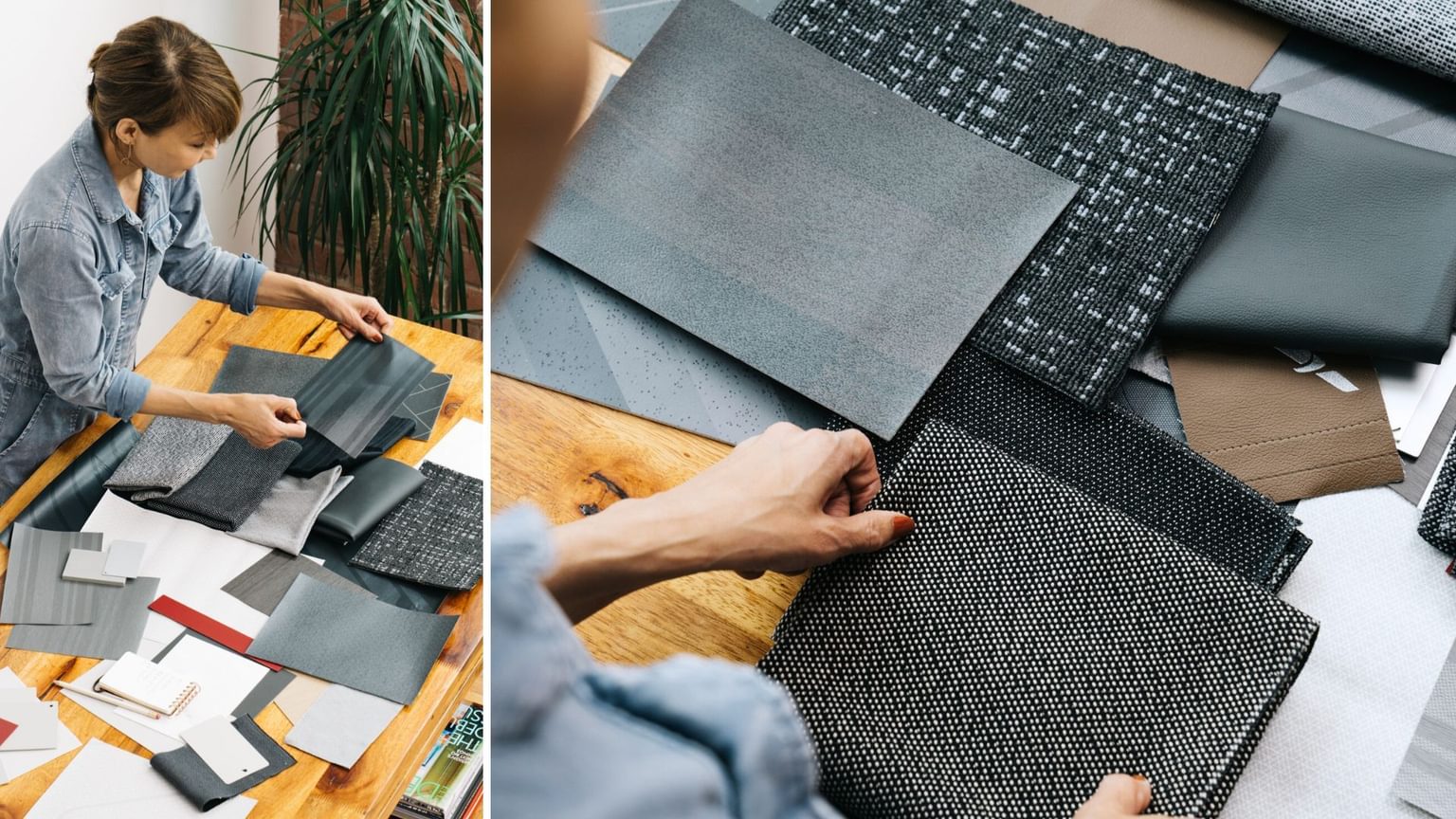 The team needed to deliver a sense of 'home' – not only to create warmth onboard but to reflect the insights the teams built around hundreds of hours of research at the start of the project. Comments from frontline staff resonated with the creative teams, where the crew took pride in the fact passengers felt like they were 'home' as soon as they stepped onboard and a desire to welcome customers into the cabin for an enjoyable journey.
Design elements were built to create uniquely identifiable passenger experience moments.
By applying this strategy across both narrow-body and wide-body aircraft, elements of the service design could also be incorporated, such as fold-down service trays conveniently situated between customer and crew, meaning no lengthy stretches over the customer during the nesting period for guests. In fact, many of the design elements were built to create uniquely identifiable passenger experience moments, such as the illuminated marble cocktail surfaces in the new Flagship® Suite Seats.
In Premium Economy, the addition of special front row monuments provides an opportunity to give every passenger the same experience, personal storage, and comfort. It was this small attention to details which went to elevate the passenger experience no matter which cabin class they travel in.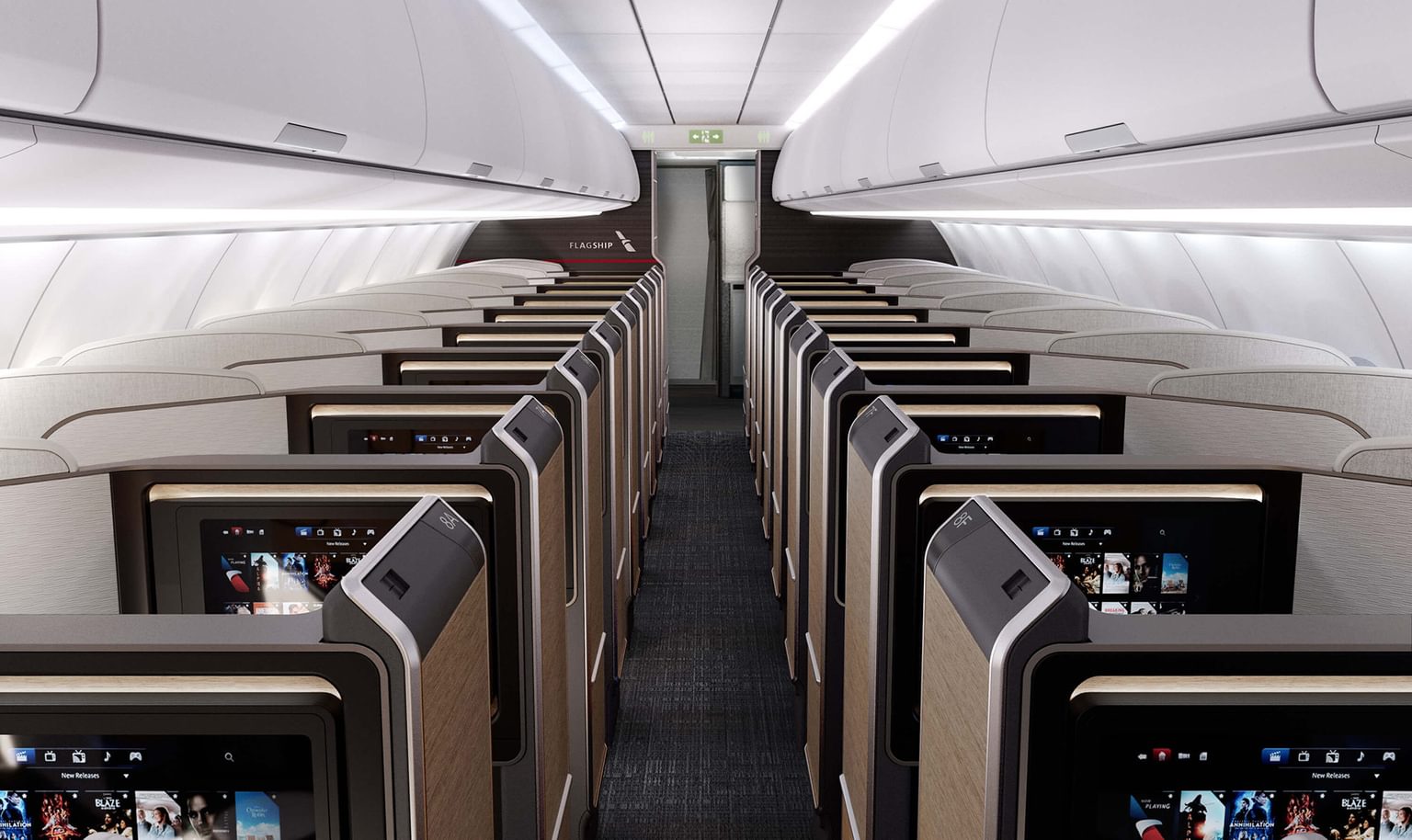 Airbus A321XLR Business Class Cabin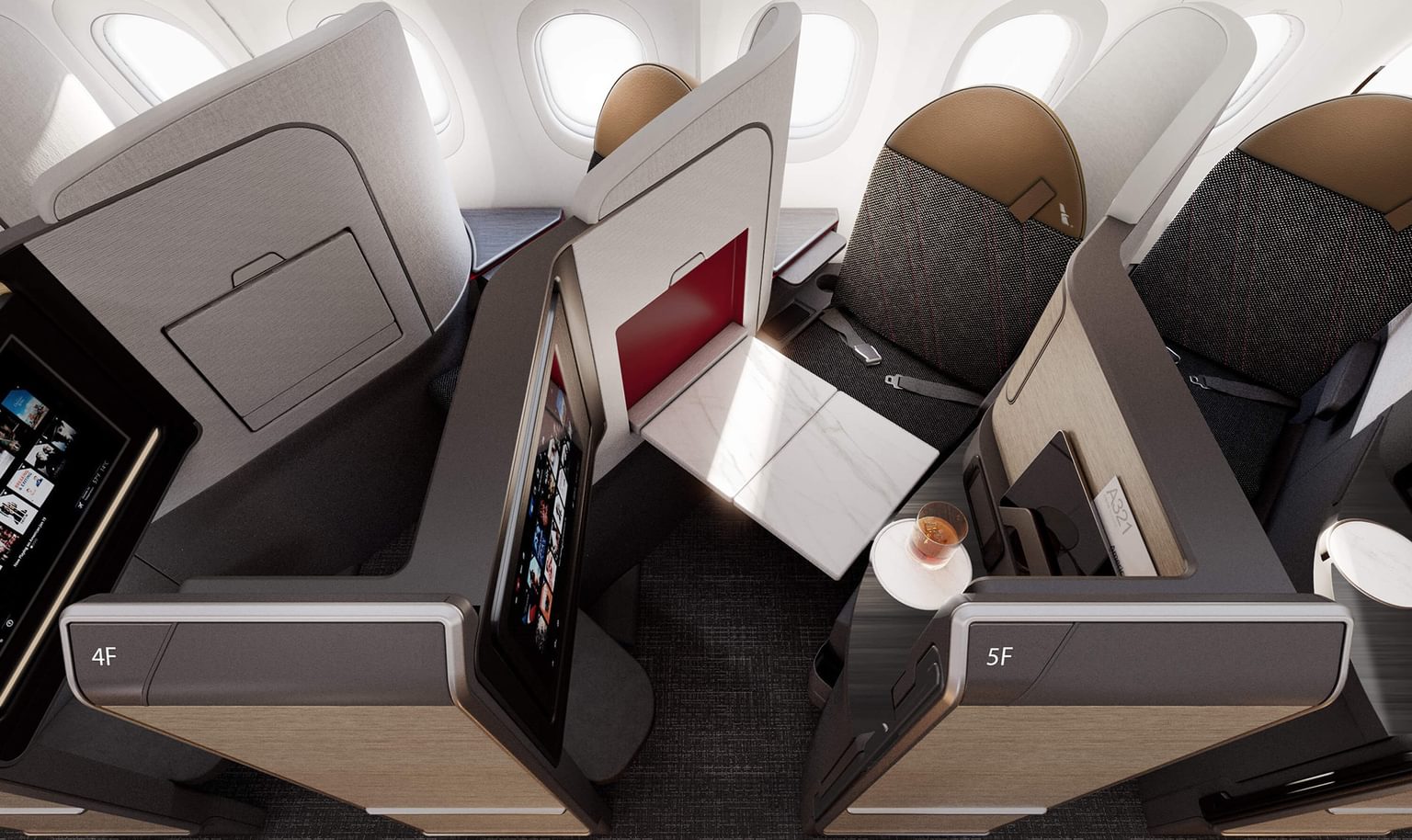 Airbus A321XLR Business Class Seating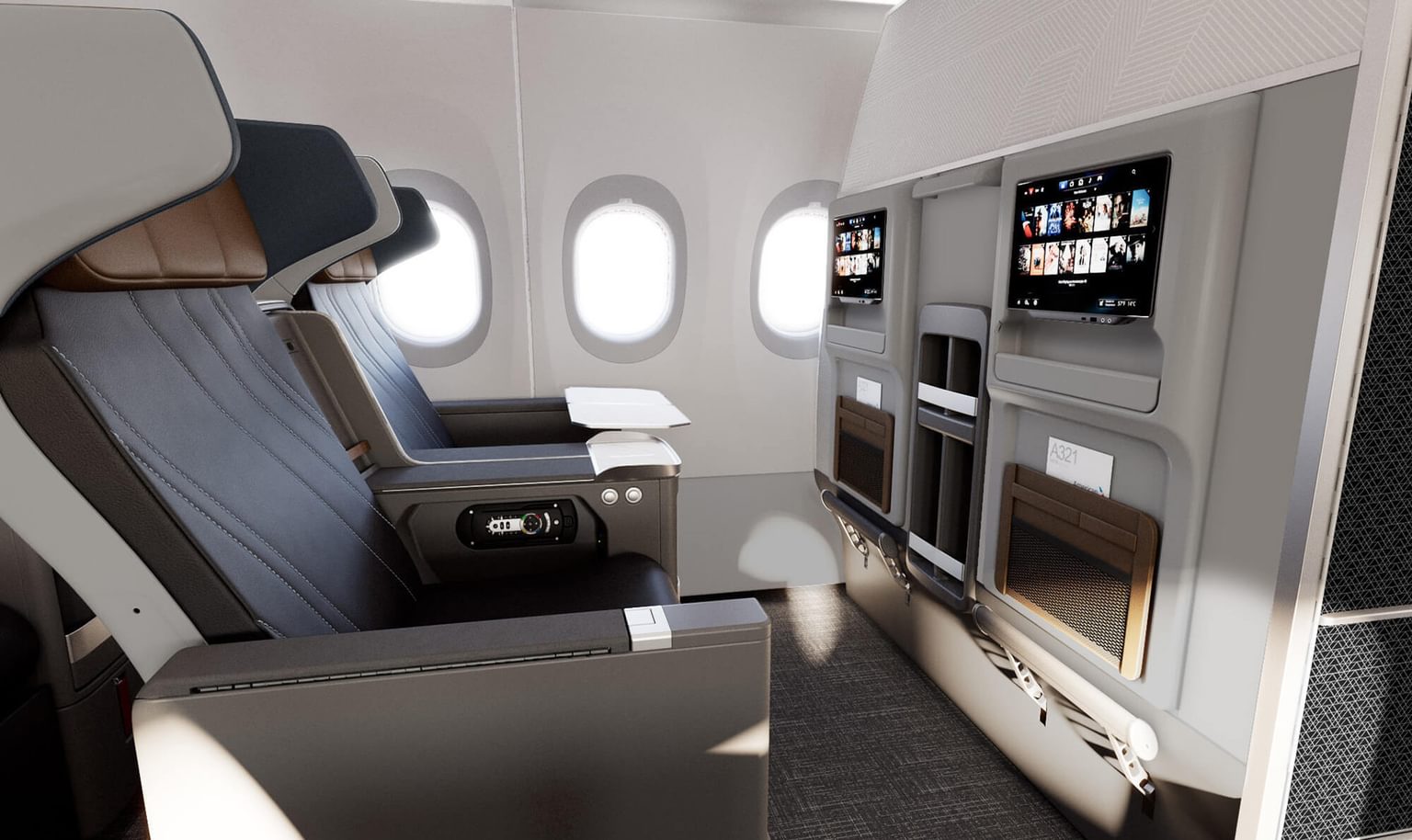 Airbus A321XLR Premium Economy Class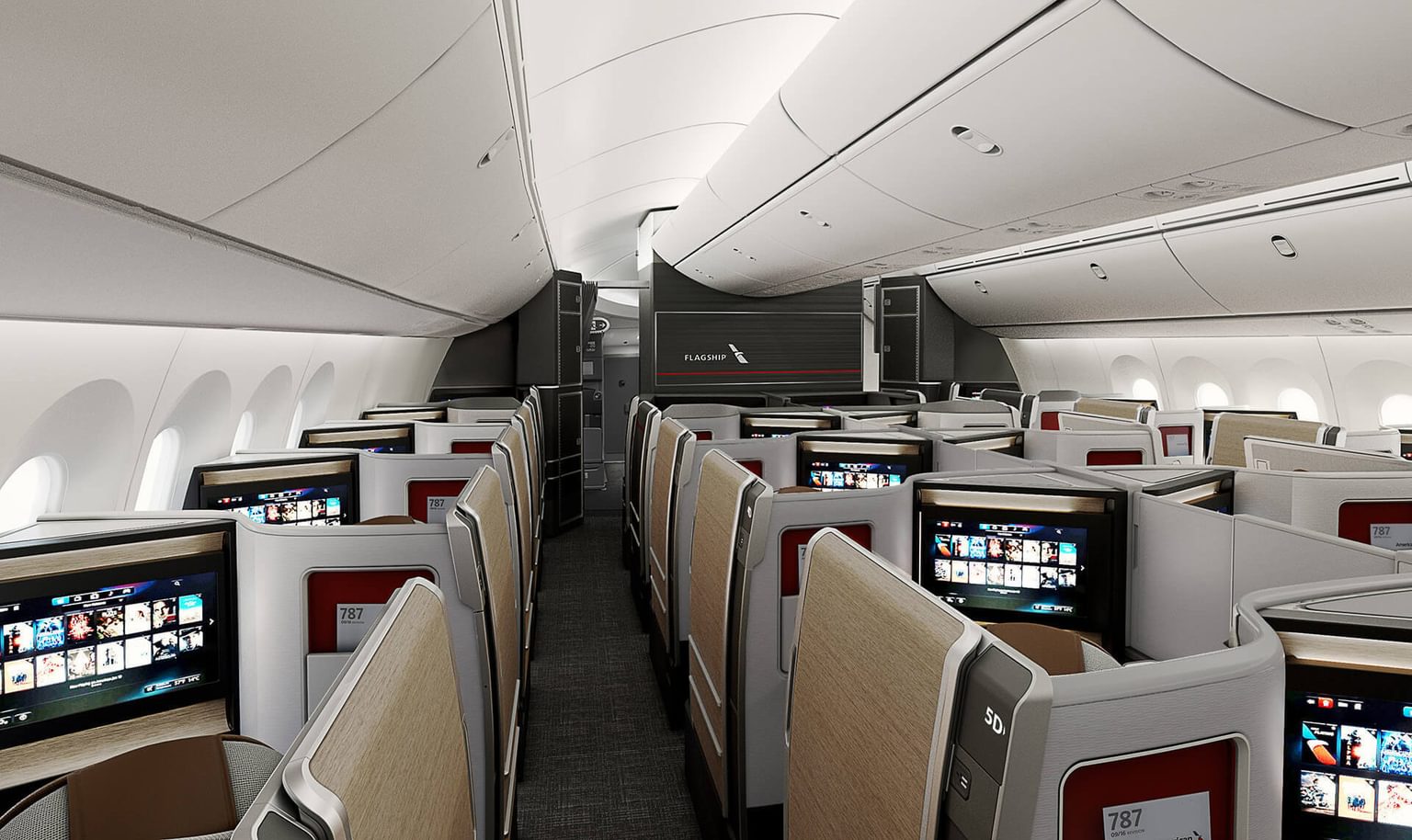 Boeing 787-9 Dreamliner Business Class Cabin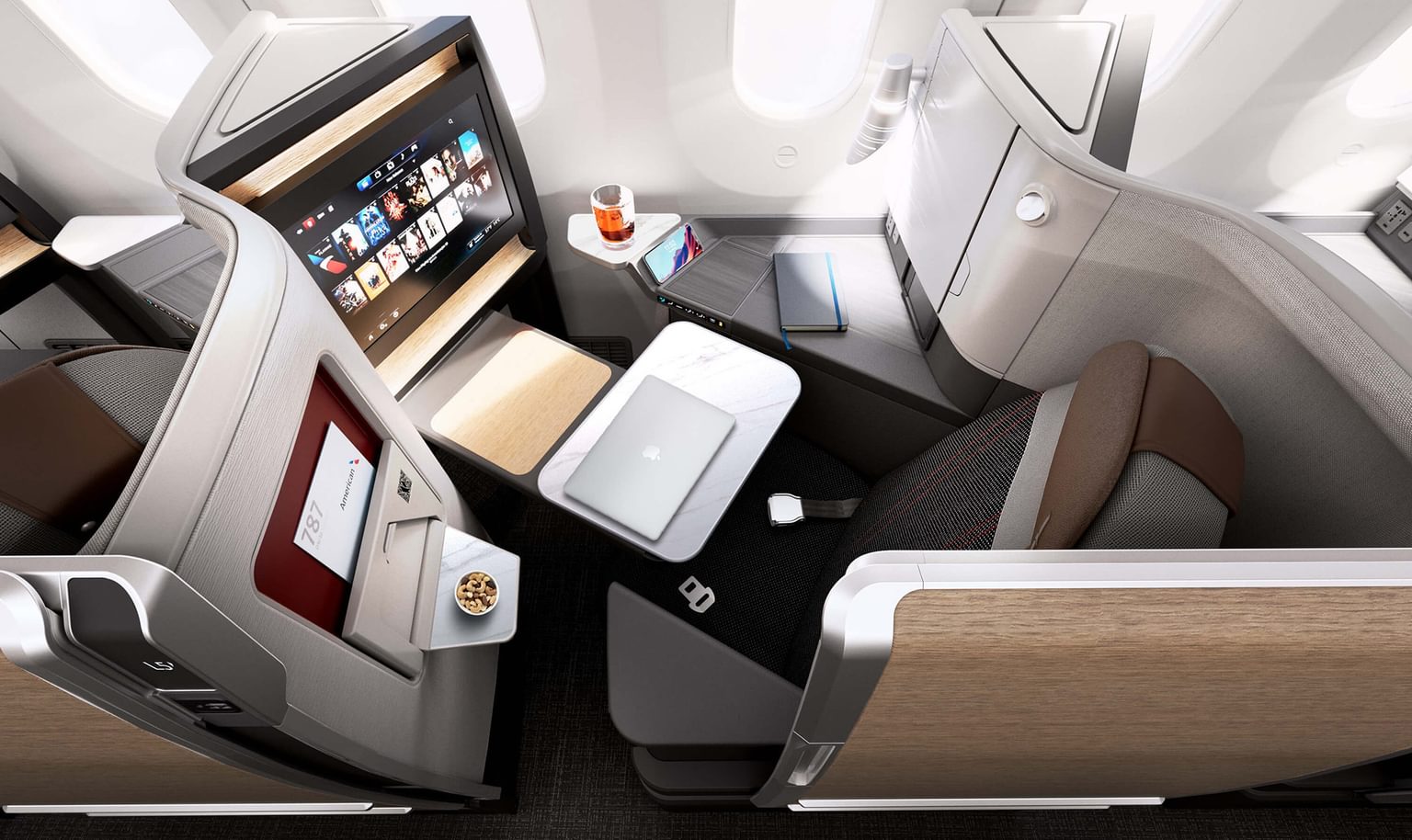 Boeing 787-9 Dreamliner Business Class Seating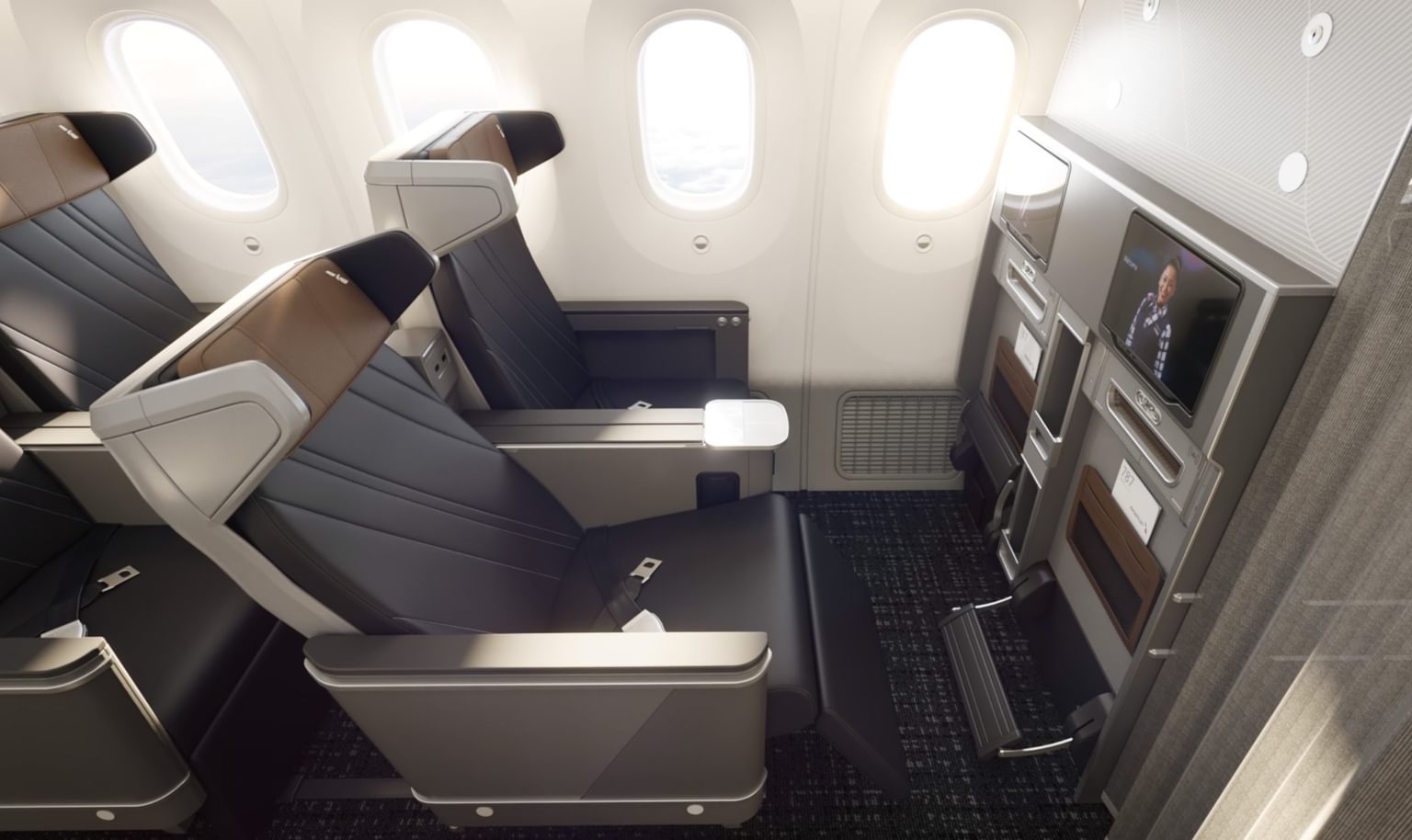 Boeing 787-9 Dreamliner Premium Economy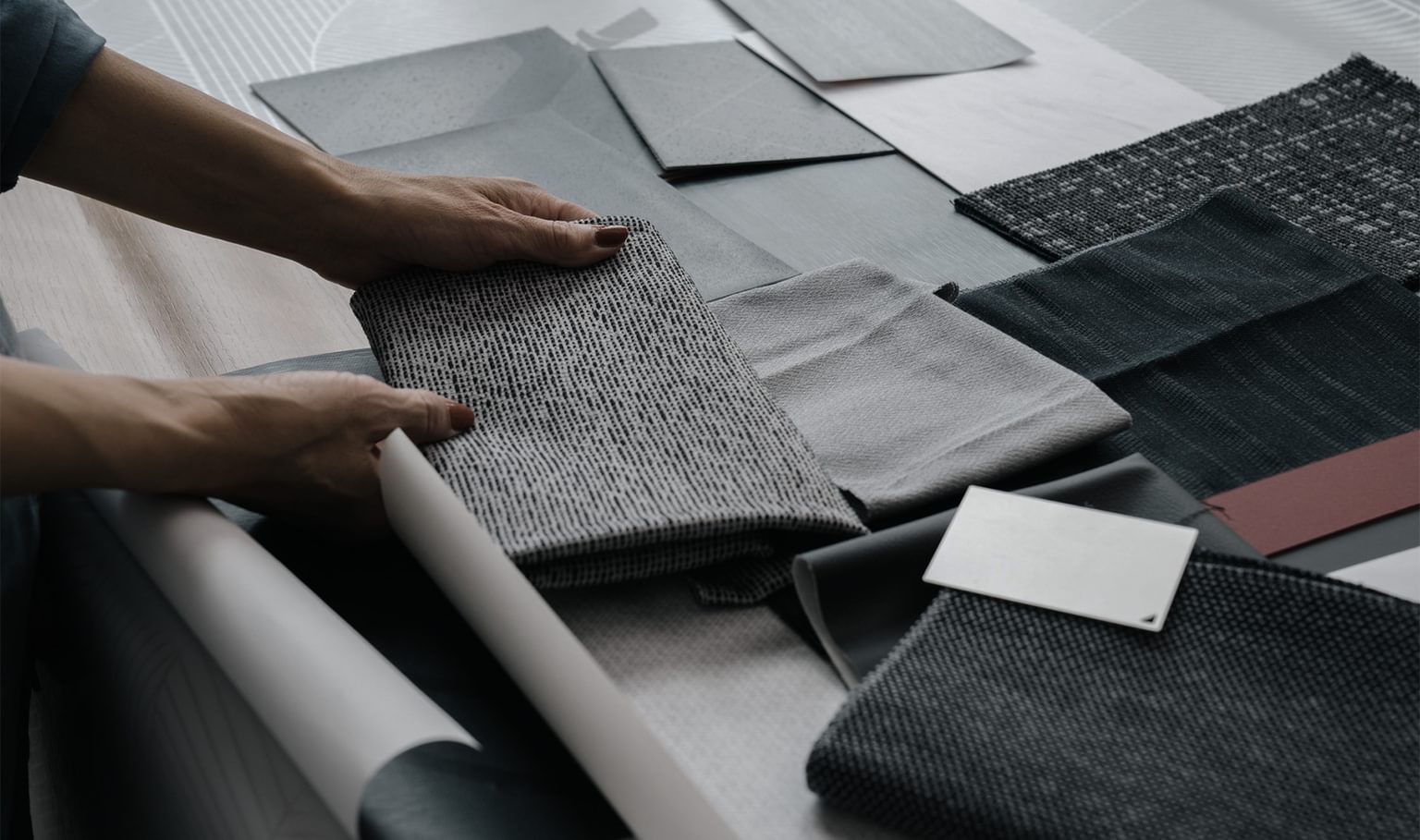 Teague has been a fantastic partner in helping us thoughtfully redesign our long-haul aircraft interior, allowing us to deliver an enhanced, premium inflight experience to our customers.
Kim Cisek
Vice President, Customer Experience | American Airlines
Beyond expectations.
Multiple complexities across OEMs, seat, and materials suppliers needed to be resolved. Across both aircraft types, there were no less than four different seat platforms from four separate seat suppliers and 25 custom-designed materials from six materials suppliers that needed to be orchestrated to deliver one consistent passenger product. Yet Teague was able to conduct these various stakeholders to deliver a unified cross-airframe product launch.
The program delivers a cabin experience that connects people through its environment and is just as comfortable as our own homes, with considered details that are designed not just for flying but living.
The gateway program may have been an opportunity to create new cabin experiences on new fleet deliveries, but the result was a chance to consolidate the design language, introduce new innovative features, and build on the emerging trend of celebrating local culture to the brand. This paved the way for not just a physical manifestation of the American Airlines brand, but an emotive one as well, where crew could welcome people 'home.'
The program delivers a cabin experience that connects people through its environment and is just as comfortable as our own homes, with considered details that are designed not just for flying but living. For Teague, the ability to create a new interior identity for American Airlines guided by values and motivated by a true passion to care for people on life's journey was a perfect opportunity.

Transform your passenger experience.
Find out more about how we're helping airlines, suppliers, and OEMs shape the future of commercial air travel.