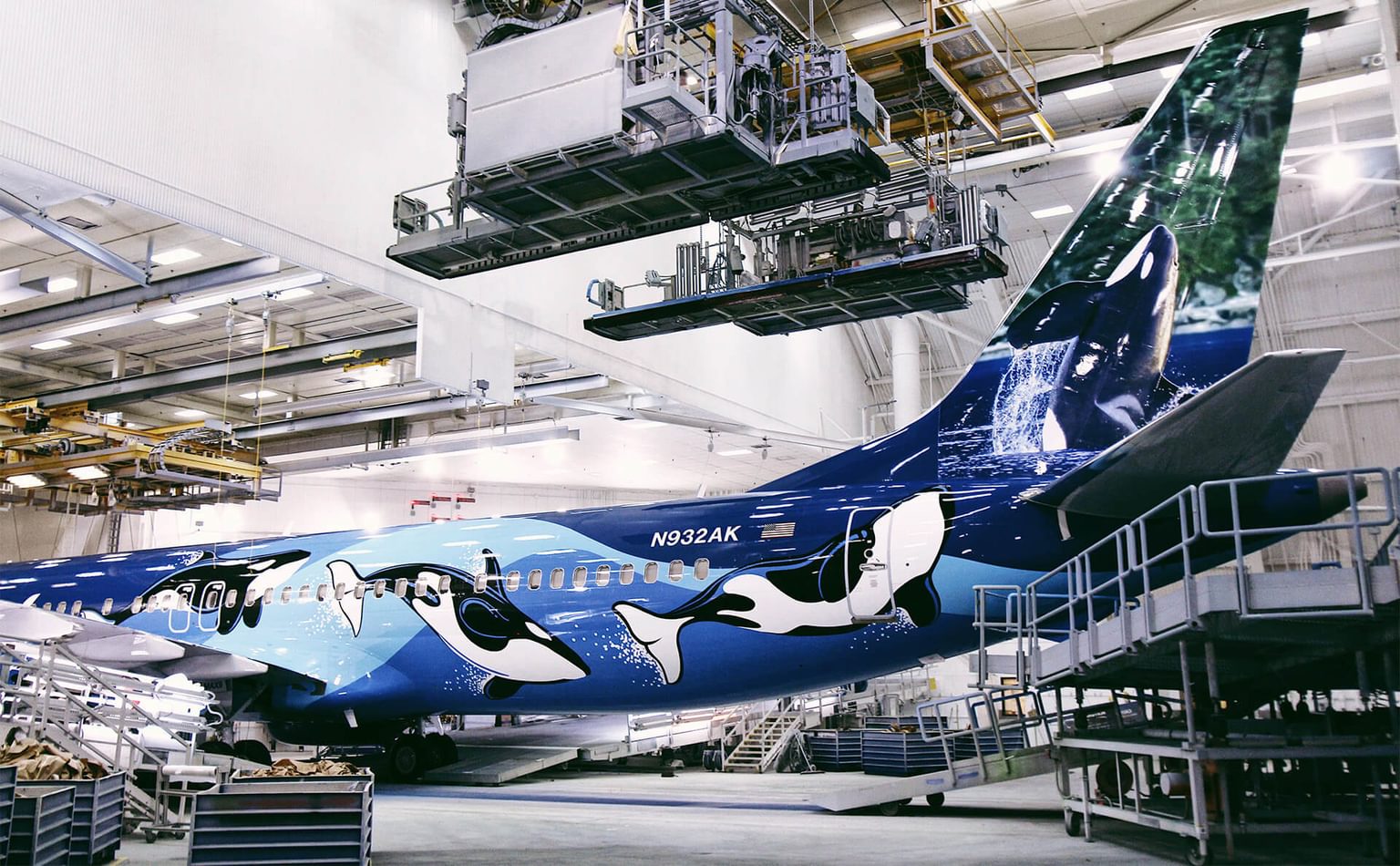 Technology meets craft: a new look for livery design
.
Jim Farmer | Senior Exterior Livery Designer
Jim Farmer
is a graphic designer with 10+ years experience specializing in livery design.
You may have never flown on a commercial airplane. Still, chances are pretty high you've seen one—which means it's likely you've seen a livery designed by Teague. Liveries are graphic schemes applied to the exteriors of airplanes. And we've created hundreds. Teague has a livery team whose sole purpose is to partner with airlines around the world to design and wrap such schemes. Post-design process, these graphics are usually hand painted. In rare instances, they're printed on decals. But what if you could print graphics directly onto an airplane?

Livery graphics are usually hand painted. What if you could print graphics directly onto an airplane?
On a traditionally painted livery, each color is sprayed from a paint gun separately and by hand. This means no fades, no color blending; think paint by numbers, but with fewer colors. Extra layout, more spray time, and additional drying cycles equate to more hours and more money. On the other hand, with a printer, anything goes. And instead of taking days to paint, any design could be printed in a matter of hours.
Always the innovator, Boeing set out to develop a custom printer capable of producing large-scale images. In 2019 they were ready to pilot a new direct-to-shape 3D inkjet printer backed by 120 patents. The canvas: a white 737 vertical stabilizer, i.e., a plane's tail. It sat waiting in an airplane hangar as Boeing began talks with Alaska Airlines, asking if the airline would be the first to try out their first-of-its-kind printer. Alaska agreed, and talk turned to graphics. Boeing wanted ideas that could show off the benefits of inkjet technology. Alaska liked ideas that highlighted the surroundings of their headquarters in the Pacific Northwest.
Teague has collaborated with Boeing for 76 years and Alaska Airlines for 20+. So, when asked to design graphic concepts, we jumped at the chance to pilot the new technology. Our designers came up with ideas ranging from West Coast birds, orcas, the northern lights, and even an octopus illustrating with its own squirted ink. After many reviews, Alaska decided their 737 should pay tribute to the mighty orca. It was a perfect fit. For thousands of years, the orca whale has been revered as a symbol of the West Coast and considered a guardian of the sea, a protector of humans, and an icon of power.
Together our teams decided a photograph would best showcase the color blending capabilities of the inkjet printer. After mocking up a selection of photos on Alaska planes, a vertically posed orca photo taken by Jane Cogan, a retired Boeing engineer who volunteers with the Center for Whale Research on San Juan Island, was chosen and sized to fit a 24-foot tall vertical stabilizer. The Boeing printer was then mounted, turned on, and left to work its magic. The half breaching mammal was revealed line by line. The result was beautiful and fast; it took just 12 hours to print both sides of the tail, a quick job compared to the many days and large crew it would take to hand paint such a design.

Because the new printing technology was designed for the tail, fuselage graphics would still have to be hand-painted by Boeing's talented paint crew, requiring a new Teague illustration that had to pair perfectly with the printed photo. Our livery designers went to work, grabbing pencils, mouses, and styluses. We created gorgeous concepts of all things orca, ranging from tribal to modern, abstract to representational. For a month, Alaska considered three final concepts. Each one from a different Teague designer, each showcasing a unique composition, each a standout.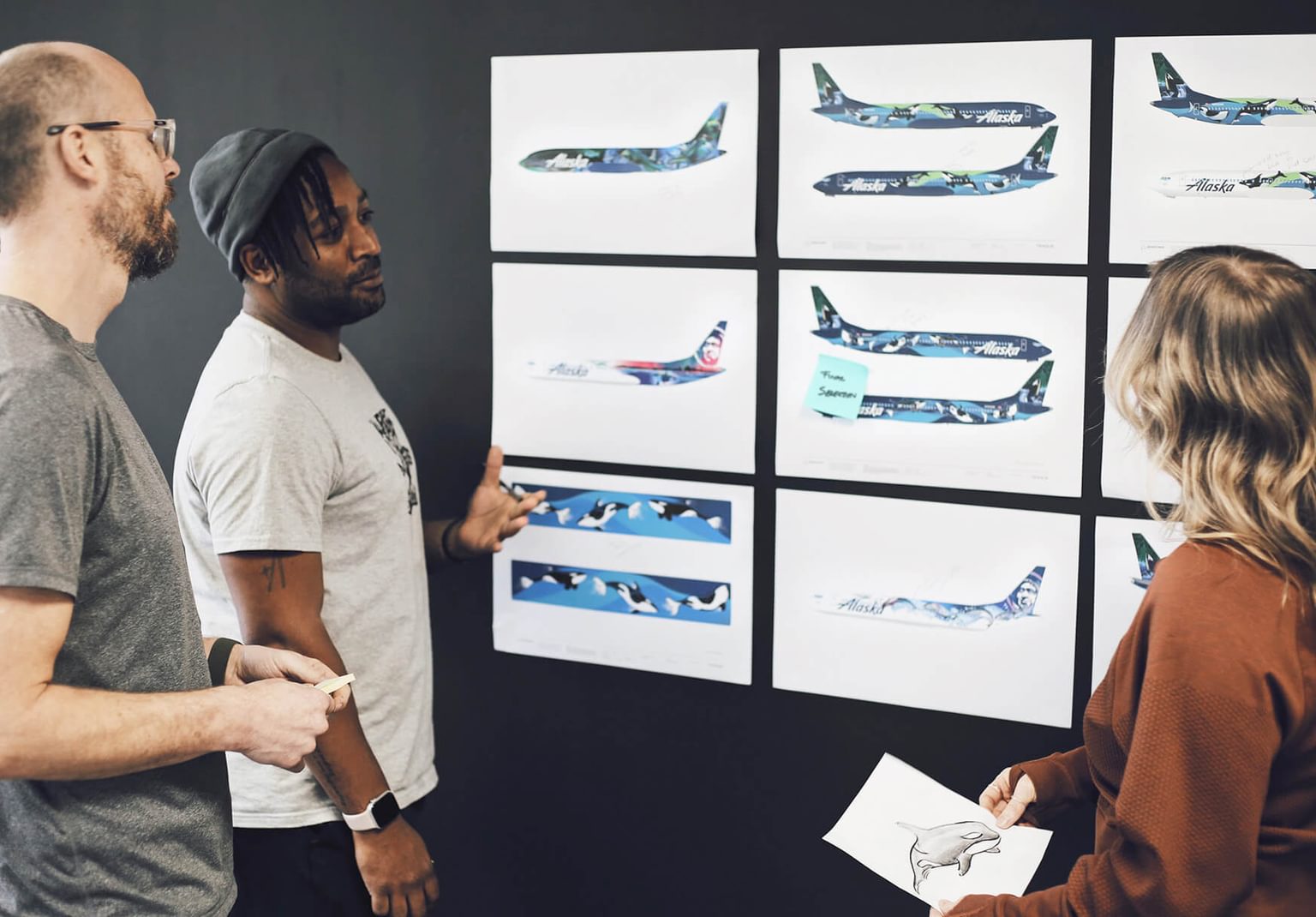 Once Alaska Airlines picked a final design, we quickly pivoted from conceptual to concrete. While our livery designers focus on composing and illustrating graphics, Teague's Catia designers step in for engineering. Still part of the livery team, this group understands each measurable surface of every commercial aircraft exterior. They took the scheme and wrapped it around lights, doors, windows, and wings—tucking, pinching, altering, and fitting the graphics onto the aircraft with precision. Once everything was in place, the files were delivered to Boeing Design Engineers to create pre-mask stencils for their painters to reference.

While the direct-to-shape inkjet printer technology is new and not currently integrated into Boeing's production process, printing directly onto a 737 vertical stabilizer is a huge step in understanding the future of livery application.
On December 2nd, 2021, the 737-9 Alaska Airlines Orca plane rolled out of the paint hangar—a beautiful bird, destined for the sky and wrapped from head to tail in one of the greatest wonders of the sea.