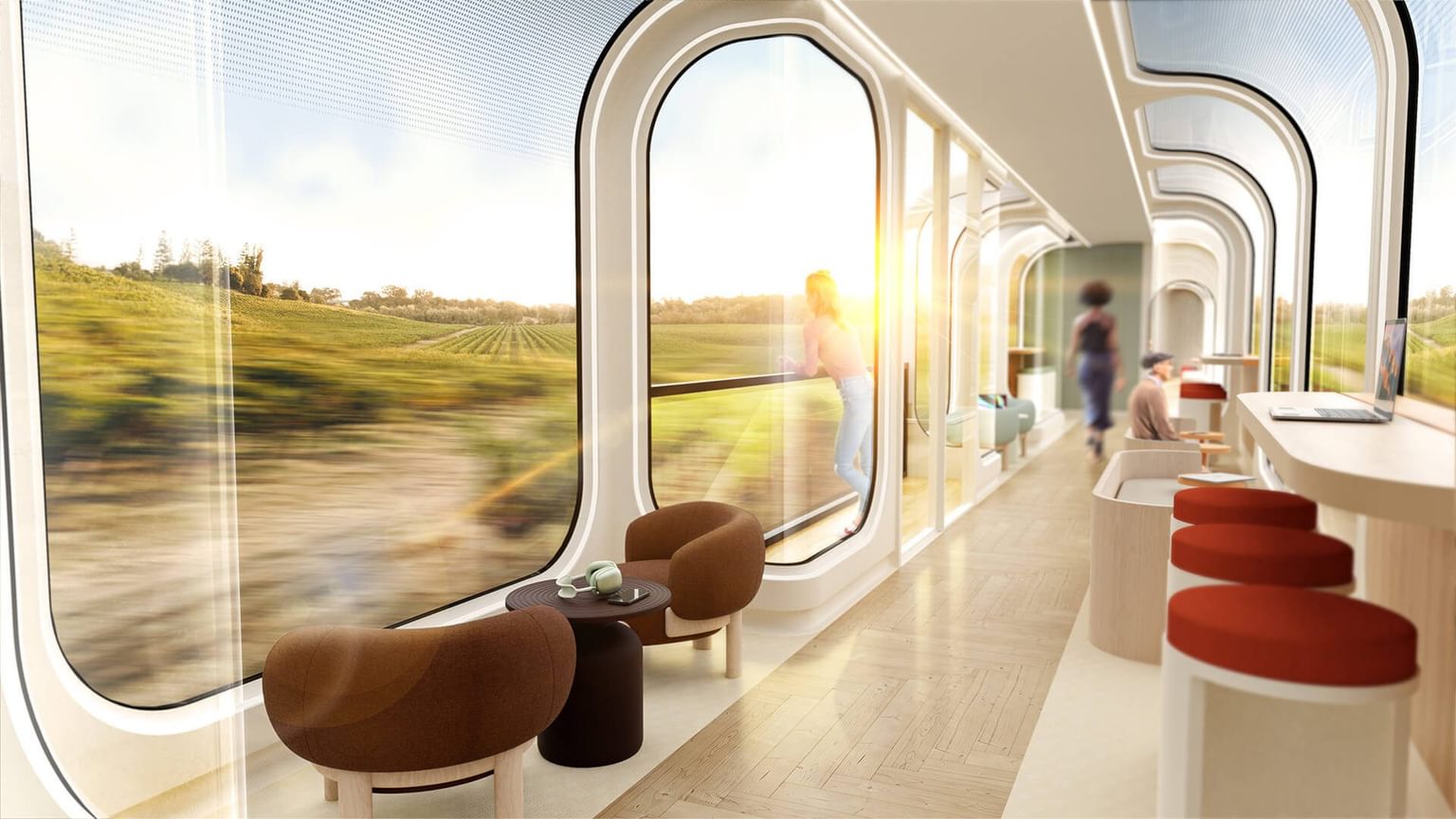 America's bold return to passenger rail
.
Teague Featured Concept | Roam | Future Passenger Rail
Category
Mobility & Transportation
Preferred Futures
Expertise
Concept Development
Design Visualization & Storytelling
Experience Journey Mapping
Interior Design & CMF
Trend & Drivers Analysis
User Interface Design
To help railway companies prepare for the next generation of passenger rail travel in the United States, Teague conceptualizes a new experience that reimages the great American road trip.
Challenge

Build back better.
Railroads helped the U.S. become an economic and geopolitical superpower. But things change. After decades of underfunding, the industry failed to modernize and adapt to consumers' evolving expectations.

In June 2022, the Biden Administration announced $368 million in grants to improve rail infrastructure, the most significant investment in passenger rail since Amtrak's creation 50 years ago. The government investment, along with a surge in domestic travel, the rise of remote work, and increasing interest in sustainable alternatives to driving and flying inspired Teague to reimagine long-haul rail in the U.S.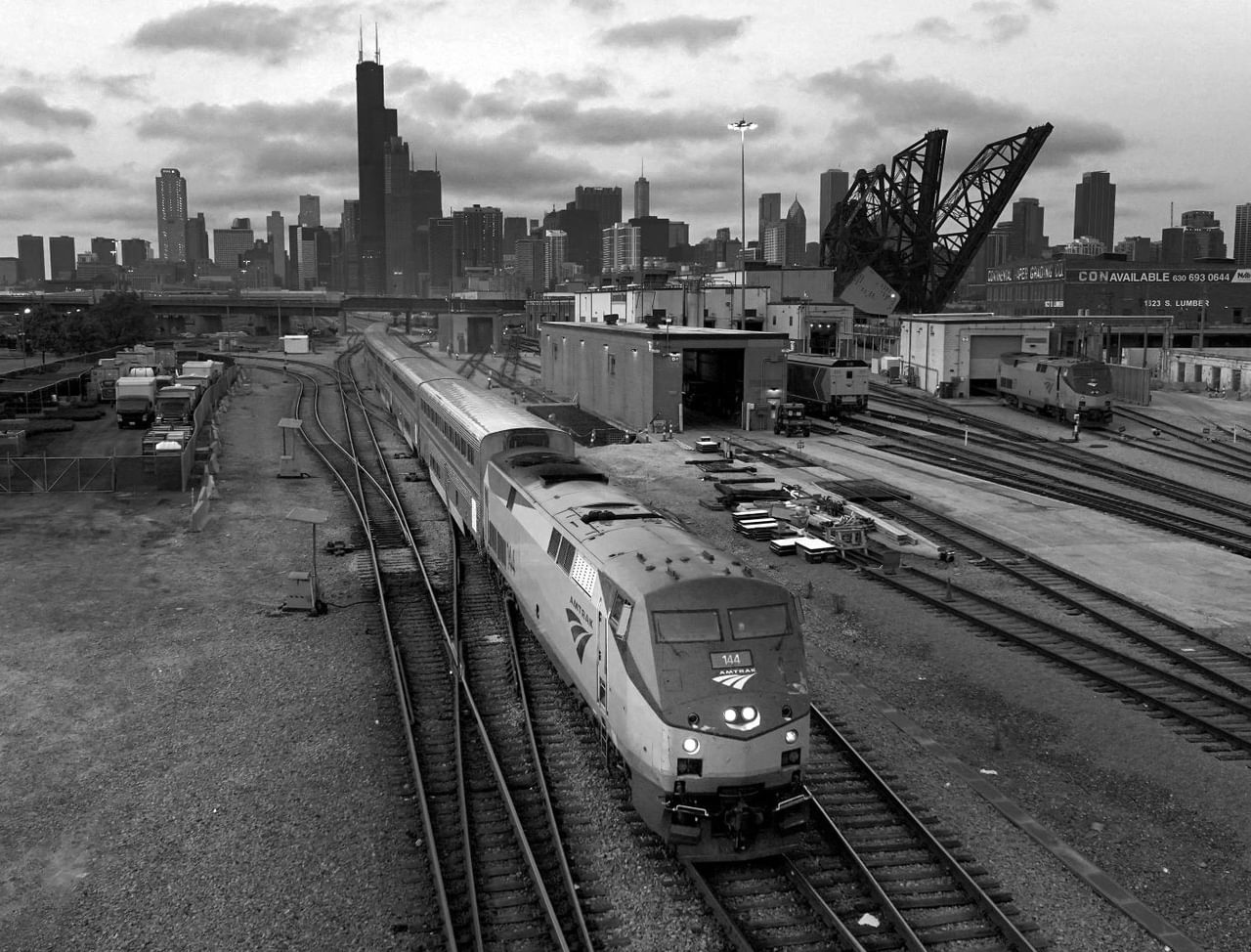 Approach
Design for desire.
It's technically possible to ride the rails in America, but the fact is: No one wants to.
Beyond the need for infrastructure to support long-haul rail as a service, a huge hurdle stands in the way of people viewing rail as a viable transportation option: Desire.
Our team set out to design a passenger experience for the next generation of adventure seekers that delivers above and beyond the basics of getting from point A to B. We began our concept with a thought-provoking design prompt: How would rail travel look and feel if it were designed to center on human needs, inclusivity, and accessibility?

Aviation industry parallels.
During the research phase, we were encouraged to observe the rail industry's numerous parallels to aviation, which we have deep experience with. Rail is similarly subject to regulatory authorities, space constraints, the same conduit systems, and same passenger journey navigation challenges from booking to the journey itself.
One striking similarity to aviation that we honed in on is the disparity between first class and coach. Imagining a more egalitarian future of travel, our team sought to solve this by completely reimagining how we traditionally think of coach class. Rather than being a downgraded version of what first class experiences, we drew inspiration from WeWork and other co-working spaces to inform a revolutionary new take on coach.
Gen Z travels differently.
Another of our biggest discoveries during the design process was around the travel preferences of Generation Z. Surveys have shown a massive decline in the desire for driver's licenses among teenagers today, yet, this generation is equally as "adventurous" as previous generations, if not more. We applied this disparity as a main design challenge—i.e., how might Gen Z take a gap year between high school and college? How can Gen Z experience the "Great American Road Trip" without a car?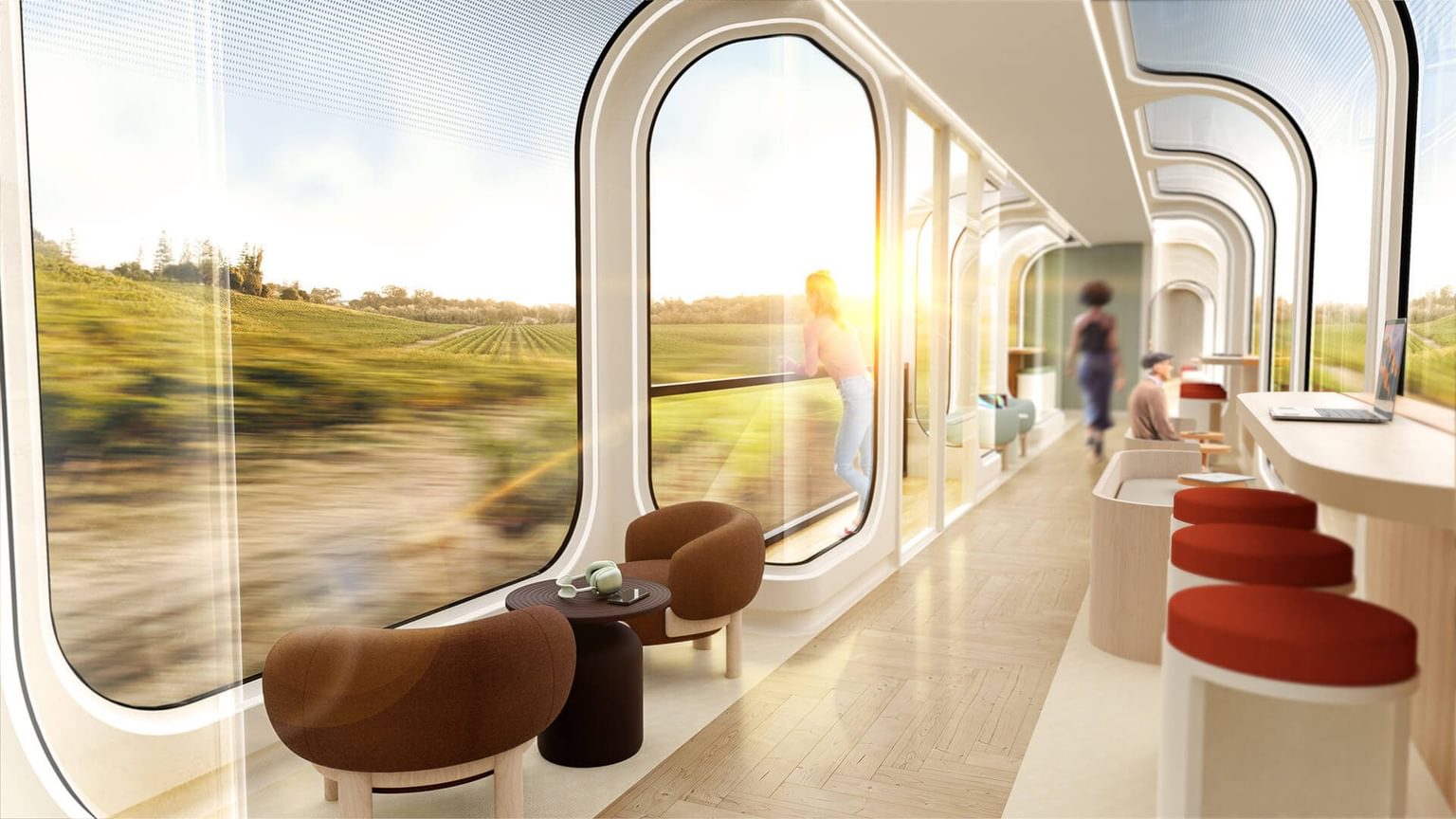 Roam America.
Inspired by changing consumer habits and converging trends such as the rise of nomadic travel, the mass adoption of remote/hybrid work, and the decline of the once-coveted driver's license, Roam America is our vision for long-haul passenger rail travel in the U.S.
Promising all the comforts of home, where quality of life and community naturally intersect, Roam America supports the next generation of travelers with a means to live, work, and play while exploring the breathtaking landscapes and diverse communities only America can offer.
Choose your own adventure.

Roam appeals to a wide range of passengers by using automated systems and a personalized app. The app functions primarily as the passenger's control mechanism for their physical experience, as it is used to set preferences for lighting, purchase tickets, order food, and communicate any needs.
Its secondary function is as an excursion planner and trip guide for every stop along the journey. This feature is critical to the Roam experience, as rail connects many rural, smaller towns, and a key part of our vision includes stimulating the small business economy with a new influx of rail travelers who are eager to explore. The app provides a platform for rural communities across the country to attract patrons coming through town on Roam—whether it's a family-owned diner, a river rafting guide, or a local craftsperson teaching a workshop.

Built-in flexibility.
Roam America's multi-functional private rooms adapt to any use with home-inspired seating for lounging, dynamic lighting, cleverly integrated storage, and tucked-away workspace. A soft color palette drawn from the calming cues of the natural environment purposefully contrasts with majestic views framed by windows that sweep dramatically up and over the ceiling. When traveling as a family or a group, a retractable room divider in the lofted sleeping area makes stargazing in good company an easy option.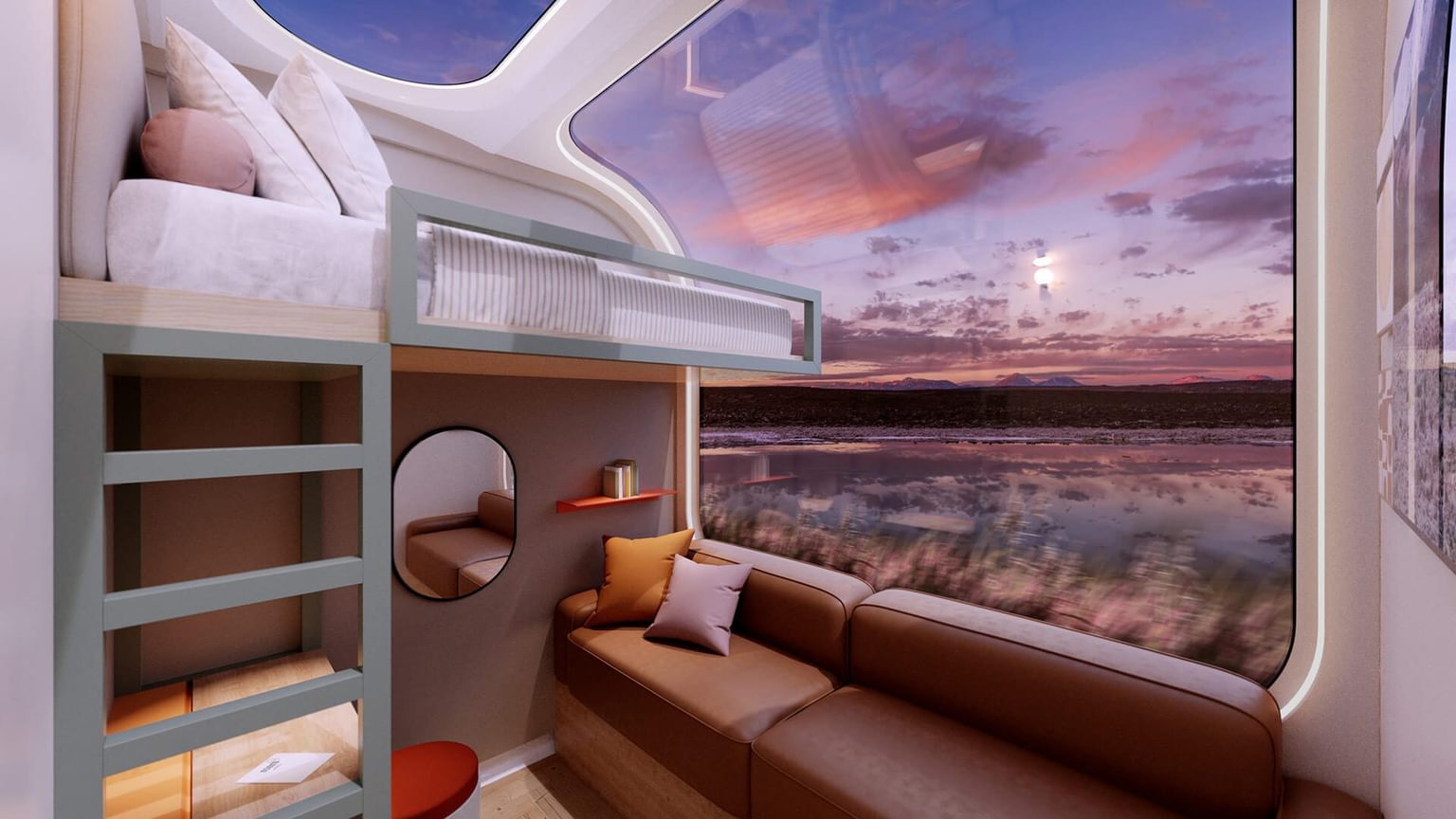 Inclusive family travel, simplified.
When traveling with kids, it's rare to find an experience that is designed to keep children entertained, excited, and immersed in the reality they find themselves in—more often, we see efforts to distract them from their own discomfort and boredom. Our team felt that for kids especially, being in a train should feel uniquely different from other ways of traveling.
Right-sized furniture in organic shapes invites kids into a space that feels all their own, while clear sightlines across the car provide the right mix of freedom and adult supervision. Instead of rigid seats and defined boundaries, Roam's dedicated play room invites kids to run around, play hide and seek, and jump off the soft furniture—nothing is off limits in this safe play zone.
Knowing that kids are drawn to technology, we wanted to incorporate it in a way that thoughtfully encouraged them to interact with the surrounding environment, rather than shutting it out. The virtual toybox features digital characters that appear on the glass windows to interact with the ever-changing outside scenery, creating a communal, imaginative play experience.
For parents, zones in the family play room match the ebb and flow of user needs, with each zone equipped with the necessary furniture, equipment, and storage to suit a specific purpose, such as work, dining, or socializing.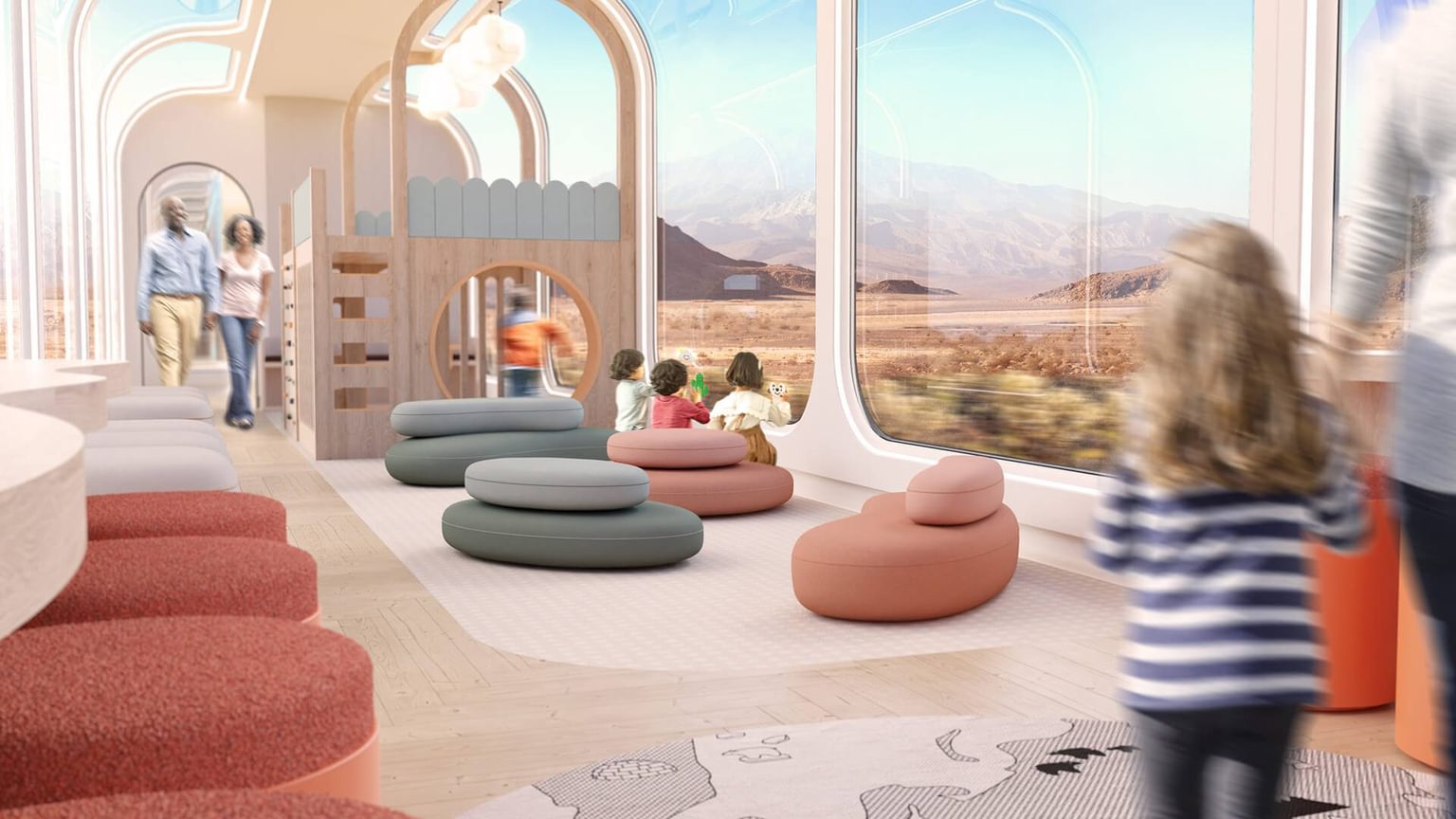 Result

Informing the future of long-haul passenger rail.
The Roam concept helped foster new relationships between Teague and rail companies, including Amtrak—the only passenger railroad service that operates throughout the continental US.
For nearly a century, we've had our hand in shaping new mobilities, vehicle innovation, and emerging transportation technologies. Today, we've got our eyes set on designing human-centered transportation solutions and smart infrastructure. Long-haul passenger rail is an area we are proudly exploring.
Images by Nick Ross & Alexandra Sakalian | Animations by Victor Coulet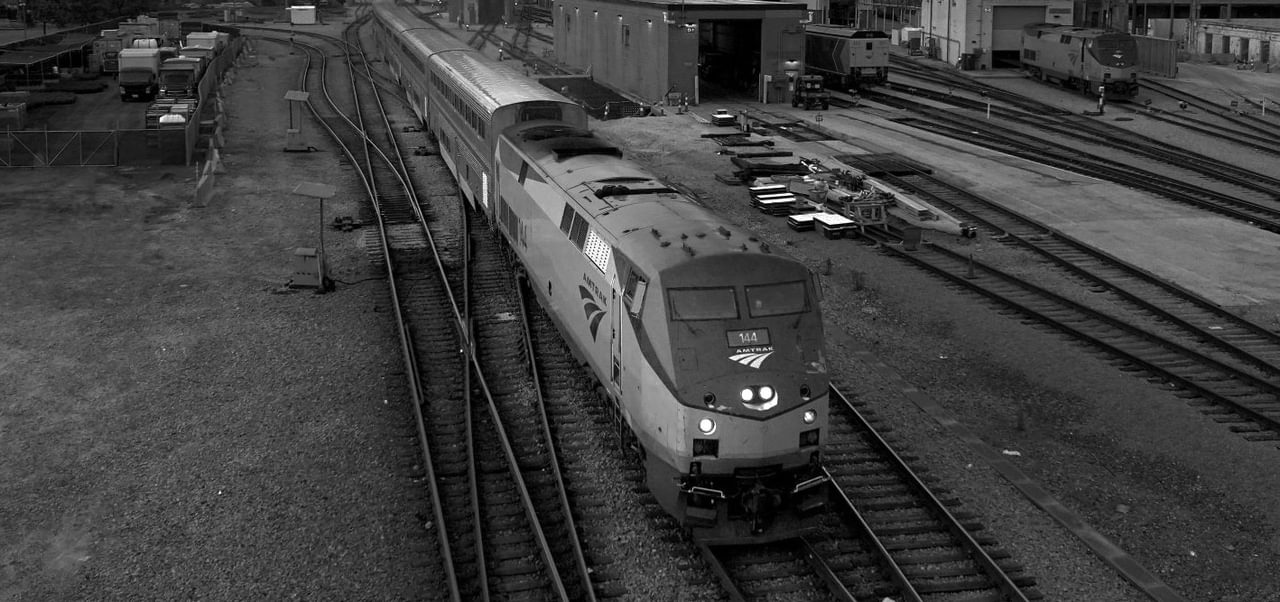 The quality of work Teague produces, combined with the perfect blend of grounded research and visionary design, and the professional packaging and delivery of the resulting work is everything we need in a design partner.
Anthony D. Paul
Director of Strategic Foresight | Amtrak
Want to learn more about the brave new world of transportation?
We're shaping future passenger experiences on the ground, in the air, and beyond the edge of outer space.