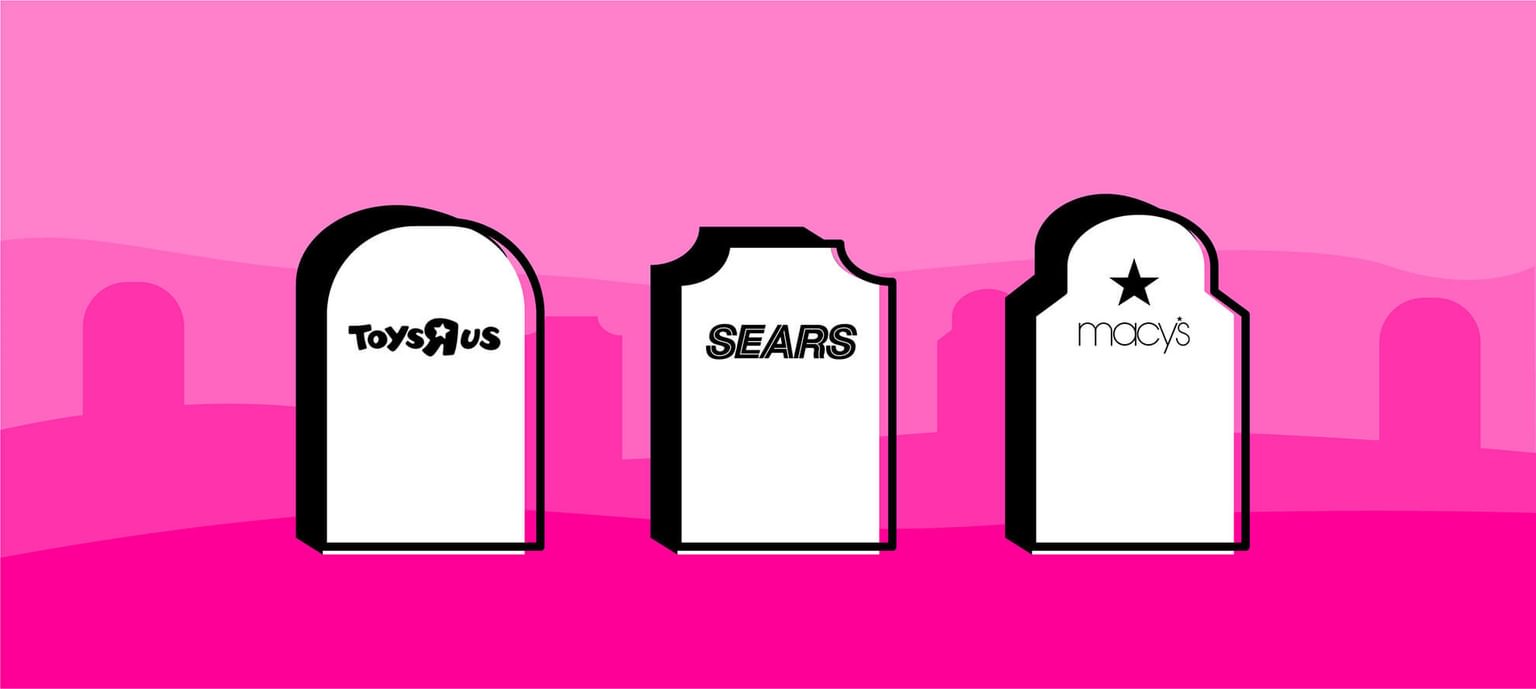 Survival skills for digital disruption
.
Stephanie Di Biase | Creative Director
Stephanie Di Biase
is a creative director with 20 years of experience leading teams and solutions for large design programs at the intersection of people, business and tech.
In the early to mid-2000s, the retail landscape was a constellation of fallen stars, lagging brands that stalled, consolidated, or fizzled out. From the moment in 1994, when Jeff Bezos founded Amazon in his garage, business changed forever.
With algorithms making smarter product suggestions, strategic flexibility, and devotion to user experience, Amazon became the gold standard—the new standard—for the retail experience. Unlike brick and mortar organizations, Amazon could innovate, iterate, and to an unprecedented extent, prioritize customers. The retail industry, as we knew it, was torn apart. Ecommerce became retail's main storefront.
It is critical for companies to leverage digital to power the personal, touchless, and safe experiences that customers expect today.
Today, no industry is immune to disruption. As a pandemic suspends the global economy, a new kind of disruption threatens brands. It is more critical than ever for companies to leverage digital to power the personal, touchless, and safe experiences that customers expect today and will expect tomorrow.

Taking a cue from the digital disruptor playbook. Here are five rules—think of them as survival skills—to follow when you need to accelerate your customer experience in the face of disruption.


Rule 01
Develop Customer Obsession.
From the get-go, Amazon swam with a deep dive in customer focus, narrowcasting on the customer's motivations, wants, and needs. With its auto-generated recommendations, perks of Prime membership, and consistent focus on the customer experience, Amazon's digital smarts continue to generate momentum and define what's next in driving customer convenience.
E-commerce has evolved to the point of extreme personalization, generating a new buzzword, what some call "me-commerce." Today, people expect offerings of highly individualized products, prices, and services—transmitted seamlessly across their devices—that, proposed tactfully, anticipate their needs.
Invest in simple design frameworks to understand your customers and start collecting data about how they engage with you to inform business decisions.
There may be challenges to getting to know and gather feedback from your customers. You won't gather the data-driven insights of Amazon overnight, but you can begin by shifting to a customer-centric point of view. Invest in simple design frameworks to understand your customers and start collecting data about how they engage with you to inform business decisions.

Create a singular view of your customer with design frameworks—customer journeys, user stories, and other artifacts that are research-based, rich with emotion, and that are shareable across your organization. These tools are the foundation for building customer obsession.


Rule 02
Launch and Learn.
Surviving disruption requires agility and a culture of innovation. Part of what helped digital-native brands disrupt traditional retail was their different approach to development. Using methods like agile, digital teams commonly break big initiatives down into smaller goals, with a continuous cycle of testing, iterating, and learning. Future-thinking brands have learned how to be nimble, treating products as prototypes that can be tweaked and continuously improved.
We have our own version of an agile approach at Teague we call Thinking Through Making. We combine our design experience with tools to help teams innovate and test solutions faster using lean prototypes. To be more iterative with a global team, we developed a new tool—Teague 3D Garage—using VR technology that allowed us to collaborate with our partners at Segway in real-time from different geographies.



Prototyping is foundational to how we innovate and get to solutions faster, but it's only half of our approach. The other half is communication. Especially now, as remote work becomes more prevalent, leveraging tools to communicate and track work will help ongoing programs be successful. We leverage a combination of remote facilitation techniques and tools like Slack, Teams, and Miro to support prototyping and testing in virtual environments.

You can't change certain product lifecycles that are heavily regulated and take a long time to get to market. But ask yourself, where could your company be nimble in how you solve aspects of customer problems? Where could you pilot an idea in a small way? Who could disrupt your industry tomorrow if they took this approach?


Rule 03
Ditch Departments.
As the retail landscape changed, many sectors held on to organization charts that outlasted their value. When e-commerce first became a part of retail's requirements for doing business, organizations considered e-commerce an add-on to their core business. In effect, the companies duplicated efforts, with siloed "in-store" merchandising and "e-commerce" departments perceived as separate and exclusive channels, running, sometimes at odds, on parallel tracks.
Innovation sparks when subject-matter experts are embedded in cross-functional teams that are empowered to move quickly.
Meanwhile, digital-native brands operated a single channel and narrative. This disruption created higher expectations from customers around seamless supply chains (buy online, return in-store) and experience expectations. Over time, retailers who survived the disruption learned to revise the org chart, and break down department silos, unifying cross-functional teams around wowing the customer and delivering consistent experiences across the purchase path.

In your organization, consider the challenges to true collaboration. In our experience, innovation sparks when subject-matter experts are embedded in cross-functional teams that are empowered to move quickly. Jeff Bezos is famous for Amazon's bias for action as well as the discipline to right-size digital-product teams. Be like Bezos: Limit meeting invites to the number of people who can eat two pizzas.


Rule 04
Transform Viable to Valuable.
In the early days of e-commerce, technology consultants ran with an ethos of offering the new industry bare-bones solutions called the "MVP," shorthand for Minimum Viable Product. The term garnished a lousy reputation and, over time, came to signify buggy partial experiences, with analogies to physical products like a half-built automobile. Today, the bar is even higher. Digital has matured, and so have customer's expectations along with it. I prefer to think about creating Most Valuable Products. What makes an experience product valuable? An intentional balance of expected, required, and delightful interactions. Solutions that solve user's articulated problems, and support business goals while anticipating tomorrow's must-have features in the form through delight. Here's the million-dollar question: Do you know what your customer's unsaid problems are?


For instance, consider the cozy yet commonplace bedtime story. For parents, storytime is a moment that matters—but sometimes, realistically, parents feel fatigued. Google and Disney engaged Teague to create and test prototypes to help define the best way to bring Disney stories to life with AI. The testing surfaced a delightfully unexpected use case. With the supporting music and sounds empowering parents to embrace the drama of storytelling like never before, parents felt more encouraged and excited to act out the narrative. When reading the same story for the umpteenth time, this support and breath of fresh air was a welcome one to help caregivers combat book fatigue. The product energized storytime, giving the ritual a new spark.


Rule 05
Find Partners and Platforms.
In the early days of digital in retail, it was common for brick-and-mortar stores to leverage tech from online-only retail operations. Successful brands like Target engaged Amazon to manage its online platform, but over time, realized it had sacrificed understanding their customer for company convenience. The effort to take it's digital operations in-house with independent platforms freed Target to more deeply understand their customers' needs and behaviors and the freedom to launch new experiences faster that aligned to their brand promise. As a member of the Target program, I saw retailers who miscalculated the ways and means of survival, like Toys R Us and Payless, brands that serve as cautionary tales.
Thankfully, brands don't need to reinvent the wheel to be successful anymore. With the maturity of digital tools, modern models of engagement exist to enable your digital transformation. Select partners to help you manage unfamiliar platforms, match your gaps, and complement your strengths while you look to build those capabilities internally long term. Whether for considering new approaches to customer engagement, prototyping, or realigning processes, a seasoned partner can be an invaluable asset when you're looking to expand into new territory.

Preparing for digital disruption is more important than ever before. Soon, customers will demand touchless experiences as they look at their pre-pandemic experience through a new lens. Designing interactions for trust and safety in the future will require digital focus and building new and faster innovations. Drawing on the lessons of retailers who adapted to digital disruptions, we invite you to reimagine your processes, products, and possibilities as you plan for what's next.