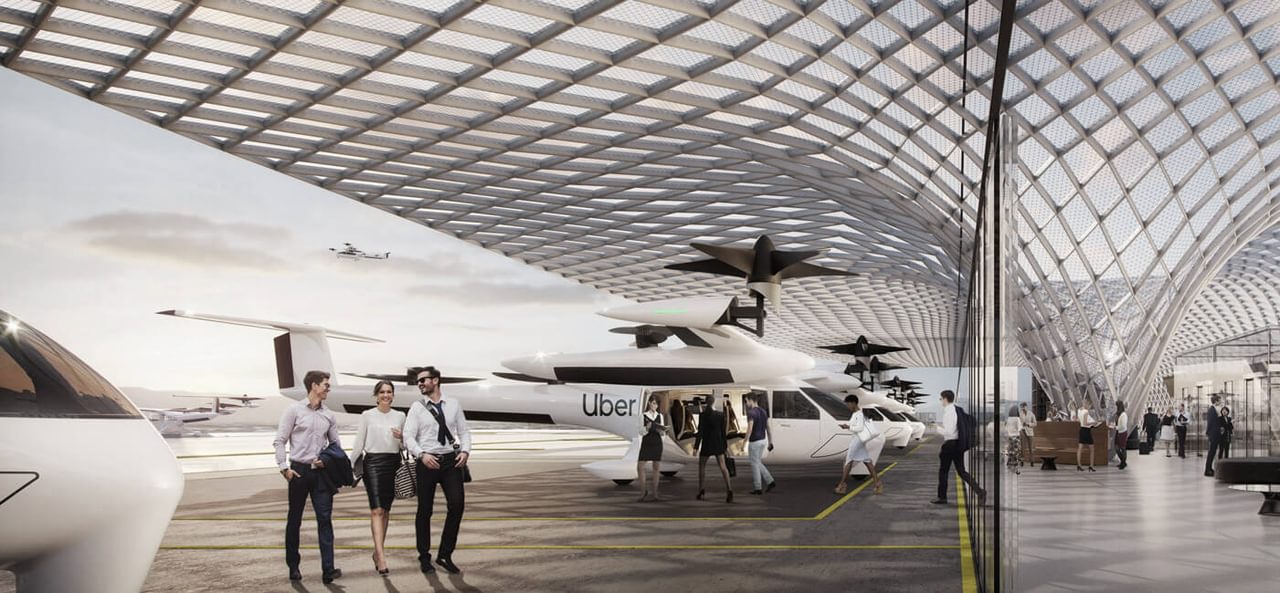 Uber elevate and the future of urban air travel
.
Another Uber Elevate has come and gone, hosted this year in our nation's capital of Washington DC. Our team was in attendance for the second year running, soaking up all of the inspiration, energy, and creativity surrounding the "closer-than-you-think" future of urban air travel.
Much like last year, the excitement was palpable. Over the course of two days, Uber brought to the table many stunning new concepts, announced more partnerships, connected the dots of their growing multi-modal ecosystem, and reiterated milestones of Uber Air, all culminating in a 2023 pilot launch (a still audacious date, we might add) in their first test cities: Dallas, Los Angeles, and Melbourne, Australia.
Teague has collected and distilled takeaways and learnings from this year's conference, with a particular focus on the progress they've made since 2018, and what hurdles Uber and their partners will still need to overcome before they can officially debut urban eVTOLs to the public.
Insight 1

Multi-modality will be at the heart of everything.
One topic we heard a lot about this year, perhaps even the largest theme of the conference, was Uber's focus on multi-modality and the unifying, building upon, and data sharing enabled by their platform.
Launched just last week, Uber Copter, which will get users from Lower Manhattan to JFK in just eight minutes for a starting price of $200-$225, was actually born using lines of code from the already existing Uber Pool and Uber Eats services. Platforms that are built on top of existing Uber networks, like Uber Eats and Uber Copter, are allowing the company to compound and expand what they already know, giving insight into how transportation and data can be used to improve the customer experience, and ultimately, driving down the delivery times of both people and things.
Green, sustainable cities that are safer, more efficient, and that everyone, regardless of financial status, has access to in order to fuel their success are Uber's ultimate goal
But data informing future Uber services isn't the only multi-modal aspect that was touched on: The team took particular care in emphasizing how the upcoming Uber Air was just one aspect of ridesharing that their customers would need to adopt in order to make transportation in our cities truly sustainable and economical. New JUMP scooter and ebike technologies were revealed, along with the first Uber Eats drone delivery program, in partnership with the city of San Diego and McDonalds. Each Skyport concept unveiled featured solutions for seamless integration with all of Uber's transportation services, making it easy to park your bike or scooter, be dropped off and picked up by your Uber driver, or access via public transit.
Green, sustainable cities that are safer, more efficient, and that everyone, regardless of financial status, has access to in order to fuel their success are Uber's ultimate goal, sums up Uber CEO Dara Khosrowshahi in the event's closing keynote speech. And while we're on our way with more multi-modal transportation and ridesharing options than ever, we need to evolve even further to make this future a reality.
"If you take a look at the development of cities around the world," Khosrowshahi states, "what you see is that as they densify, you move into a mode where residential living and commercial work move up into the third dimension. When this happens, you have a transportation grid that cannot keep up in two dimensions.
"We think the solution is simple: We want to take the transportation grid into the third dimension. And we think that all of the technology you've seen demonstrated here is going to make this possible sooner rather than later."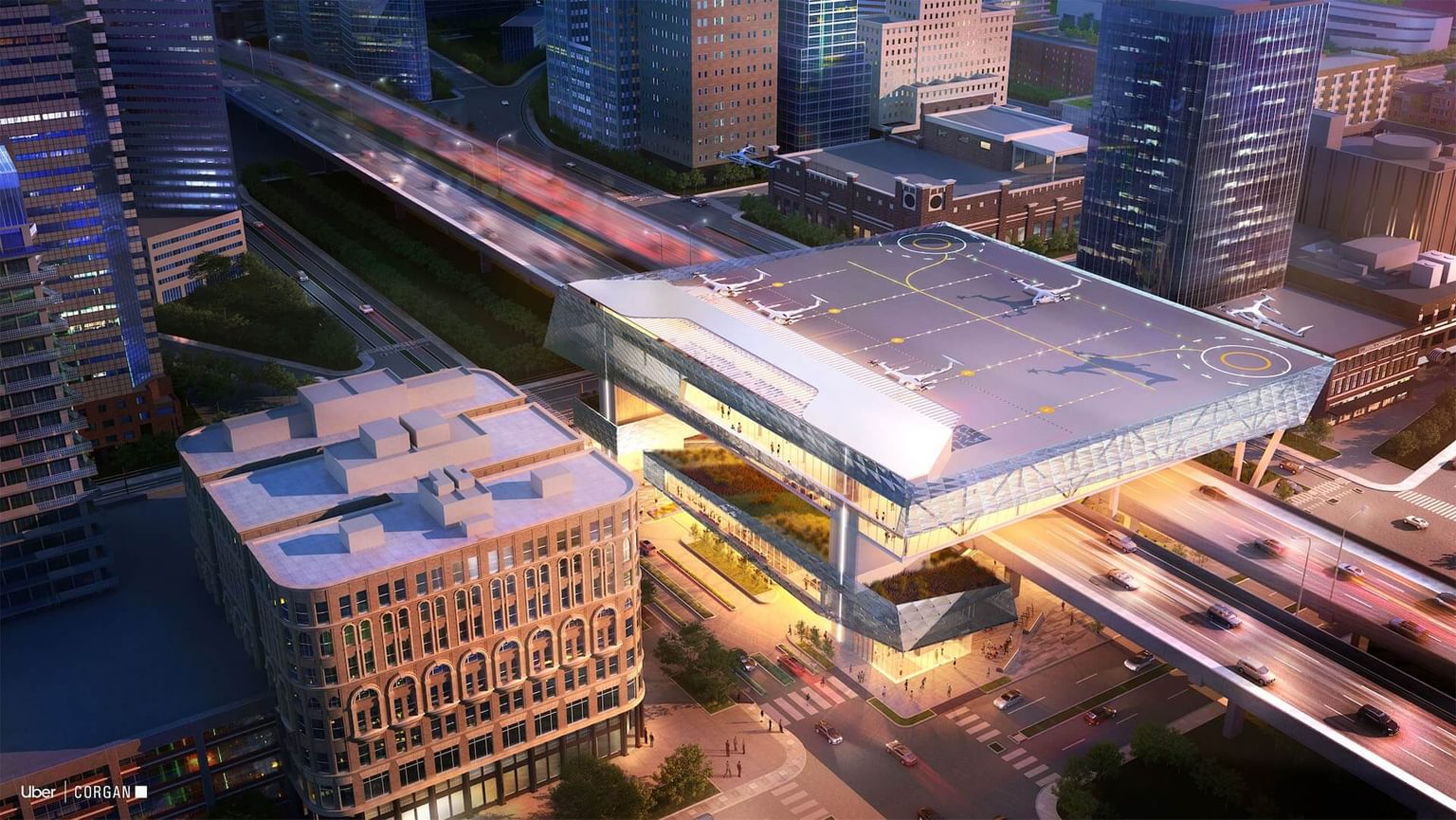 We think the solution is simple: We want to take the transportation grid into the third dimension. And we think that all of the technology you've seen demonstrated here is going to make this possible sooner rather than later.
Insight 2

It's time to get real about the limitations of infrastructure.
Last year at Elevate Summit 2018, Uber announced a design competition for their Skyports: The infrastructure from which their eVTOLs would take off and land. A number of requirements were put in place: The proposals needed to support transport of more than 4,000 passengers per hour within a three-acre footprint, as well as meet noise and environmental requirements. They also needed to ensure that electric-powered aircraft were able to recharge between trips with minimal impact to nearby communities. Finally, they needed the ability to be operational by 2023, Uber's target date for piloting Air.
Something our team took note of was that between the 2018 and 2019 Summits, Uber seemingly decreased their expectations in take off and landings per hour, most likely in an effort to be more realistic about their service's initial use base.
Nevertheless, numerous firms took on the challenge, and while last year we saw a number of initial Skyport concepts that seemed too futuristic to ever be possible, this year we were treated to the designs of the finalists, including the winning partner firm: The Related Companies.
"We are thrilled to be working with Related to design Skyports for Uber Air, a key part of taking Uber's transportation platform to new heights," Eric Allison, Head of Uber Elevate said in a press release. "Together we look forward to spurring innovation that can help improve urban mobility in cities around the world."
Two challenges will need to be addressed: Modifying existing infrastructure (parking garages, for example) by retrofitting them with a "kit of parts" that will become a template for all future Skyports, and building bespoke solutions from the ground up (codenamed "Greenfield"). Both will be equally important as Uber races to open their first ports by 2023.
Choosing Related Companies as their partner, the firm behind some of the most ambitious real estate projects in the world, including Hudson Yards in New York City, solidifies Uber's commitment to their target launch date four years from now. Each city will have their own codes, regulations, and hurdles to overcome. But as a country-wide firm with intimate knowledge of urban restrictions, the newly formed partnership is a leap forward to bringing Skyports to life.
Insight 3

The biggest hurdle will be earning trust.
To date, 93 million people per month use Uber's platform. They're in 700 cities, 63 countries, and boast an astounding 53 billion trips to date. This still only represents less than 1% of global travel. In order for Uber to fully deliver upon their proposed future of sustainable transportation in cities around the globe, they'll need to earn not only city and state government's trust, but the public's trust.

Given the "we're all grown up now" Uber team attire of suits and ties (as opposed to last year's jeans and polos), and a host city synonymous with regulation, policy, and bureaucracy (Washington DC), it should come as no surprise that government / public trust and safety were, far and away, the biggest topics of discussion.
If we're being honest, these government bodies and individuals and their willingness and acceptance
of bringing Uber Air to life were the conference's real headliners.
Touched on in almost every talk and panel, Uber discussed the steps they've been taking in order to ensure residents and government bodies alike will be on board and excited to have eVTOLs operating in their cities. Partners and key stakeholders such as the FAA, NASA, GAMA, individual cities such as San Diego, and even prominent politicians including Ted Cruz and Elaine Chow, spoke of the unflinching requirement for consumers to trust the product completely before its public launch. If we're being honest, these government bodies and individuals and their willingness and acceptance of bringing Uber Air to life were the conference's real headliners.
"Without public acceptance," concluded Senator Elaine Chow during her talk, "these technologies will never reach their full potential." The realization that this will take time, as well as their commitment to making sure it's done correctly, was repeatedly addressed and assured.
This permeates all aspects of the service: Will the eVTOLs be safe? What will security checks look like? Who will be flying them before they become autonomous? Will Skyports encroach on the fabric of the neighborhoods in which they reside, inadvertently cause more traffic, drive up rent prices, or be a constant worry or distraction as eVOLs zoom around over head?
When one looks at the current problem with drones and the government's attempts to regulate and control the use of both commercial and consumer UAVs, it's understandable that crafts 1000 times their size carrying humans would be cause for alarm.
The main difference here, though, is that from day one, from the ground up, Uber has been working directly with the FAA and NASA on airspace regulation, noise control, and Remote ID. They've committed to electric vehicles from the get-go to address emissions concerns. They launched their Copter service in New York City to gather data on both in-air routes and fluidity of multi-modal pick up and drop off. And they've partnered closely with their chosen pilot cities (Dallas, Los Angeles, and Melbourne for Uber Air, and San Diego for Uber Eats drone delivery) to ensure the public are informed, have their concerns addressed, and are on board before operations begin.
Gone are the days of "Who cares what the cities think; let's just start service and see what happens!", and given the scale of what Uber is trying to achieve, it's hard to disagree with their approach. In the past ten years, there has not been a single fatality in the United States from traditional commercial aircraft. The industry, as a whole, committed to safety first, and is the only one where regardless of which carrier brand you choose, safety standards are uniform. This is a precedent that Uber hopes to carry over into their new low-altitude Air service. By the end of day two, it was unwaveringly clear that safety and public trust are Uber's main priority, but also, their largest hurdle in taking to the skies.

The elephant(s) in the room.
Even with all the hype, preparation, and steps taken to ensure a successful future, attendees were still left with some major questions that went unanswered. Each eVTOL will likely cost hundreds of thousands, if not millions of dollars in R&D, testing, and building. Who will own these machines? Will it be Uber? The companies who created them? Investors? Historically, Uber has never owned any of their vehicles, and has relied on their community of driver partners to supply transportation (much like Airbnb and their community of homeowners.) This standard only recently shifted when they purchased JUMP for their scooter and ebike fleets. But micro-mobility is a long haul from owning, operating, and maintaining fleets of eVTOLs across the world. It's a massive expense and burden that someone will need to bear, and after our third Uber Elevate Summit, we're still not sure who that will be.

Another question that, while addressed, was namely skirted around was how economically viable Uber's Air service would be. They've painted a stunning future of city transportation revolving around their Skyports, however, at $250 a ride to start (which is the current price of an Uber Copter), only the truly elite could use Air as often as Uber is hoping. Most commuters would still opt to sit in traffic every day. The added requirement of needing to share their flight with strangers could deter users further. This hurdle was addressed more in depth in 2018, so we do know that Uber is thinking about the issues. But it's likely that while service might start in 2023, it could take years, possibly decades, for those of us with average income to utilize the platform the way Uber is intending.
A new era in aviation is coming, and it's closer than you think.
We're at the dawn of a new and exciting age in aviation, not seen since the Wright Brothers. A rekindling of the inherent sense of delight that comes from air travel has already begun; the recent opening of, and public excitement around, the stunningly nostalgic TWA hotel at JFK and Rain Vortex at Singapore's Changi Jewel Airport are the perfect examples: No longer are airports simply dreaded transit gateways. They're being transformed into desirable community destinations. Supporting and expanding on this notion is the exact goal of Uber's upcoming Skyports.

The future of what Uber is building with not only Uber Air, but their entire transportation and delivery platform, will help bring that feeling of delight and excitement around travel back to the masses, hopefully address and solve congestion and decrease commute times, and generally improve the quality of life for their customers. It's a tall order, especially with their target launch date so close, but after what we saw this year at Uber Elevate Summit, they and their partners are well on their way.
We can't wait to see what's in store for Uber Elevate Summit 2020. In the meantime, we'll be hard at work with our partners helping to revolutionize the future of mobility ourselves. Have a challenge we can help tackle? Get in touch with our team at hello@teague.com.