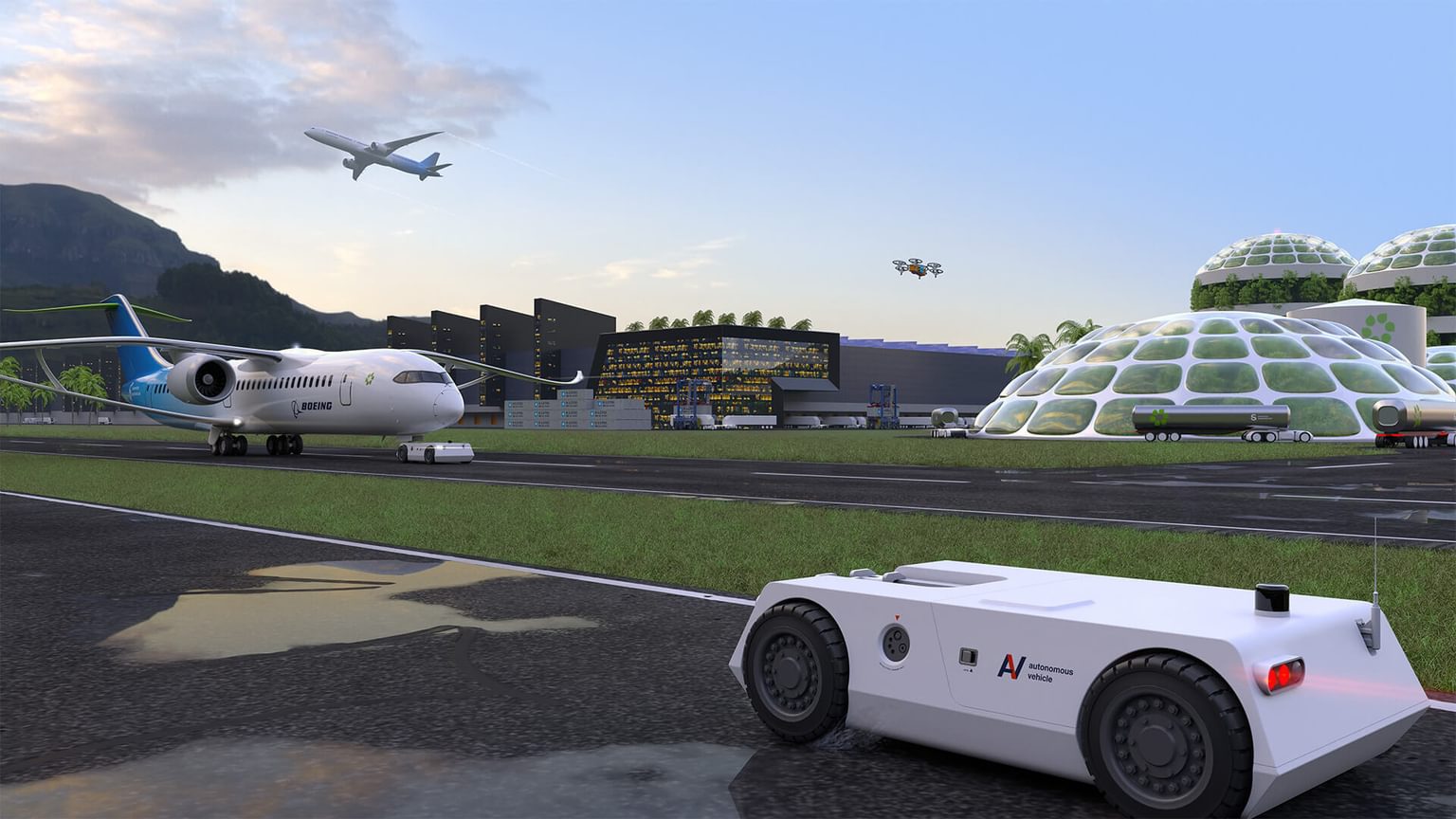 A new era of sustainable aerospace
.
The Boeing Company | Commercial Aviation 2050 Vision
Category
Aviation & Airlines
Preferred Futures
Expertise
Concept Development
Design Visualization & Storytelling
Experience Journey Mapping
Future Studies
Scenario Development
User & Stakeholder Interviews
As part of a commitment to work across the aviation industry to achieve net-zero carbon emissions by 2050, Boeing partnered with Teague to bring its vision for sustainable aviation to life, visualizing and communicating a path to a carbon-free future.
Challenge
Net zero by 2050.
The aviation industry is one of the few industries that has agreed—as a sector—to have net zero emissions by 2050. For aviation, sustainability means a lot more than the fuel efficiency of a plane. With Boeing predicting that 41,000 airplanes will be made in the next 20 years, it's crucial to consider the whole lifecycle of the airplane, and with that, the entire ecosystem of air travel.
In the face of global climate change, businesses that develop comprehensive plans for long-term sustainability will be better equipped to meet market demands, uphold regulatory requirements, and—most importantly—reduce or eliminate their carbon footprint.
Boeing partnered with Teague to develop a vision for sustainable aviation in 2050, building a compelling, research-backed narrative to illustrate the potential paths to a carbon-free future.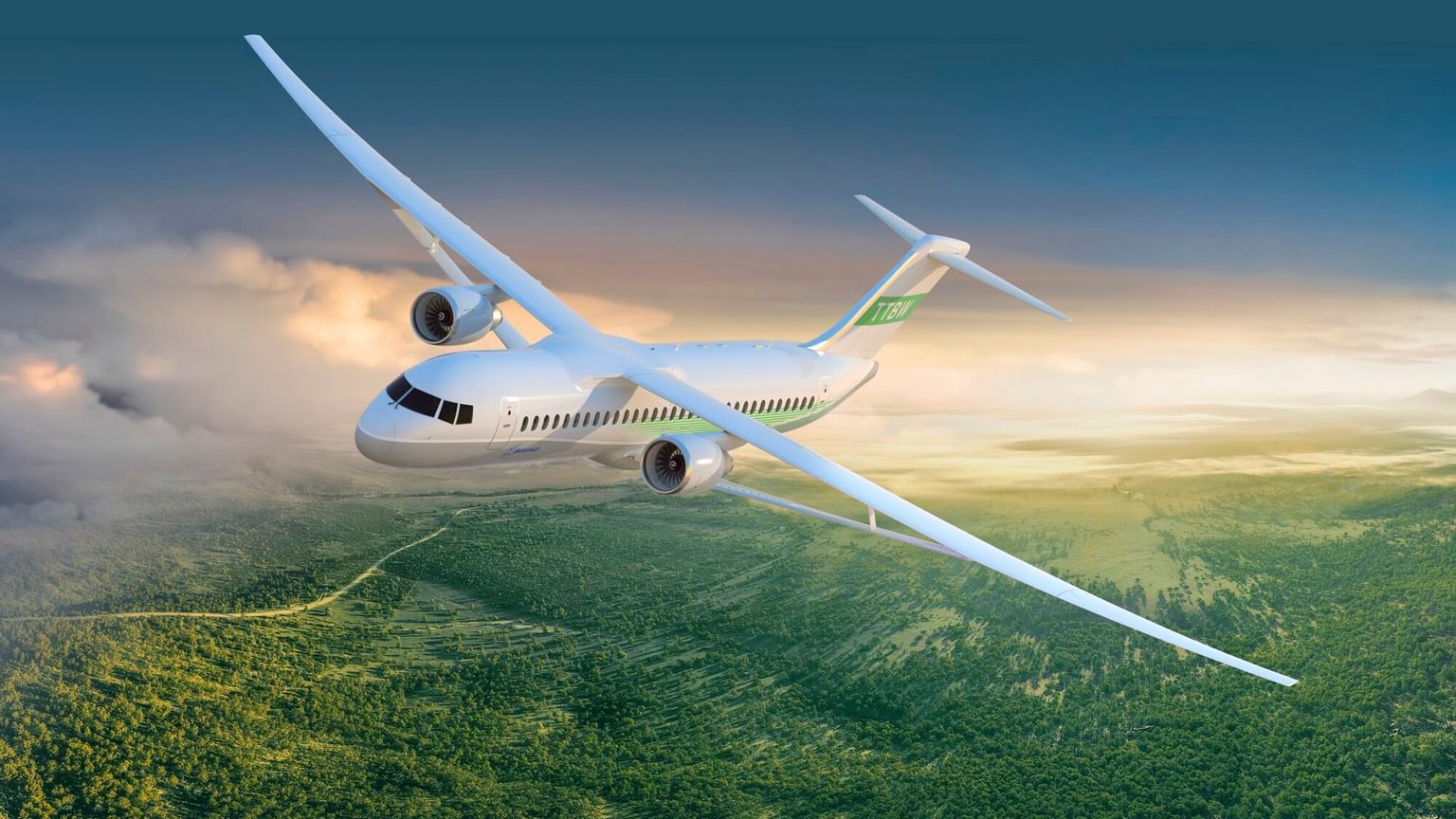 Approach
A comprehensive vision.
Boeing's vision for a long future of sustainable aviation had to be supported by solid research to be as realistic and actionable as possible. Thirty years may sound like a long time, but in the aviation industry, it's right around the corner. For Boeing, ensuring safety and reliability is of utmost importance, which includes a meticulous process for certifying parts and fine-tuning production. Launching new innovations in aviation can take many years because of the need for prototyping, rigorous testing, and certification.
Launching new innovations in aviation can take many years because of the need for prototyping, rigorous testing, and certification.
Futures Design requires the synthesis of analyses and ideation, and its rigorous methodologies illuminate possibilities that we vividly bring to life. Our process began by investigating data and trends along with Boeing's subject matter experts with deep experience in developing strategies to enable sustainable aviation. Working closely with their C-Suite, we also indexed all sustainability efforts that Boeing has already invested in, including internal efforts and external partnerships. We then married these findings with projections around population growth, city expansion, human migration, fossil fuel availability, sustainable aviation fuel, and the growth of other modes of travel.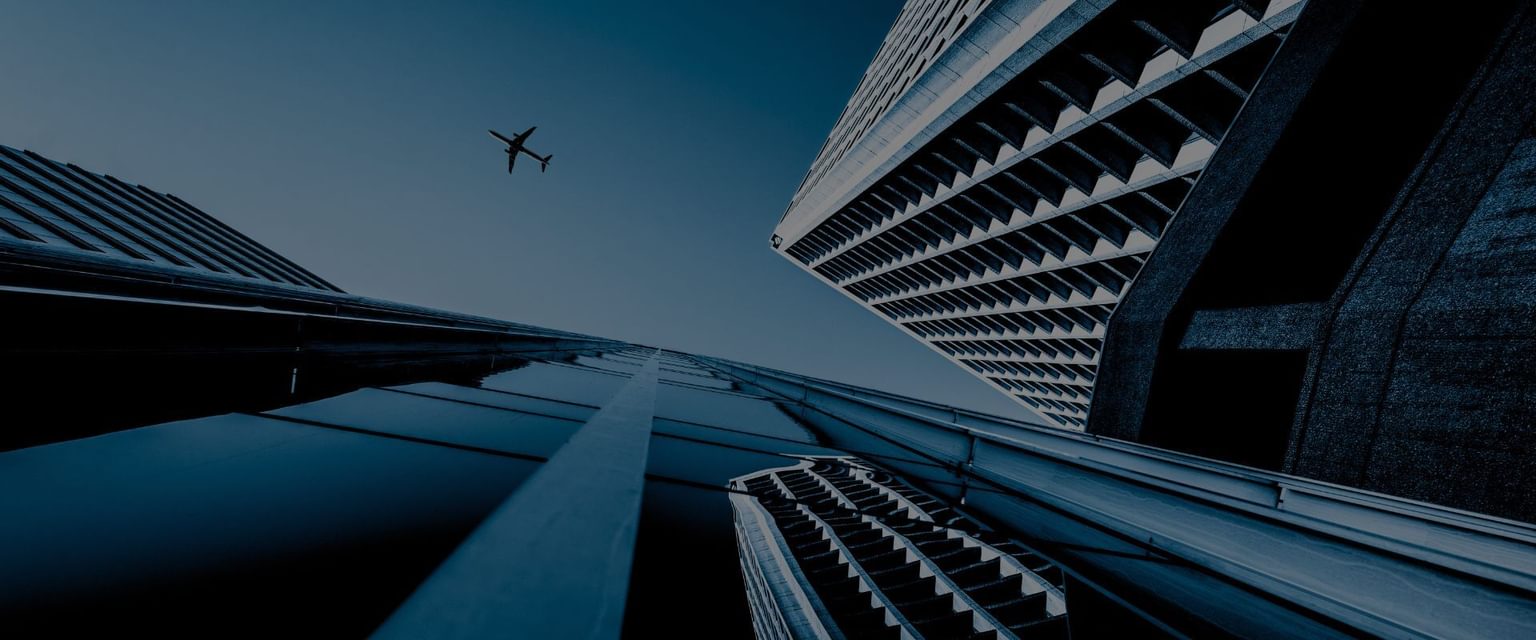 It's impossible to think about the future of flight in 2050 without coming to an understanding of how and where people will choose to work and live in the future. Understanding what trends will change and which will endure will help define how aviation can best meet societies' needs in 2050.
Mark Augustyniewicz
Environmental Sustainability | The Boeing Company
A wide range of possible future scenarios arose from these projections. To explore the implications of these insights, we created visual vignettes of six future scenarios. We then workshopped these with Boeing stakeholders to elicit their feedback and gather perspectives, which enabled Teague to detail several visions for a carbon-free future that Boeing can help create.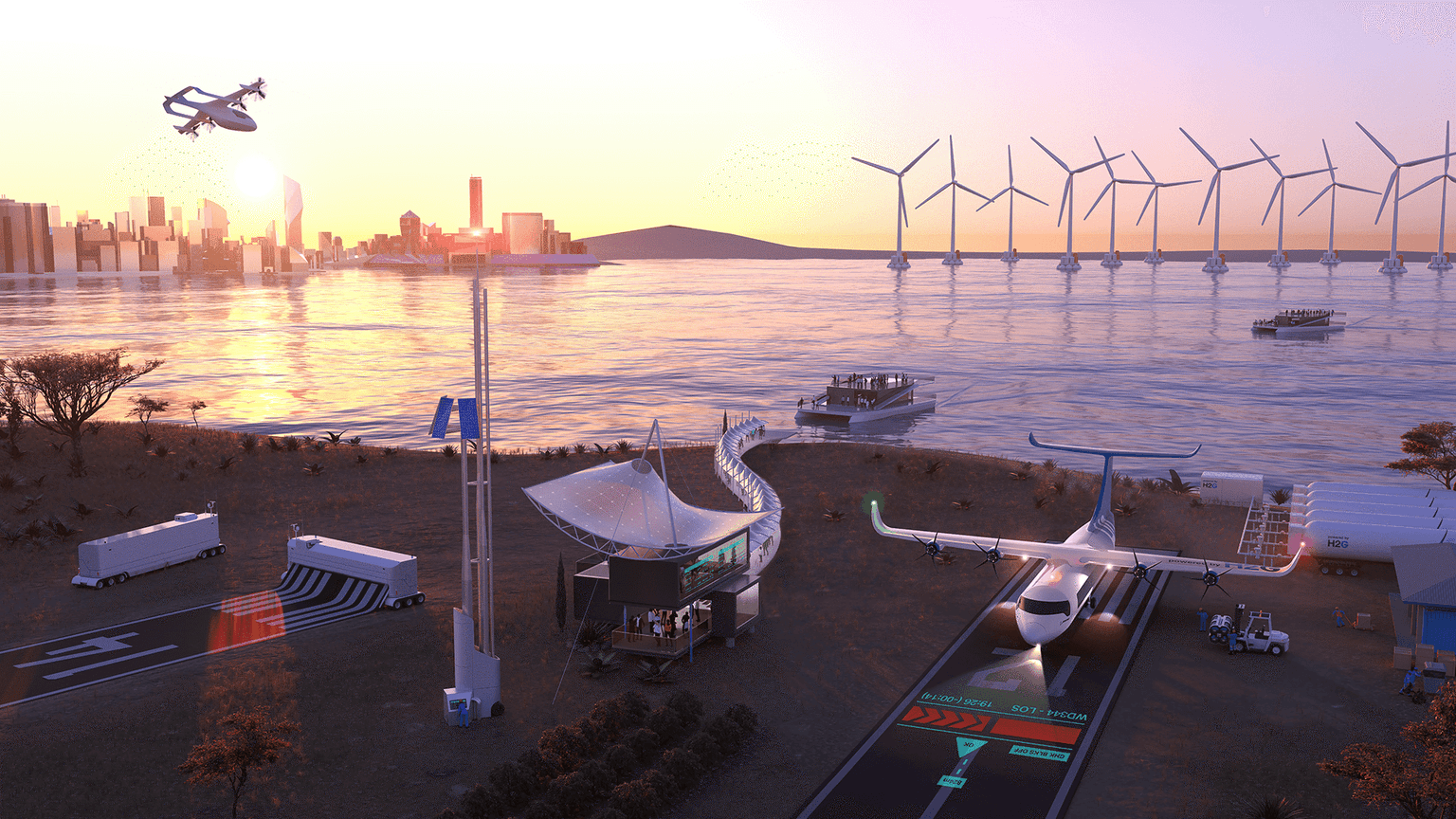 SOLUTION

Everything for zero.
Boeing's Everything for Zero campaign is a forward-looking rallying cry for the company and also for the industry, reflecting the idea that reliance on any single sustainable technology cannot solve all use cases within commercial aviation. Instead, it will take many innovations and new technologies to become truly carbon-free while connecting upwards of 16 billion travelers and innumerable tons of cargo across the globe. It will take Everything for Zero.
Boeing's Everything for Zero campaign is a forward-looking rallying cry for the company and also for the industry.
"Our common goal is to enable the societal benefits of air transportation while reaching zero climate impact on our planet. To make that a reality, we believe it is best to learn and share our findings broadly, based on a foundation of data, scientific research and collaboration, as we work together to decarbonize aviation." – Brian Yutko, former Boeing Chief Engineer and Vice President of Sustainability and Future Mobility
Everything for Zero expresses Boeing's vision for 2050, with compelling narratives exploring the potential futures for short-haul, medium-haul, and long-haul commercial flight. Each of the three scenarios highlight emerging technologies and innovations that could make these use cases possible.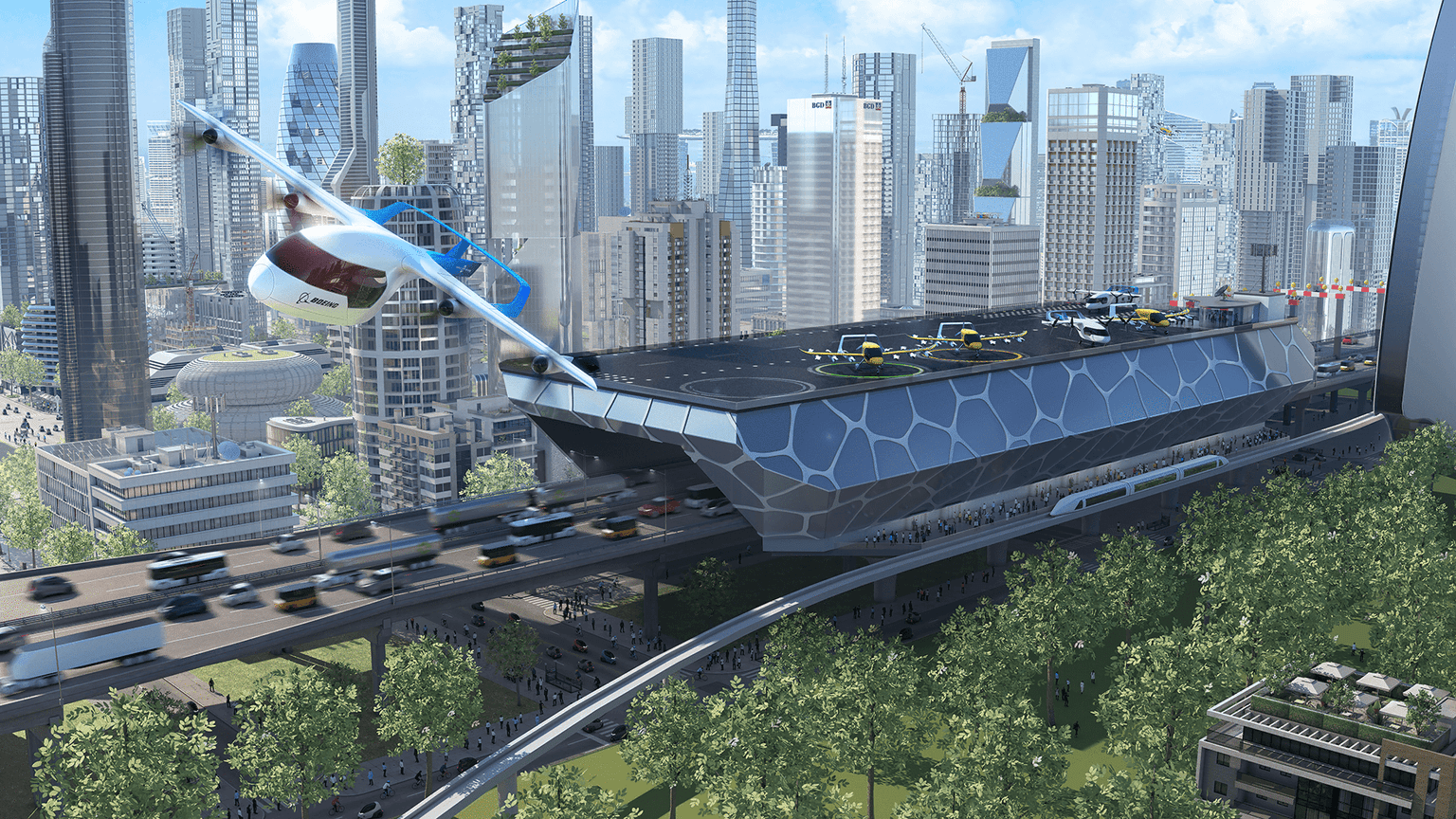 For example, short-haul travel—from Brooklyn to Boston, for instance—very well may be completed in an eVTOL (electric vertical take-off and landing) aircraft by 2050. As a leader in innovative aviation technologies, Boeing has already been investing in eVTOL engineering for years, and in 2022, made a significant contribution to their joint venture with Wisk, the eVTOL developer.

On the other hand, long-haul travel carrying heavy cargo from the Middle East to Europe, for example, is not realistic for an eVTOL by 2050. Instead, this kind of flight will rely on sustainable aviation fuel (SAF) that might originate from a feedstock grown and refined on-site at the airfield.

Boeing debuted their Everything for Zero presentation at the 2022 Farnborough Air Show and has featured the recorded presentation on their sustainability website. The company already has a long record of pioneering and investing in sustainable technologies, and Everything for Zero helped align its teams on an exciting and achievable vision that benefits humanity and the Earth.

Are you ready to become a sustainability leader?
We're always interested in collaborating with bold brands to shape a more sustainable and profitable future.