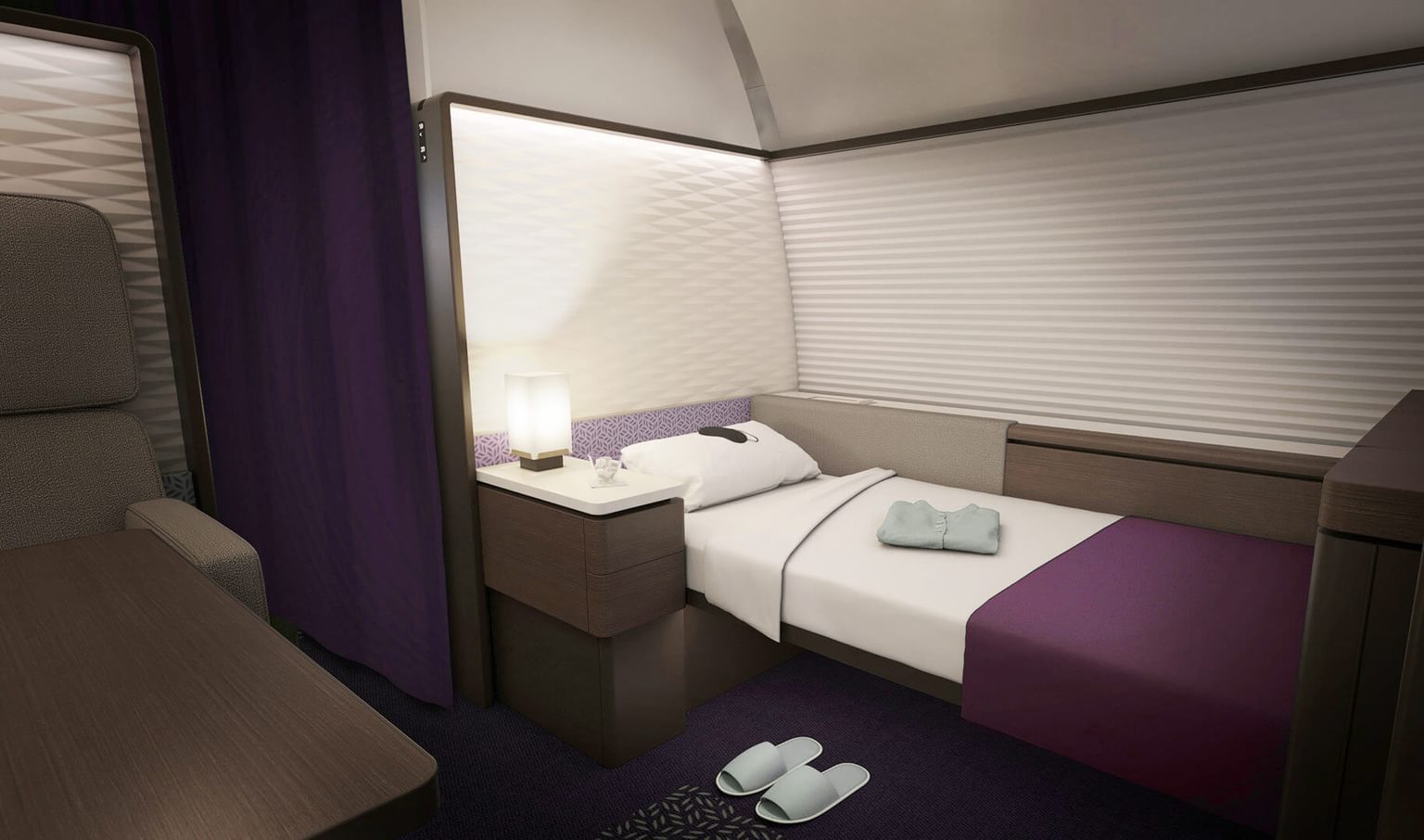 Trust and the future passenger experience
.
Anthony Harcup | Senior Director of Airline Experience
Anthony Harcup
A 15-year aviation design veteran, Ant creates breakthrough products and experiences for OEMs, suppliers, and airlines such as Etihad, Delta and, JetBlue.
Restoring passenger confidence will be an important issue to solve in the near future, but can designing for trust truly restore faith in safety and wellbeing?


The industry has always looked to the latest consumer trends to inform its future cabin designs. As other industries now pay homage to this year's buzzwords of wellbeing, sustainability, and connectivity, the airline industry quickly follows suit.
However, there's one emerging trend unique to mobility over the past two years that also needs to be resolved – trust. It's no surprise passenger confidence has been eroded over the past two years, and airlines that are coming out on top post-pandemic are those who deliver on their marketing promises of looking after their most precious cargo – you.
At Teague, this unique period has provided the opportunity to focus on a design principle that has been at its core since it started working in transportation back in the 1930s. Ever since the very first Ford rolled off the production line, we've had to balance the excitement of new forms of mobility with a sense of familiarity that didn't alienate the consumer—in essence, building a subconscious conversation with them, putting them at ease, and building trust.
When designing for trust in commercial aviation, the four principles we rely on are communication, comfort, control, and personal choice. By mastering these four foundations, designers can apply a human-centric solution to any design challenge. No better example of building trust through these principles is the elegant, understated solution to the pandemic–Airshield.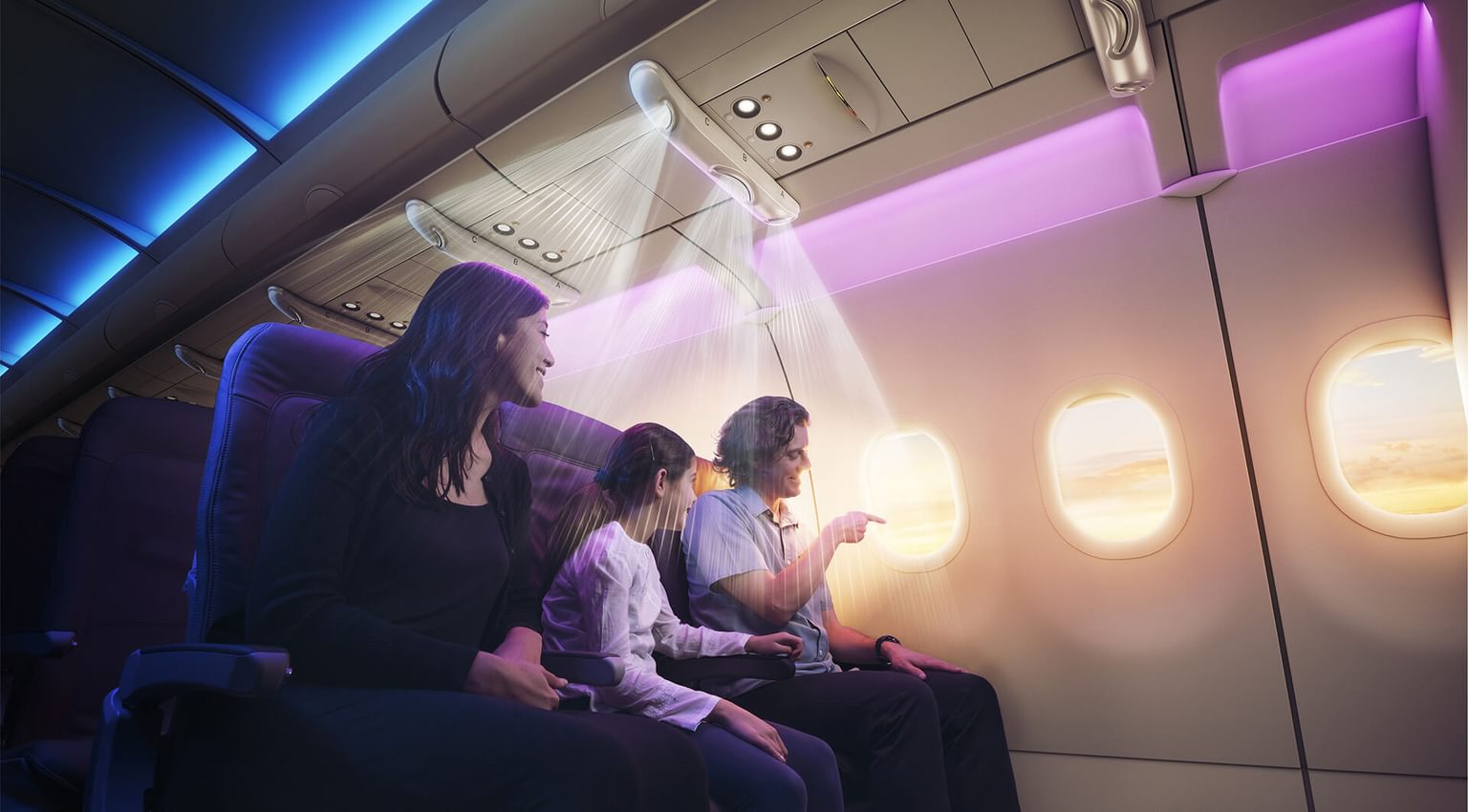 Airshield: The whisper-quiet communicator.
Airshield is built to ease anxiety about the return to travel. While humble in appearance, the wellbeing innovation has been developed with the support of several major global airlines and has recently been acquired by Pexco Aerospace who will supply the product to carriers across the globe.

AirShield is a powerful visual cue that communicates airlines are committed to their passenger's wellbeing and peace of mind.
Airshield's quiet genius is found in its simplicity. It is installed over the top of existing passenger air vents, where it re-directs purified air from the aircraft's HEPA filtration system to each passenger's seat. The resulting air curtains create uniform vertical airflow throughout the cabin – minimizing the movement of exhaled air. While the device itself represents a clear visual reminder that an airline has adapted its cabin to protect its passengers, there is also an option to print a QR code on the device for the more inquisitive to find out how it protects them during flight.

While the product serves a physical benefit to passengers, the long-lasting result will be seen in the psychological reassurance it visibly creates, having a quantifiable impact on brand loyalty. Countless medical studies have shown how powerful communication can be, linked to improving mental health, putting consumers at ease and lowering levels of perceived stress.


Familiar Feelings: The power of residential.

Two more tangible aspects to building trust can be found in the control of our environments and personal choice. Every time we board a flight, no matter which cabin, human behavior dictates a 'nesting moment', answering our inherent curiosity to better understand our surroundings. Empowering passengers with a sense of control and familiarity goes further in creating a real-life sense of trust within their new surroundings.
With additional real estate per passenger, there's no better place to be able to answer the needs of a passenger than in International First Class. Some carriers have invested in Super First-Class products, going well beyond offering a seat-to-bed mechanism, with residential-inspired touches that create rooms more akin to a hotel suite than an aircraft. The Super First-Class concept we designed for Boeing's new 777X delivers on that approach with a unique solution.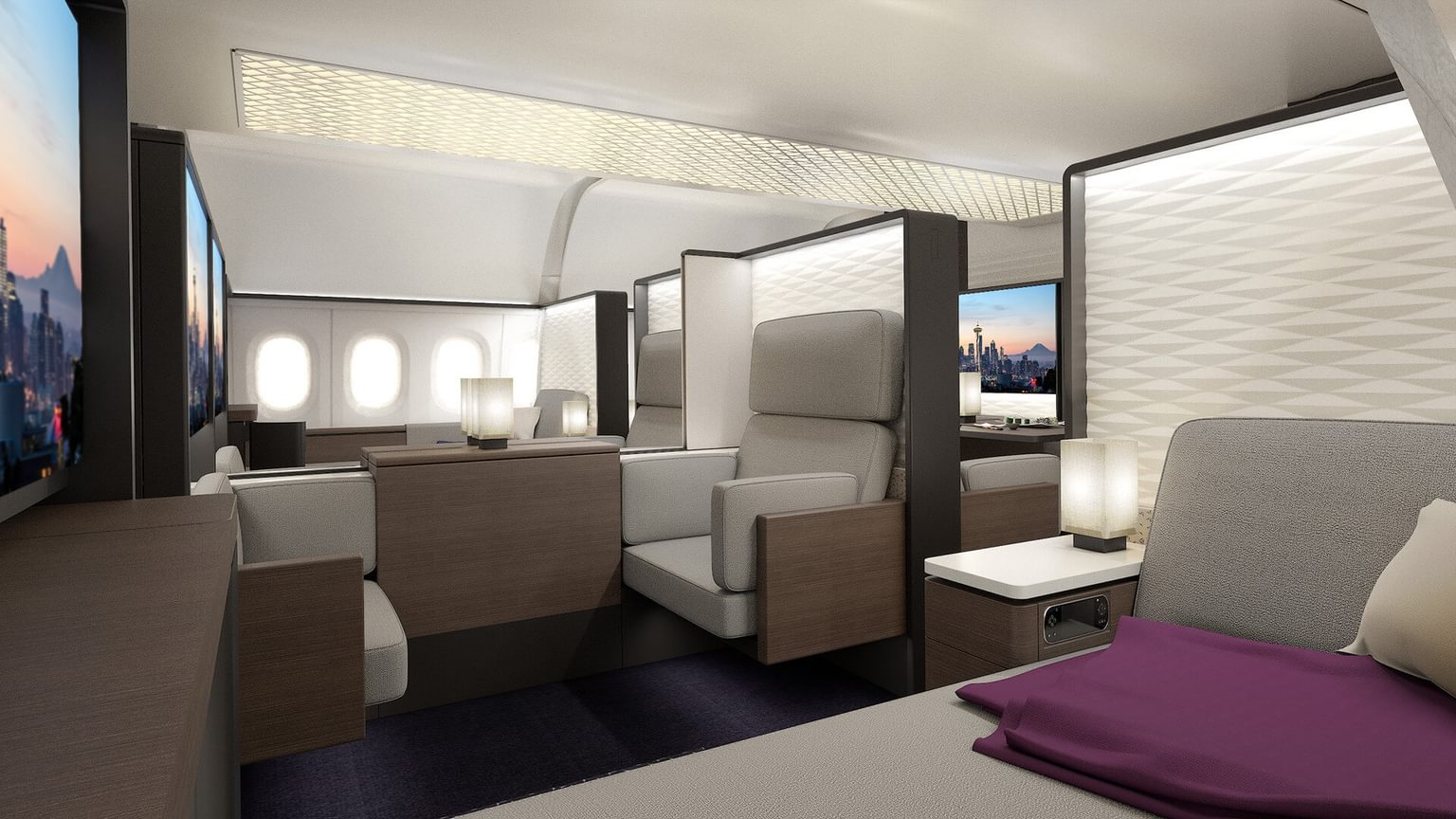 Realizing the majority of First-Class seats aren't revenue generators, but do have a powerful halo effect, we created a new cabin that maximizes on the same footprint by cleverly integrating the aisle into each suite, providing four passengers the same real estate that is usually afforded to eight.
The result is a cabin that answers three compelling aspects to First-Class that haven't been successfully brought together in one solution before. Based on our four principles, we've managed to create privacy while still creating a striking club-like cabin ambiance on entry and still provide the familiar residential touchpoints with dedicated seating and sleeping areas.
Unlike the cuboid doored suites of today's aircraft, the suite walls have been knocked down. In an innovative approach, the solid-state furniture is now separated by the cabin aisle, which maximizes the real estate and becomes integral to the floor plan for each passenger suite. To help with privacy, each suite offers a forward-and-aft orientation which is separated by curtains and a moveable center partition meaning the cabin can be customized by its occupants in virtually any way.
With our design of both the interior of the 777X and this new Super First Class concept, the end result is a considered product that responds to the commercial needs of the airline while also creating a residential space that surprises and delights on entry and providing familiar home away from home for its most valuable guests.



Building confidence through comfort.
While every mobility design solution will showcase comfort first and foremost, the inherent benefit that comfort brings to a product also helps with a myriad of psychological issues, but that is often overlooked in marketing collateral. When Hyperloop was first theorized, it was created to solve the importance of high-speed mass transit. The most elegant solution was to create a de-pressurized tube system to reduce friction and increase speeds but did little to resolve the issue of how the occupants would feel. This story, problem and solution is not too dissimilar to that of aviation.

Human beings naturally crave what's familiar. Even though this is the first new real mass-transport mode since commercial flight, today's perception of Hyperloop is already positive in the wider public arena in part because our concept for the cabin experience shows a familiar looking environment that is recognizable to today's consumer.

Design has successfully created the concept of space, comfort, and calm. Elegant dynamic ambient lighting solutions not only create the illusion of daylight, but also answer to our circadian rhythms. This learning of the use of light can also be seen in many modern aircraft, easing our jetlag by guiding us through a simulated solar day. Even the OLED screens on the ceiling of Hyperloop may come to aircraft in the near future, which allow endless virtual possibilities.
Hyperloop's addition of forward-aft facing seating also mirrors that of hospitality environments, and the addition of digital screens and displays help create a sense of locale, allowing passengers to know where they are at all times, aiding reassurance. While the entire concept is paradigm-shifting, the approach is both new and familiar.


Trust: The final frontier.
As we've just seen, William Shatner recently took us all from the pages of science fiction to reality. We are at the dawn of a new era in travel, with eVTOL, autonomous vehicles, and even space exploration–but building trust in these endeavors has never been more important. We're also facing a time of digital transformation with less human interaction. It's never been more critical to build confidence in new transport modes, making the unfamiliar, familiar.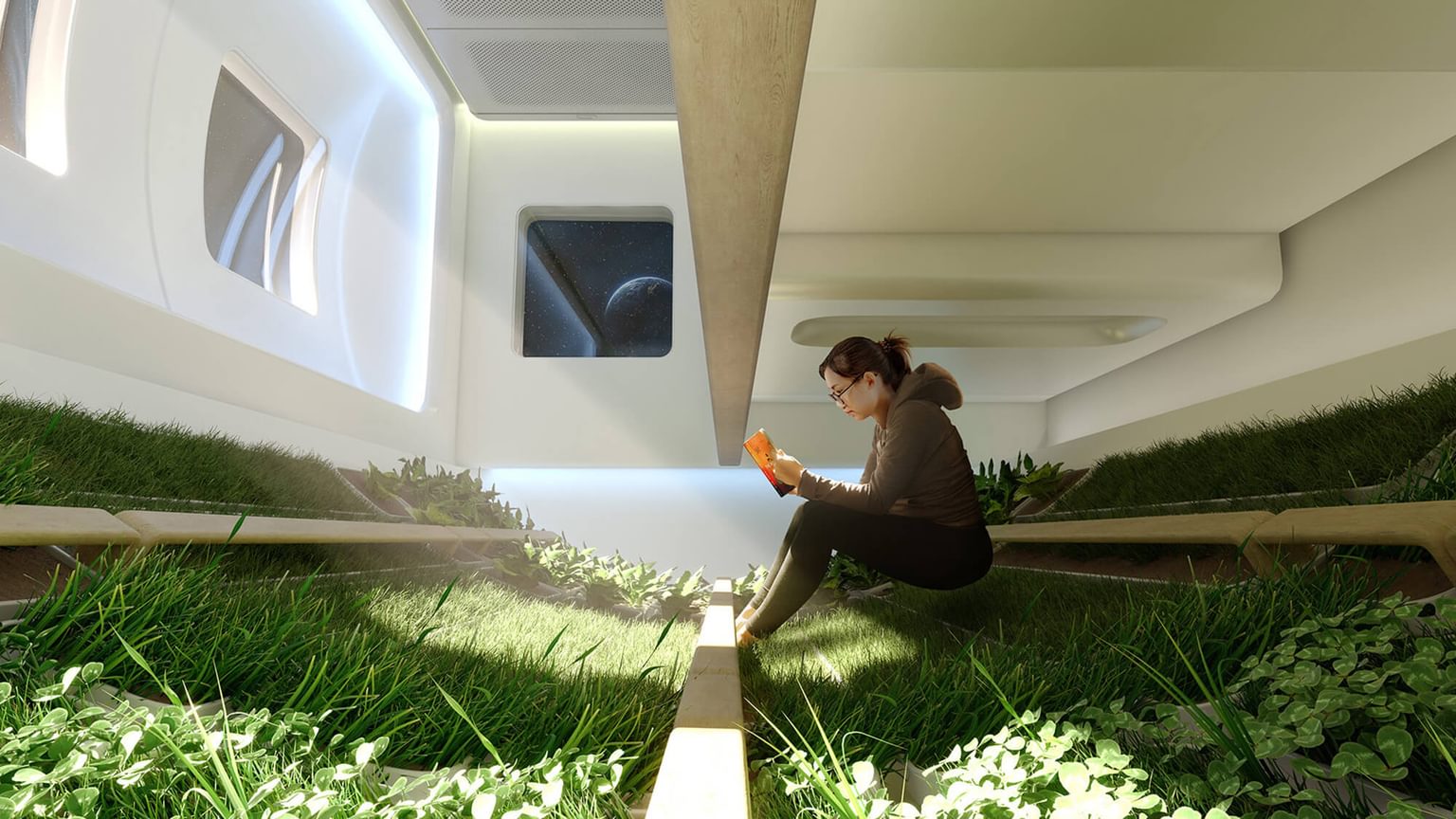 Many enterprises are finding their way in this new frontier. We've been taking a holistic approach, fully mapping out a vision of the future, and understanding how these modalities will interconnect. Teague has been working beyond the Karman Line for years, and thanks to our latest work with NASA we've created an entirely new interior approach to zero gravity living, drawing on our learnings from all the other transport modes but also researching and understanding the needs, habits, and psyche of tomorrow's traveler.
So, whether we'll be spending a week in orbit, metropolis-hopping in a manner of minutes, or commuting to work in an autonomous aerial vehicle, we're entering a brave new world of transport, and without trust, none of these will take off.

This article was originally published in Aircraft Interiors International Magazine.