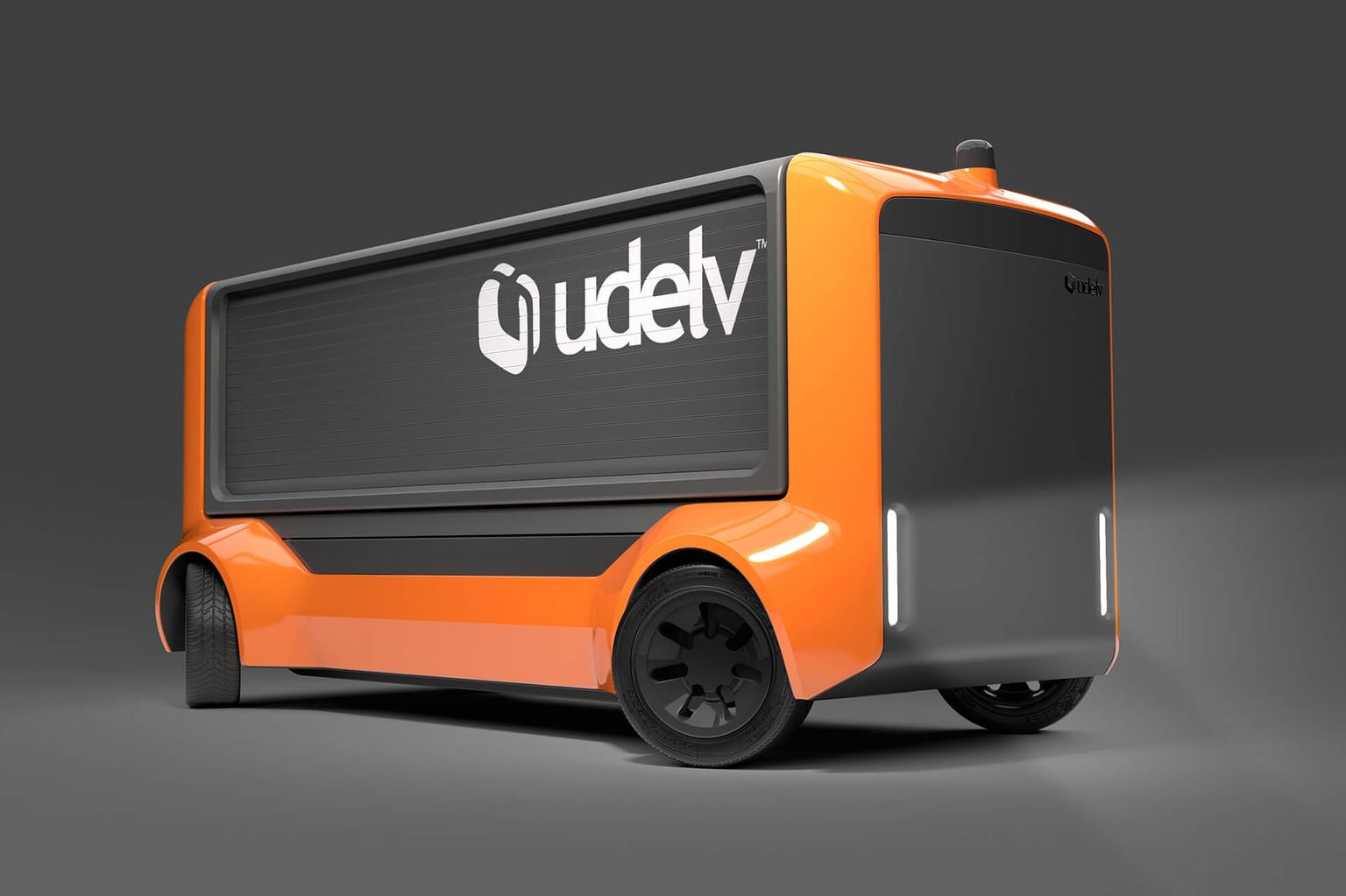 Reinventing delivery
.
Alexandra Sakalian & Nick Ross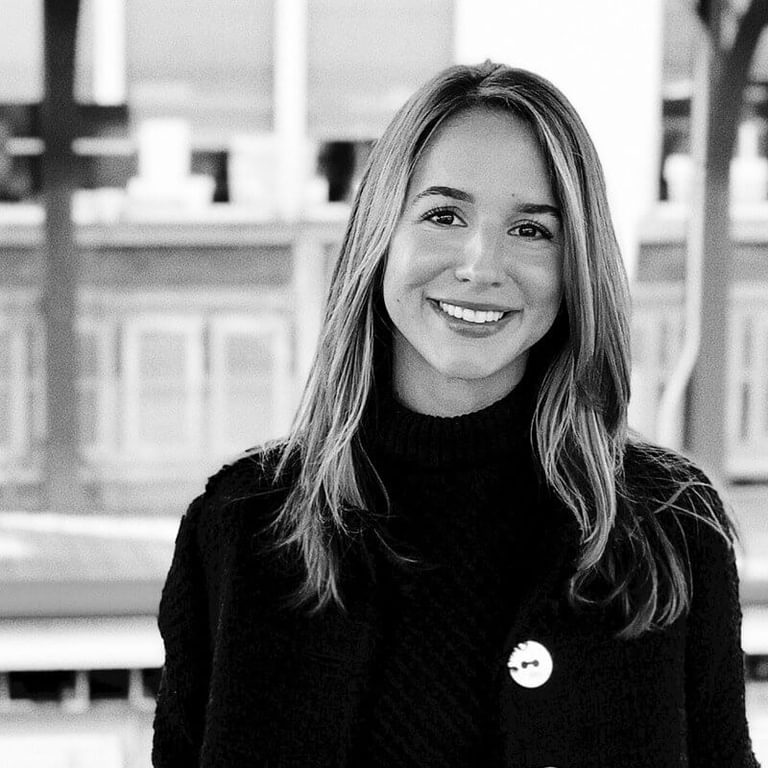 Alexandra Sakalian
Industrial Designer
Nick Ross
Creative Director
Conceptualized in a two-week sprint, the design of Udelv's new autonomous multi-stop electric vehicle presented our team with a unique opportunity to shape the future of at-home delivery.


Pre-pandemic, last-mile delivery solutions were focused, for the most part, on enabling technologies and the consumer adoption of delivery services. Now, nearly two years into the pandemic, it's hard to imagine a time when you couldn't get whatever you wanted, like a sandwich or a car, delivered directly to your door, often in a few hours. The pandemic accelerated an already growing trend toward omnichannel customer experiences, increased convenience, and no-cost shipping—it also made it permanent.

In a world where better products and fast, free delivery are now baseline requirements for customer loyalty, businesses are getting serious about differentiating themselves through optimized last-mile delivery strategies that meet the baseline while offering customers increased levels of control, visibility, and tracking.


Human-centered design without human interaction.
Connected and autonomous distribution solves a lot of issues for the logistics industry. Speedy, cost-effective, and safe distribution are essential to building a profitable business; competitive advantage, however, will only be achieved by brands investing in effortless delivery that also elevates the customer experience—this is where we come in.

Since completing the world's first autonomous delivery on public roads in January 2018, California-based startup Udelv has been hard at work to deliver clean, safe, and cost-effective autonomous delivery to retailers and shippers. Udelv approached Teague to design its newest autonomous electric vehicle, the Transporter, through a customer-centric lens.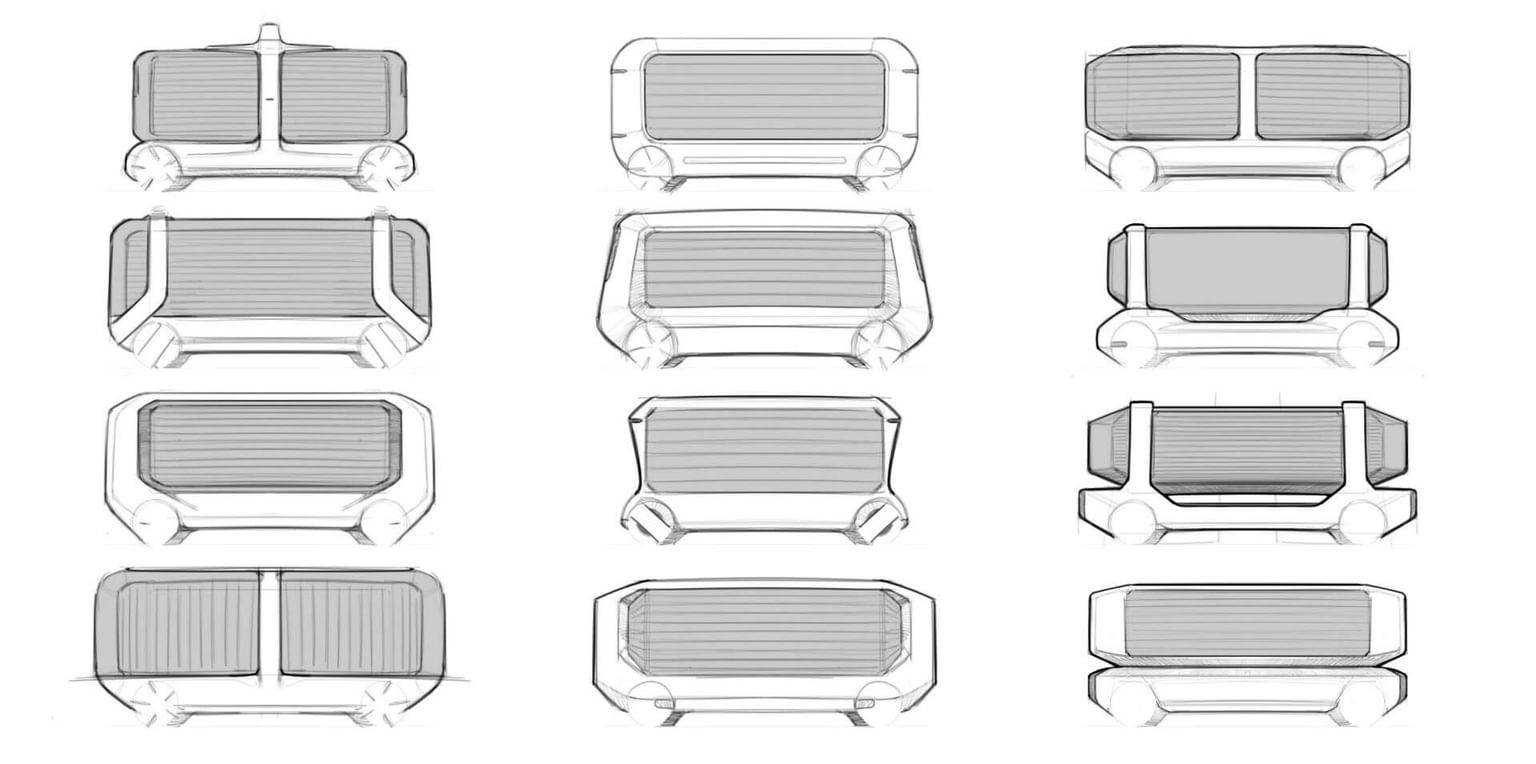 The past decade has seen leaps in autonomous vehicle design. While first attempts resembled the DeLorean from Back to the Future with awkwardly placed sensors, Udelv needed a product that felt familiar and trusted. So, we set out to design something a little more elegant and a lot more integrated. Our solution neatly hides sensors in the front and rear assemblies to create a futuristic yet approachable design.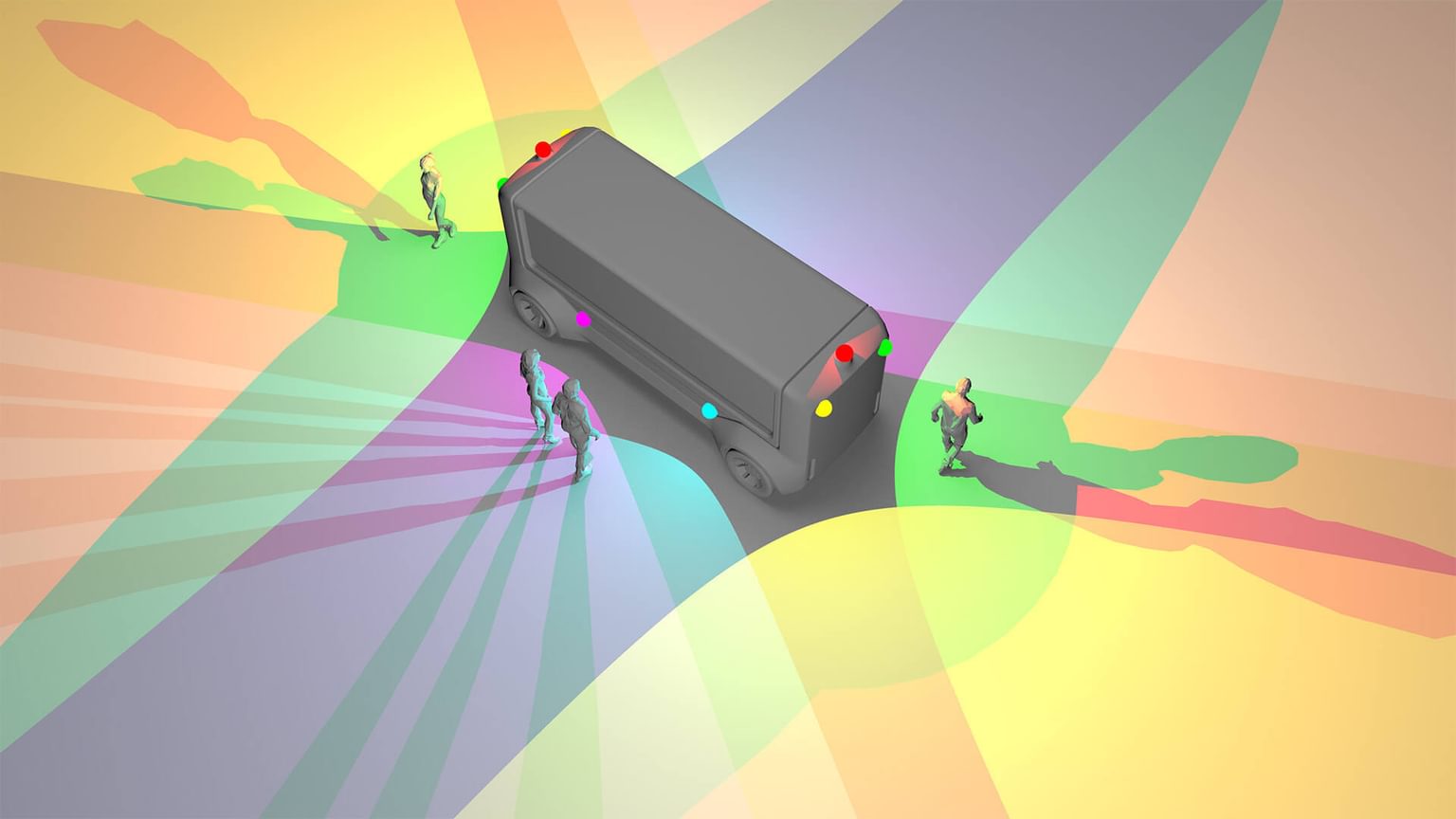 People still have concerns about something automated, especially something new to market. To ease concerns and build a dialogue with an otherwise inanimate vehicle, we designed areas of interaction. Creating digitized screens at the front and sides of the vehicle also allows it to communicate with those interacting with it. And because autonomous electric delivery is more seen than heard, the vehicle design is bold without being too loud. A black container complements Udelv's orange chassis, which visually cradles the container and lower screen.
At the heart of Transporter is Udelv's proprietary IRIS shutter system, which opens compartments in the swappable modular cargo pod to users as they interact with the vehicle. The Transporter can be trusted to deliver packages safely and securely with user-friendly web and mobile applications.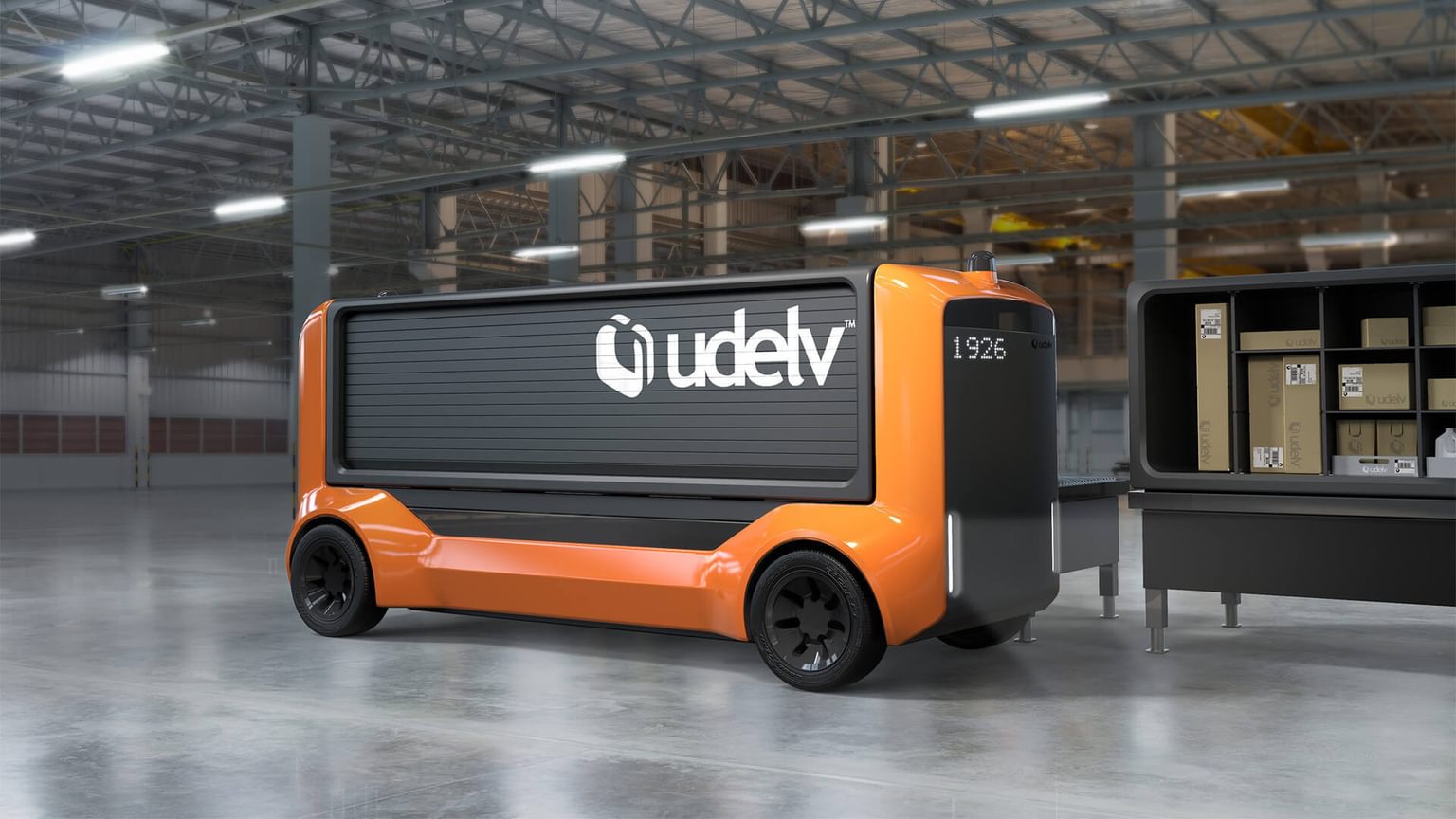 Driving business with user experience.
Creating a business-user-friendly product is the secret to Udelv's success. Consumers receiving items are updated with tracking information through mobile apps and push notifications, thanks to the automated nature, estimating ETA's is more predictable, meaning more accuracy, and because of the IRIS system, deliveries of any size can be catered for, with the IRIS opening on arrival only for the correct user.
For businesses, there's even more potential, from item collection and delivery for oversized items such as furniture and white goods. Thanks to Udelv's adaptive shelving and hot-swappable cargo pods, there's also the ability to prepare and quickly restock vehicles. We can also see the possibility for local delivery lockers to be actively replaced by the unit in location, meaning that lockers for apartment blocks or entire communities could also be autonomously managed.
Both the IRIS technology and the zero-emission highway-friendly Transporter are unique USPs to Udelv. While the client had previously trialed other prototypes, this was the first opportunity to combine both technologies in one highly mobile, automated locker system. But key to creating a successful service, the digital user experience had to be considered too. Utilizing our extensive knowledge in customer experience and human-centered design, Udelv ended up with a symbiotic ecosystem across digital and physical touchpoints.
A design for the times.
We were given just two weeks to design the Transporter, condensing our thinking and creative output into a small window focused our approach. We love working with constraints; high-pressure environments lead to more innovative solutions.
In hindsight, the timing for this project was perfect. Completed just before our recent pandemic started, much of the end product reflects new post-Covid trends, with a perfectly contactless delivery, managed and automated by the user's cell phone. Now more than ever, there is a desire to roll-out automated last-mile solutions.
While consumers will start to see Udelv's driving along a street in the not-too-distant future, these autonomous last-mile vehicles will most likely become a familiar sight in just a matter of years. In the meantime, our learnings from this project are already educating other projects across multiple industries, from automotive to aerospace.