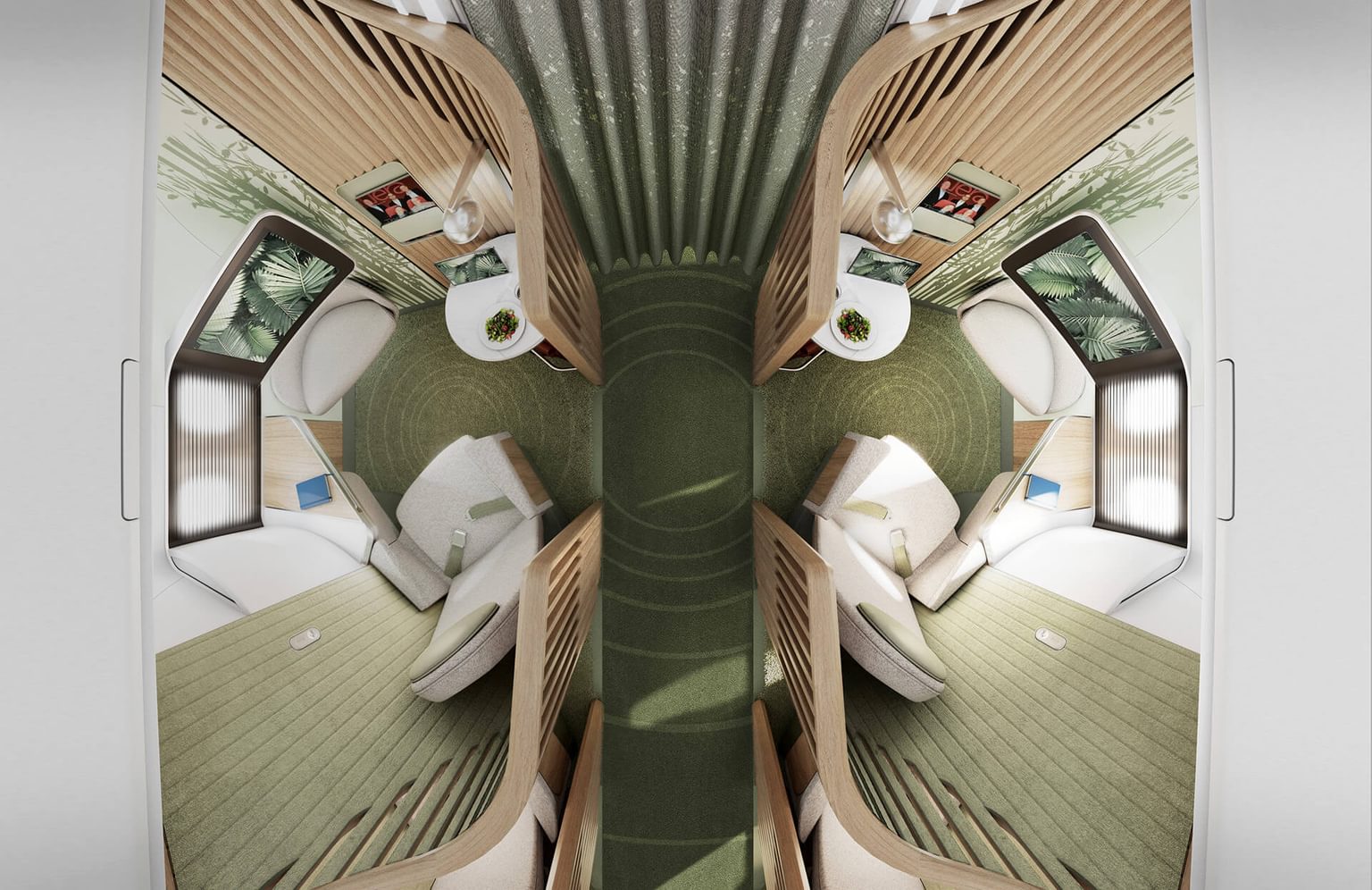 Elevating the passenger experience
.
Anthony Harcup | Senior Director of Airline Experience
Anthony Harcup
A 15-year aviation design veteran, Ant creates breakthrough products and experiences for OEMs, suppliers, and airlines such as Etihad, Delta and, JetBlue.
As the airline industry shifts to long-haul narrow-bodied operations, both passenger and airline expectations are rising on these smaller aircraft's premium cabins. One of the most common expectations from airlines is around the ability to mirror the service and passenger experience common to wide-body aircraft.
As result, premium cabins are being equipped with dedicated lie-flat seats with aisle access either utilizing inefficient legacy products or newer products with tighter pitches and more awkward living spaces. The premium zones on single-aisle aircraft often fall short of the widebody standard. In addition, the weight and complexity of these seats make it more challenging for these aircraft to achieve the economic efficiency that they were designed to deliver.
Narrow-bodies have been the workhorse for the airline industry on short and medium-haul flights for decades, but their return to transcontinental routes requires a new way of thinking. The time of applying wide-body principles to a single-aisle proposition is about to end thanks to a new piece of aircraft technology that will change the way the industry thinks about cabin interiors.

A new way of thinking.
We're not shy of a challenge at Teague, and we're constantly pursuing design innovations, that's why our recent partnership with aerospace manufacturing leader NORDAM is yet another hidden but revolutionary enhancement to ultimately change cabin design forever. Thanks to NORDAM's focus on advanced composites and the new Nbrace™ technology, it is now possible to design cabins without the traditional restrictions, allowing multiple three-dimensional fixing points across the cabin including the cabin walls.
It might not sound like a huge impact at first, but with this new clean slate now being offered to designers in single-aisle aircraft, we spent several months throwing out the existing rule book to explore the possibilities, resulting in the creation of a new seating concept dubbed Elevate.

The seat isn't just a flight of fancy, it allowed our team of product strategy consultants and designers to push this new technology to its limits, opening Pandora's box of what is now possible in cabin and seat design. Thanks to the new ability to suspend key suite features from elevated attachment points on the sidewall and aisle we were able to re-envision the cabin without the usual constraints.
By partnering with leaders in the field like us, airlines are now able to create a passenger space more akin to a widebody aircraft for the very first time. Seat partitions, integrated floating furniture, and even TV's fixed to the cabin walls are now finally possible. The new technology also allows for a greater range of commercially viable seat pitches and angles.
Elevate showcases the possibility of creating a world-leading passenger experience while also eliminating substantial amounts of structural composite that would traditionally be used to floor-mount the monitor, ottoman, side-furniture, and privacy shrouds.
The pairing of fixed, full-height slatted screens with the reverse herringbone seat-layout allowed us to create a premium level of privacy and enabled a fixed monitor location. By looking at the cabin in its entirety we were able to take a different approach, integrating PSUs and overhead bins into the seat environment, creating a physical 'cocoon' for the passenger, and developing a sense of ownership over the entire space.

Benefitting the passenger experience.
With passengers now finding themselves on single-aisle aircraft for in excess of eight hours, the prospect could be daunting, however, we've utilized the closer cabin architecture to its maximum advantage, creating a more immersive cabin experience extending the passengers' sense of space. The use of wood, stone, and nature-inspired laminates in the integrated furniture and sidewalls create a sense of calm and familiarity for the passenger too.
We also looked to adapt the main cabin design, with customized entrance lighting and front-row overhead bins to create a 'wow' factor, enriching the experience of long-haul flights aboard single-aisle aircraft.
Elevate came about by a serendipitous meeting between our team that had a vision for a new approach to narrow-body interiors and NORDAM which had just developed the perfect enabling technology. In this sense, the first 'floating bed in the sky' isn't just a whim, it's a direct response to the needs of passengers and airlines alike in creating a world-class premium experience on the fleets of the future.
At a time when passenger wellbeing and sustainability are industry priorities, 'Elevate' heralds in a new generation of beautiful, simplified cabin products that will enable airlines to deliver exceptional experiences for their passengers with the economic efficiency that these smaller aircraft were designed to deliver.
From an airline's operational perspective, the additional fixing points allow for greater integrity and strength, further lightening the seats themselves bringing back the cost efficiencies that airlines expect. By reimagining these cabins from the ground up–literally–it's possible to create cross-fleet consistency, help meet sustainability targets and reduce maintenance and engineering costs.
But it's not just seating that will benefit from this new technology. The provisioning of elevated attachment points in the cabin provides a wealth of, operational and passenger-experience enhancing opportunities throughout the cabin classes, galleys, and lavatories alike. While Elevate showcases the potential of Nbrace™ in the premium cabin, we have only scratched the surface of its potential applications.
From AirShield to this new Elevate concept, Teague is proud to be at the cutting edge of developing hidden benefits to the airline industry, showing that successful design for the future is more than skin-deep.