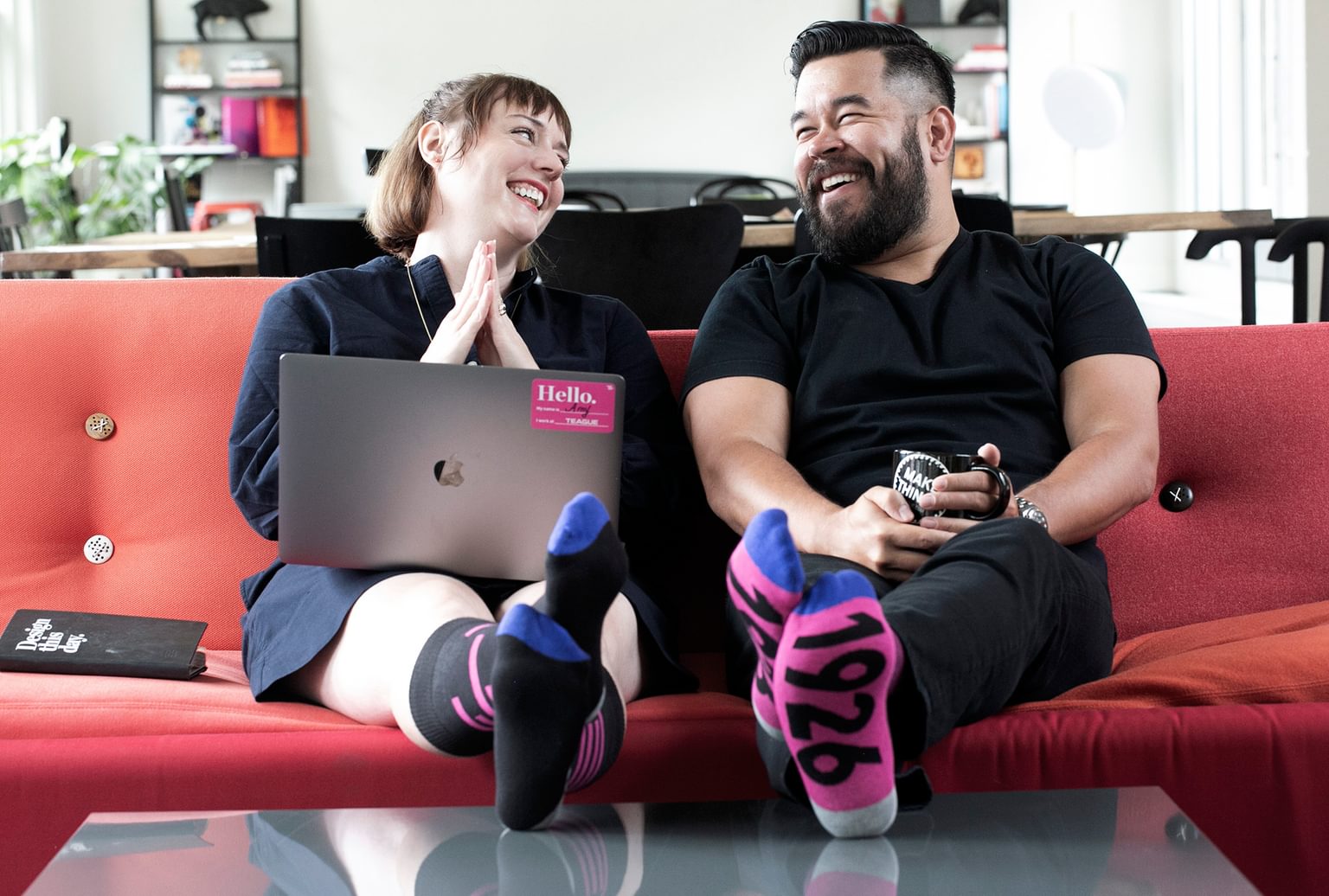 DIVERSITY, EQUITY & INCLUSION
Our commitments.
We believe that the most meaningful innovation happens when unique skills, cultures, and perspectives come together to challenge assumptions, solve problems, and explore new ways of thinking, making, and doing. For this reason, we are committed to creating and fostering a diverse, equitable, and inclusive work environment where everybody belongs. We vow to continuously educate ourselves, act with purpose, and communicate with transparency about our efforts. The following initiatives are some of our ongoing actions, commitments, and pledges for the future.
01/
Improving diversity and representation across our company.
In our industry, representation is not where we want it to be. Teague has made progress in increasing diverse representation, but we still have work to do. We are committed to further diversifying our workplace, from paid internships to our most senior positions and Board of Directors. By 2026, with an intentional focus on diversity of representation, we commit to the following:

Increase race and ethnicity representation, with an emphasis on historically marginalized communities, to reach 25% of employees.
Prioritize the advancement of female, gender non-conforming, and non-binary people at the director level and above to achieve 40% representation.
Improve board diversity to achieve 25% BIPOC representation while maintaining gender parity.
02/
Investing in education to advance our industry and profession.
We believe the path to progress begins with education, and we are taking steps to shape a more diverse, equitable, and inclusive design industry. In 2018, we began expanding our recruitment and engagement efforts to include a more diverse group of colleges, universities, and art schools, including Historically Black Colleges and Universities (HBCUs) and Hispanic Serving Institutions (HSIs). In 2022, we partnered with UNCF (United Negro College Fund) to launch a new annual scholarship program to boost diversity within our profession. As part of this program, Teague offers:

Four annual need-based scholarships to college juniors and seniors pursuing careers in design.
Four annual summer internships to help under-represented students explore, prepare for, and achieve careers in the design industry.
03/
Listening, learning and evolving.
We know that learning is a never-ending process and that real change requires honest conversation and active listening—and only comes with time. We pledge to make continuous step-by-step progress toward ending systematic racism and inequity within our industry. We will listen to our employees, our industry, the market, and society at large. And we will make time to observe and reflect so we can do and be better.

Teague began investing in DE&I education and disrupting bias training at the executive level in 2020, followed by directors/management in 2021. By 2024, annual DE&I education and disrupting bias training will be mandated at every level of our company.
In 2020, Teague employees formed a DE&I-focused committee to promote and advocate for greater equity, diversity, and inclusiveness across Teague. Today, supported by our Executive Team and senior leadership, this committee is responsible for shaping our diversity and inclusion policy, setting goals, monitoring our progress to keep us accountable, and overseeing always-on communication channels to exchange information and collect employee input and feedback on our DE&I efforts.
To better understand evolving sentiments around DE&I at Teague and solicit ideas for improving and expanding our related policies, pledges, and commitments, we will add diversity, equity, inclusion, and belonging questions to our annual employee survey in 2023.
Committing to becoming a more diverse, equitable, and inclusive company and making specific DE&I targets and pledges is an important first step in our path forward, but it is only a first step. A crucial next step will be sharing our progress and redefining Teague's century-old mission in a modern context and through the lens of a preferred future that is just, equitable, and accessible to all.
To create a better future, we recognize there's no room for compromise. We're committed to building an inclusive workplace where everyone, from new hires to the executive team, feels supported and can bring their best selves to work everyday.
Lindsey Maxwell
Vice President, Aerospace Design Studio | Teague